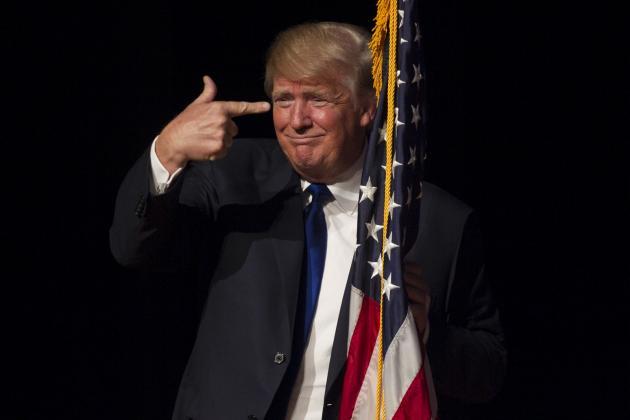 The spilt-screen nature of Donald Trump's presidency was on full display during the recent White House Correspondent's Dinner. Trump, who became the first president since 1981 to skip the Dinner, held one of his signature campaign rallies before a rapturous gathering in Harrisburg, PA. His move forced the networks to air his rally against a literal split-screen of the Correspondent's Dinner, highlighting the juxtaposition between Trump's "real America" vs. the despised, self-congratulatory, in-a-bubble "media elite."
Whether you view the first 100-plus days of the Trump Administration as a historic triumph against the establishment or as a threat to the future existence of humankind, it has been a head-spinning, sometimes mind-boggling, hurricane of unpredictability emanating from the White House.
Inauguration crowds. Women's March. Mike Flynn. Steve Bannon. Alternative Facts. Putin. Andy Puzdner. Sean Spicer and Melissa McCarthy. Prime Minister of Australia. Wiretapping Ex-Presidents. Neil Gorsuch. TrumpCare. Awkward handshakes. Currency manipulation. Kellyanne Conway. Mar-a-Lago. JarVanka. Press as the Enemy of the People. Security briefings over dinner. Syria. North Korea. NAFTA. Fake News. Chocolate cake. "Harder than I thought."
Some observers believe this constant activity is a carefully conceived strategy to distract the public and the press from the administration's aggressive dismantling of the administrative state. Others hold up the unforced errors, indecisiveness, and not-ready-for-prime-time conduct as evidence of a President and his team in over their heads, already destabilizing the world order.
There is reason to believe both observations contain elements of truth. Steve Bannon, Steven Miller, their tribe of anti-globalists and Trump himself are all experts in the art of media Three Card Monte. Keep you looking over here while I authorize drilling on federal lands over there.
This is the man... whose every decision drives the news, but then allows the news to drive his decision-making.
Conversely, it cannot be denied that elements of the administration's rollout have been marred by undisciplined messaging (if there has been a message at all), pronouncements followed by backtracking, a breathtaking inability to grasp policy fundamentals and conflicting power centers, installed by the President himself. This was apparent in the recent "harder than I thought" reflections coming out of the West Wing.
But a third factor may be driving both points of view and with it, much of the presidential whiplash we have been experiencing. While Trump can and will change his thinking on any given topic or individual on an hourly basis, this may not be traced solely to a lack of core principles.
One constant in his 40 years in the public eye has been his insatiable desire to be the focus of media attention. It is universally acknowledged that he is incredibly thin-skinned to negative media coverage, with recent reporting showing him to be obsessively fixated on it, to the point of influencing all of his deliberations.
This is the man whose New York City office is not adorned with mementos from his Trump-branded empire, but floor-to-ceiling framed magazine covers featuring his likeness. Someone whose every decision drives the news, but then allows the news to drive his decision-making. A leader who appoints Cabinet Secretaries because they look the part then harangues his press secretary because he doesn't.
Every decline in polling is answered with a campaign-style rally somewhere in Trump Country, where Trump delivers the same speech he gave on the campaign trail, basks in the same ritual cheers and chants, and relives the glory days of just a few months earlier.
The constant need for the limelight, preferably with accolades, drives Trump to be Executive Producer-In-Chief.
When the moment requires further distraction or some red meat for the base, the Administration serves up another behind-the-Resolute Desk Executive Order. The hope is to distract us from a nonexistent policy or legislative agenda, save handing the "administrative state" over to a cadre of individuals united in their determination to undermine the very institutions they are responsible for leading.
The constant need for the limelight, preferably with accolades, drives Trump to be Executive Producer-In-Chief. We continue to view his behavior through our "leader of the free world" lens and can't seem to understand why he is unable to conform to the traditional expectations of presidential behavior. The people around him are only minimally effective, because Trump is, and always will be, about amplifying Trump.
Like many performance artists, he lobs grenades for shock value, with the shock taking precedence over the value. Grabbing your attention by any means necessary can be enough in and of itself. If it happens to advance the agenda, great. If not, at least Trump is front and center. You many not remember the substance, but you always remember Trump.
Trump has shown no inclination to master the finer points of policy - or ironically, the subtle art of negotiation - in either domestic or foreign affairs. And it is becoming increasingly clear he has little interest in either. His presidency is descending into a work of performance art, directed by whim, with the primary goal to keep its subject at the forefront of our consciousness, at all times, no matter what the cost – and preferably with a steady dose of applause.
Calling all HuffPost superfans!
Sign up for membership to become a founding member and help shape HuffPost's next chapter
BEFORE YOU GO