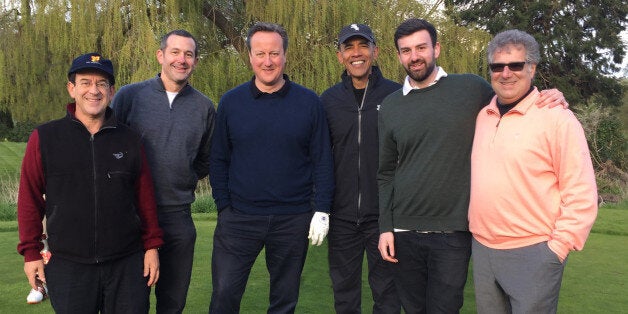 Following Advertising Week Europe in London, which concluded April 22, I had arranged an afternoon of golf at a wonderful place I've been to many times, The Grove in Hertfordshire. It's a great course and the resort setting reminds me of Pebble Beach, only without the Pacific Ocean. Upon arrival, I knew something was up. Police were at the gates and more police were on the long, pastoral roadway leading into The Grove. And there was a general atmosphere that suggested something special was going on. With the regular parking lot closed, we pulled right in front. "What's going on?" I asked? Tight lips, no answers. Inside I go to check in and pay for golf. Again I ask, "What's going on?" This time I'm told one of the FA Cup teams is staying at The Grove. Someone else tells me they saw some of the wives of Everton players. The math doesn't add up. Last time I was at The Grove, the English National football club was there ... No police presence at all. Wayne Rooney and Phil Jones were in the group right behind mine, no security. Just golf. So this Everton reference just seemed like a clever dodge.
1:20 PM and our tee time approaches; off we go to the tee box on hole #1. The starter rushes us a bit, "You need to get out now or we will have to hold you until 4 PM." Unusual comment, but not beyond reasonable; The Grove is a big-time, busy place. But there is something in the air.
We tee off #1 and finish with all four players in reasonable shape. On to hole #2 we go. My drive goes way left and I trudge off in search of a wayward Titleist on the adjacent fairway. As I climb over a big hill and head towards the fairway, I see a group coming up towards me. Etiquette dictates that I wait for them to all hit and I stand stopped in my tracks waiting. After they hit and approach, I recognize one of the golfers ... It is Phil, a wonderful guy who works at The Grove who was playing with a few friends on his day off. Phil is a proper Englishman with a bit of Brooklyn in him and we had bonded a few years ago over a shared fondness for golf and salty language. Without hesitation I look Phil in the eye and say "It's Obama, isn't it?" Phil nods. My suspicion is now confirmed. The President of the United States is playing that very same day on the very same course where my friends and I had just teed off.
My ball is lost and keen to keep pace, I drop one and hit a terrific blind 7 iron back over the hill, over the trees, and I'm back in play. A good chip, a putt and I am in for a bogey. Off we go to the third hole. And there we see the surreal site of the President's motorcade coming on the property. It's at least a dozen vehicles, flashing lights, the President's distinctive vehicle known as "The Beast" in the middle of the pack and all of a sudden, the focus on golf is diminished. We all struggle forward and continue on playing the 4th, 5th and 6th with no further Presidential rumblings. But then we are suddenly met by Guy, a ranger at The Grove. And looking across at the 3rd green, we see a phalanx of golf carts, or buggies as they call them in the UK. Guy asks us to wait a bit and let the group pass by. Clearly all staff has been told to keep quiet, but we know it is President Obama. I press Guy, "Who is he playing with?" Guy is silent. "Come on Guy, just tell us," I plead. He says only "I can't tell you, but it's the second most influential man in the world." Cameron? Yes. It's the Prime Minister of the United Kingdom, David Cameron.
Now you can argue influence rank. Vladimir Putin goes on the list, as does Angela Merkel. You can certainly suggest Li Keqiang of China is #2 and Japan's Shinzō Abe is up there too. But we are in the United Kingdom and by any measure, the Prime Minister of the UK ranks pretty darn high. And who am I to argue with the political ranking system of Guy, the golf course ranger?
So the round continues, uneventful. Until we get to the 14th hole where I had first met good ole Phil a few years before. Boom goes my drive and with a good second shot, another 7 iron, I'm just off the green. A chip and a two putt and I'm in for another bogey, which for me is a great score. As we leave the green heading to the 15th, I see a gathering group of Secret Service and other officials, all dressed by central casting. I'm approached by one of the Secret Service who poses the following question: "Would you mind if the President and the Prime Minister play through?" I of course say no problem at all and we are told to wait about 100 meters away from the tee box. A man in a dark trench coat is standing off in the distance waving us over. Knowing we will be too far for any actual engagement, we trudge off, both electrified and mystified by our good fortune, but somewhat downtrodden by the distance. I then ask the trench-coated man "Are you one of ours, or one of theirs?" "Neither" he tells me. "I'm with The Grove."
So I make a calculated decision and in my sort of lighthearted and semi-reasonable way I question his authority to hold us 100 meters from the 15th tee box. '"Hotel security?!" I say. "Well, I'm willing to risk not having clean towels in the morning." And I lead my group back to the tee box. Once there, I quickly negotiate with the Secret Service who readily agree to let us remain on the tee box. And right then we see President Obama and Prime Minster Cameron on the 14th green where we had been just minutes before. I watch the Prime Minister hit a good shot out of a greenside bunker and see the President putt. At one moment, the President turns around, sees me and I wave. He waves back, the Presidential wave. Just he and I. Magic.
They then come off the green and head onto the 15th and there we are. The President immediately thanks us and I go right up to him and the Prime Minister and shake both of their hands. "How are you playing?" I ask. David Cameron says "I'm playing moderately well, and the President is playing very well." President Obama then says, these guys deserve a picture and within seconds, my group and I are being photographed with Barack Obama and David Cameron on the 15th at The Grove.
We step back, they both hit, and with the President driving and David Cameron in the buggy next to him, they drive off and within a few minutes, their entourage is beyond our line of site as they turn left towards the 15th green. Just like that, it's all over.
All I could think was what a good idea it is for world leaders to play golf together. Four hours or so in that inspirational setting is an ideal way to have real conversations. And nothing shows true colors like golf ... How one handles adversity; the etiquette and honor of the sport. I remember a round last summer at Trump Briarcliff Manor with my pal Paul and the (too honest) caddy telling us Donald Trump cheats, a true measure of any man, or woman. And I thought about the words of Sir Martin Sorrell who spoke at Advertising Week Europe just days before saying he thought it was an awful mistake how no western world leaders went to the Sochi Winter Olympics, a pet project of Vladimir Putin. The absence of communication serves no one's interests, Sir Martin surmised, and he is oh so right. And then of course my friends and I did what everyone does today, we took to our iPhones breaching all golf course protocols and sent that picture around and called our wives and kids. What a day it was . . .
Calling all HuffPost superfans!
Sign up for membership to become a founding member and help shape HuffPost's next chapter