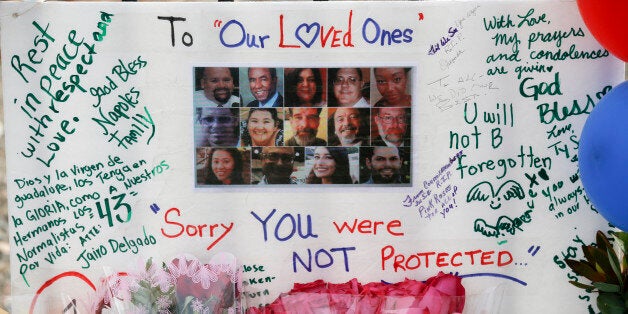 Last night, I had the honor to speak at the 3rd Annual National Vigil for All Victims of Gun Violence, hosted by the Newtown Foundation. I joined more than 300 people at St. Mark's Episcopal Church in Washington, D.C., a group that included more than 60 families who had lost a loved one to gun violence, as well as members of Congress, advocates, and faith leaders. We came together to honor all those who have died from gun violence, and to rededicate ourselves to the urgent work of making ours a safer country. My message to the group was simple: Please do not grow weary, for you are inspiring our nation to perfect our union. You can read my full remarks below.
Thank you to Reverend Schunior who has welcomed us to St. Mark's Episcopal Church this evening. To the Newtown Foundation. The families who have lost loved ones to gun violence. To our members of Congress, and faith leaders who provide great leadership and strength. And to all of you who are dedicated to stopping gun violence in America. Good evening.
My name is Valerie Jarrett, and for the past seven years, it has been my privilege to serve as one of President Obama's Senior Advisors. It's an incredible honor for me to be here with you.
We all come here with freshly wounded hearts from the vicious, mass shooting in San Bernardino last week. Fourteen of our fellow Americans gunned down during a holiday party. Right now, their families feel the excruciating pain that we here tonight, and Americans across our country, know all too well.
Families of a pastor and eight members of a Charleston church who opened their doors to a stranger.
Families of 12 moviegoers in Aurora out for a fun night.
Of a veteran, a police officer and a mother of two in a Colorado Springs Planned Parenthood.
Six Sikh Americans worshipping in a temple in Oak Creek.
Twelve soldiers and a civilian doctor who were serving our country in order to keep us safe, at Fort Hood.
The family of 15 year-old Hadiya Pendleton, who was chatting with her best friend in a park one mile from my home in Chicago.
The families of 20 precious six- and seven-year-old children and six brave adults in Sandy Hook Elementary School in Newtown.
Every single day, families from around our country share the bond of devastating grief caused by losing their loved ones to gun violence. First responders witness the immediate, shocking results of carnage, yet manage to professionally perform their duties. Faith leaders offer prayers of comfort. Whole communities in mourning rally together, providing much needed love and support.
And yet, when the headlines fade and the media's attention turns elsewhere -- when the world seemingly returns to normal -- the families and loves ones who are left behind -- well, they're never the same. They're left to face the pain created by a permanent void in their hearts. First responders are often haunted by post-traumatic stress that may go undiagnosed and untreated. And the human fabric that knits together the communities that have been affected are forever tattered and deeply scarred.
And we all ask ourselves: How could this keep happening again and again? Knowing that this cannot be normal? Or: Is this really who we have become? What is happening in America that leaves no community unscathed by gun violence?
I ask these questions not just as a White House official who has attended far too many memorial services during the last seven years, but also, sadly, as a granddaughter with first-hand experience.
My grandfather was an avid hunter and owned several guns. He practiced dentistry in an office on the first floor of his home here in D.C. When I was 15, two burglars broke into his office in search of opiates. They threatened my grandfather with what turned out to be a toy gun. In an attempt to scare away the burglars, my grandfather pulled out one of his guns. They grabbed his gun, then shot and killed him.
So to those who encourage the purchase of guns to protect ourselves, my grandfather's story proves that we are not always safer just because we own a gun.
I respected my grandfather's right to own his guns and his desire to try to protect himself, but for decades after his death I asked myself, "Would he still be alive had he not pulled out his gun?"
Of course, I'll never forget that day nearly 45 years ago.
I'll also never forget the day when I met many of the remarkable families from Newtown. On December 16, 2012, just two days after the massacre at Sandy Hook, I travelled with President Obama to a vigil in Newtown, where he comforted the families, and the Newtown community, who had lost their loved ones.
That evening, in speaking about the victims, the President said, "They lost their lives in a school that could have been any school in a quiet town full of good and decent people that could be any town in America." He also said to the families that they were not alone. And I am here tonight, three years later, to remind you all that you are not alone.
Now, we all know this type of gun violence simply does not happen in other advanced countries with the same frequency as we experience here in the U.S.
But whether from a mass shooting; a suicide; domestic violence; an accident; a disagreement that escalates out of control; or a gang member who murders an innocent nine-year old child, about 30,000 Americans are killed every year by gun violence.
With the help of many of you, President Obama pushed Congress to pass sensible background check legislation nearly three years ago. And even though 90 percent of Americans agreed with the President and all of you, our bill did not pass. But we did not give up. And thankfully, neither did you.
Because of your passion, energy and advocacy, we have made progress.
In consultation with many of you, President Obama signed 23 executive actions that took on gun violence -- from improving the background check system to improving mental health services.
We have and will continue to press Congress for commonsense background checks. For measures that would prevent people on the no-fly list from buying guns and to keep weapons of war off of our streets.
Now, I know our progress feels slow. But in the words of Dr. King, "The arc of the moral universe is long, but it bends toward justice."
The members of Congress who are here tonight have been such strong allies in this fight, and we will continue to work with them, while also channeling our efforts in cities and states across America.
Cities and states are passing commonsense laws to keep guns out of the hands of known domestic abusers. That gives me hope.
They are expanding background checks and making our communities safer. That gives me hope.
And, just two days ago, the Supreme Court declined to take up a case challenging a Chicago suburb's ban on assault weapons and high-capacity magazines -- weapons that have more in common with a war zone than any Main Street in America. That gives me hope.
Although the tragic reality is that slow progress means every day we lose more Americans to gun violence, Americans are mobilizing. And that also gives me hope.
Two weeks ago, I met at the White House with a group of gun owners who believe in the need for change. Many were former NRA members who made clear to me that the NRA no longer represents them. And they assured me that many more gun owners are doing the same.
The NRA paradigm that tries to pit those who support the Second Amendment against those who believe in commonsense reform -- we know to be a false choice. And Americans all across our country know too.
Please know that President Obama shares your pain and frustration, as well as your steadfast determination to keep pushing to make us all safer. And he is prepared to continue to act.
That's why the President has directed his team, in short order, to finalize a set of recommendations on what more the Administration can do on its own to save lives from gun violence. And those recommendations will include making sure we are doing everything we can to keep guns out of the wrong hands, including through expanding background checks.
And so, in closing, let's remember that we are gathered here together under the banner of friendship and community, of brother and sisterhood, of interfaith fellowship. For just as our pain binds us together, we must continue to stand together in the face of the cynical political theater.
So in times of despair, when some try to use horrendous acts of violence to pit us against each other, it is on us -- all of us -- to instead continue to extend a welcoming hand to a stranger. To be more loving and inclusive. To reject divisive strategies, both old and new. To demonstrate, in both our thoughts and our deeds, amazing grace.
Popular in the Community