A timetable of events for the upcoming weekend in Washington, DC.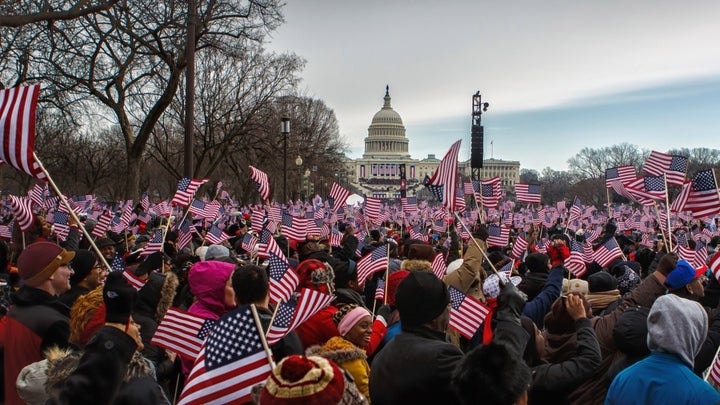 Just as Donald J. Trump set rating records for viewership during the GOP primaries and presidential debates, his inauguration as 45th President of the United States should prove to be the highest rated ceremony of all time. It will be "must see TV" whether you are watching in this country or from some obscure outpost in Timbuktu. This will draw a huge television audience, maybe as big as a Super Bowl or Apollo 11 landing on the moon. Yes, it will be that big and I can imagine the advertisers salivating over it.
This will be a long weekend with several events planned, both for and against Mr. Trump. Protestors, whether they have permits or not, will be out in force, as will Trump supporters. The possibility of clashes between these two groups is feasible, but hopefully the Park Service and Law Enforcement will keep this under control.
The schedule is a busy one:
A wreath-laying ceremony at Arlington National Cemetery attended by Mr. Trump and his VP-elect Mike Pence.
A welcome concert at the Lincoln Memorial. Again, both Mr. Trump and Mr. Pence are scheduled to make an appearance.
Peace Ball at the National Museum of African American History. This is a Trump-protest party.
Inaugural Swearing-In Ceremony at the West Front of the U.S. Capitol Building.
Security screening begins.
Swearing in by Supreme Court Chief Justice John Roberts Jr. The Mormon Tabernacle Choir and Jackie Evancho are scheduled to sing.
Inaugural Parade; from the Capitol Building proceeding along Pennsylvania Avenue to the White House.
Various Inaugural Balls throughout Washington, DC.
- Procession to the Capitol
- Vice President's Swearing In Ceremony
- President's Swearing In Ceremony
- Departure of Outgoing President
- Inaugural Parade - tickets required
- Inaugural Ball - by invitation
Members of the clergy scheduled to talk include: New York Archbishop Timothy Michael Cardinal Dolan, the Rev. Samuel Rodriguez of the National Hispanic Christian Leadership Conference, Pastor Paula White of New Destiny Christian Center, Rabbi Marvin Hier of the Simon Wiesenthal Center, the Rev. Franklin Graham of the Billy Graham Evangelistic Association and Bishop Wayne T. Jackson of Great Faith Ministries International.
Look for Mr. Trump to also sneak away to the White House to sign orders suspending some of President Obama's initiatives. Ronald Reagan did likewise following his swearing-in back in 1981.
Bikers for Trump rally at John Marshall Park, in downtown Washington. They may be participating in the parade as well.
DisruptJ20 - Perhaps the most ambitious protest, consisting of various special interest groups. Filmmaker Michael Moore is said to be leading the protest.
9:00am - Converge at McPherson Square.
10:00am - Anti-Capitalist Anti-Fascist Bloc at Logan Circle.
12:00pm - Festival of Resistance, a permitted march starting at Columbus Circle.
2:00pm - Rally at McPherson Square.
National Prayer Service at the Washington National Cathedral; interfaith prayer service.
Women's March on Washington starting at the intersection of Independence Avenue and Third Street SW, near the U.S. Capitol.
Whether you are for or against our 45th president, one thing is for certain, this will be a weekend for the history books.
Note: All trademarks both marked and unmarked belong to their respective companies.
Copyright © 2017 by Tim Bryce. All rights reserved.
Related
Popular in the Community