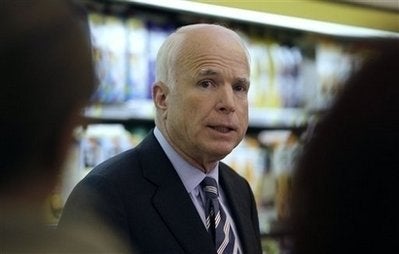 In a video blog Tuesday, I talked about my sense of where things stood this week -- Obama's masterful foreign trip, his consistent 4-8 lead in the national polls and strong showing in the Electoral College and McCain's growing desperation as his bumbling campaign senses this thing slipping away from them (is it really possible that on the day McCain wanted to visit an offshore rig, weather blocked him, and a polluting spill took place?).
As we all await Senator Obama's speech in Berlin today, my sense is that these emerging impressions of Obama's strength and McCain's weakness may be hardening into conventional wisdom with the media and those following the race closely (we predicted this a few weeks ago, and wrote about it again here). David Broder speaks to this sentinent in his column today. It will be interesting to see if this week, which has done so much to highlight the very stark contrast between these two campaigns, shows up in the polls over the next 10 days or so. So far, there is not a lot of evidence that it has. But time will tell.
Whatever happens with the polls in the short term, this race has achieved a stable dynamic. The Obama campaign is winning, performing well, taking big swings. The McCain camp is stumbling, not really ready for primetime, and is losing the race. I didn't think this dynamic would change all that much until we hit the two Conventions, but perhaps this week will give Obama a few points. Given all this, the central question of this race now is can McCain somehow change the dynamic of the race? I am very doubtful. His campaign is not very good. He is a weak and bumbling candidate, not capable through his public appearances of turning it around. The issue environment is unfavorable to him, with foreign policy quickly becoming less and less an area of opportunity for him. The central argument of his new TV campaign -- that he has a plan to lower gas prices and Obama is to blame for high energy prices - is simply untrue, and not really sustainable over time. It is no longer clear to me whether McCain really has the capacity to alter this emerging dynamic in the campaign on his own.
While there is a long way to go in this race, this week is beginning to feel like a seminal one in the campaign, one in which a new and powerful dynamic kicked in, one, that if it holds, will have Obama winning in the fall, and the Democrats having more power in Washington than they've had in 40 years.
Update: Related to this emerging question of whether McCain and his team are really ready for primetime, see this new piece by Fred Kaplan in Slate.
Popular in the Community