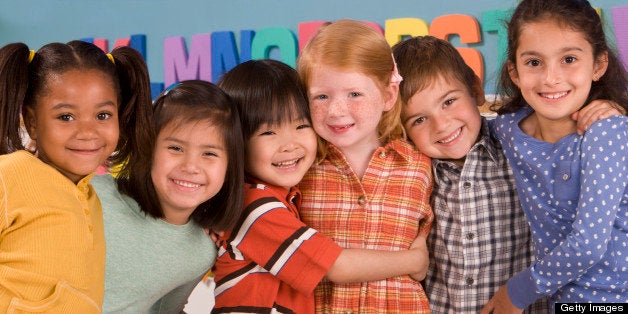 I've written about the need for universal early childhood education before and I'll write about it again. This time I'll assume that you, like 70 percent of Americans, support increasing access to high quality preschool. My goal, then, is to arm you with the facts so you can contact your Congressperson and senators about supporting President Obama's preschool plan today.
Let's start with a mini-case study.
Juan Manuel Gutierrez is a father of five living in Phoenix, Arizona. His oldest two children did not attend preschool, and his two younger children did. "I see a big difference in test scores and in grades between my children who attended preschool and my two older children who did not," Gutierrez told me through a translator. "My children in preschool left knowing their colors, their shapes, and their letters." (And if that seems unremarkable, note the impact of early spatial understanding on future performance). Gutierrez also notices a more subtle difference: the younger children enjoy learning and school, while the older two get frustrated more easily. "We have to work with the older children a lot more on basics at home, Guterriez says. "School for them is always more of a struggle."
Remember the Gutierrez family, and you've got your research on preschool down. Because as Juan Manuel noticed in his own family, preschool has proven to:
Improve academic performance in elementary and secondary school, reduce the likelihood a child will be held back a year, and decrease the need for special education.
Down the line, preschool will continue to benefit his kids, leaving them with
Increased high school graduation rates and college attendance.
But the impact doesn't stop in school: the character lessons kids learn in preschool (discipline, motivation, persistence) continue to give them a boost throughout their lives. That's why you see results like:
Every dollar invested in high quality early childhood education yields seven dollars down the road by reducing the likelihood that the kids (now adults) will commit crimes or be on welfare, and by increasing the likelihood that they will find secure employment and become self-sufficient.
So what should your Congressman or senator to do with this information? Ask them to support
to increase access to early learning. The plan would:
Expand access to high-quality prekindergarten to all four-year-olds, starting with low and moderate income families.
Institute state-federal partnerships, so states and the federal government would share the cost of expanding or establishing early education programs.
Expand learning opportunities for kids from 0-3 by increasing investment in high quality early childhood programs (read more about what "high-quality" means here).
Expand voluntary home visiting programs that support parents with young kids
Thinking, "But my state already has a preschool program?" Good! In fact, 40 states already have preschool programs, but most only serve a fraction of four-year-olds and even fewer three-year-olds. The federal plan will help your state afford to reach more kids, plus it'll help ensure that every early education program in your state is proven to get results for kids.
You have a role to play in getting more of our babies prepared for school and life. Right now, email or call your representative. Tell them what it's like to be a teacher, when kids show up for kindergarten not knowing how to sit in a chair. Tell them what it's like to be a mom, when your choices are to pay an exorbitant sum for private preschool or to quit your own job to teach and care for your young children. Tell them what it's like to be a taxpayer, and to see your money go into the criminal justice system and high school dropout prevention instead of into far cheaper early intervention. Contact your Congressperson and senators today.