The 114th Annual Student Exhibition at the Pennsylvania Academy of the Fine Arts (PAFA) kicks off Friday night. For weeks, 85 graduate and undergraduate students have been feverishly finishing and framing nearly 1,000 artworks in their studios, located in the upper floors of the Samuel M.V. Hamilton Building. These students have been tasked with the added challenges of curating and installing their own works in Hamilton's three gallery floors, where the public will be able to view and purchase them.
Showcasing student works in such a grand scale has been a PAFA tradition for well over a century. It's what makes the Annual Student Exhibition an unparalleled, seminal experience for students. And for many, the show not only marks their professional debut; it also catapults them into artistic careers. Yet the process of preparing for this exhibition, including the sheer logistics of bringing paintings, sculptures, installations, and works on paper from studios to galleries, can be daunting.
"It can be a scary thing if you allow it to be," says Abigail Synnevesdt, a graduating undergraduate who is exhibiting a series of still-life paintings that the public first glimpsed in February, during PAFA's annual Open Studio Night. "My approach is that if I'm genuine then people will respond to the work."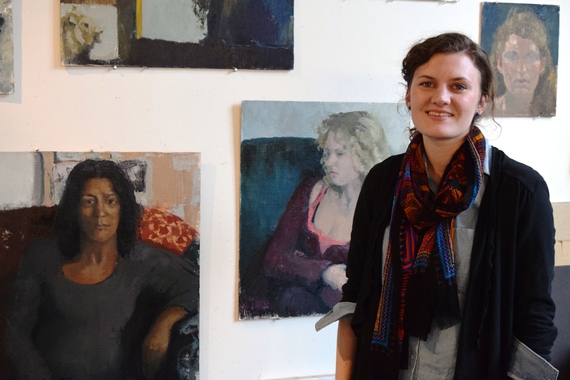 Then there's the added pressure for students of being compared to PAFA's illustrious alumni, whether or not they are conscious of it during the run up to the exhibition.
"PAFA's alumni is a Who's Who of American Art, and the Annual Student Exhibition is where their careers begin," says David R. Brigham, President and CEO of PAFA. "This show presents their first cohesive body of work in a formal museum setting and is highly followed by collectors, art dealers and critics."
Art enthusiasts arrive with the expectations of encountering works by the next Mary Cassatt, Thomas Eakins, Daniel Garber, Violet Oakley, Maxfield Parrish, David Lynch, and many other celebrated artists who have attended PAFA since the school and museum began in 1805. Recently, Njideka Akunyili Crosby went from the 2009 Annual Student Exhibition to having her work appear in the Tate Modern and SFMOMA. Meanwhile, Justin Matherly, who was at the Annual Student Exhibition in 2000, was just named one of Art Basel's top 10 artists of 2014.
In addition to living up to such lofty comparisons, students are competing during the exhibition for over $170,000 in prizes and scholarships while vying to sell their art. At last year's show, around $290,000 of artwork was sold. While students receive 70 percent of the proceeds, the rest funds future student scholarships, making the Annual Student Exhibition, as well as the Preview Party thrown by PAFA's Women's Board the night before the public opening, major fund-raising events.
With their works now installed, students are at least afforded a slight breather before Friday, when PAFA's graduation will also take place, with sculptor Donald Lipski as the commencement speaker and distinguished alums David Lynch, James Havard, and Hilarie Hawley receiving honorary degrees. Students might even be able to reflect on everything that went into preparing for the exhibition.
"Being able to show in such an amazing space provided me with some unique challenges and opportunities that I would not have had this early in my career otherwise," concludes Ruthie Iglesias, a graduating MFA student whose art utilizes recycled materials with a focus on sustainability. "I learned everything I could from PAFA's gallery team and museum staff throughout the process."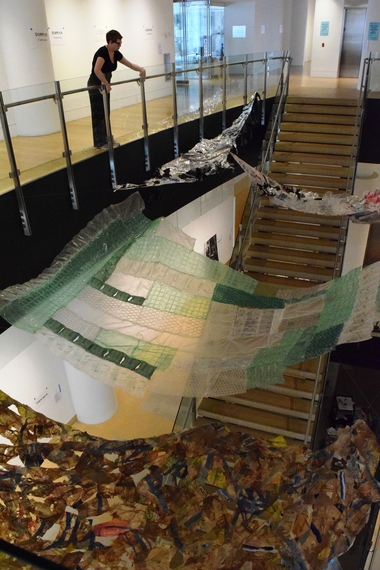 Iglesias collected thousands of plastic bags, sheets of bubble wrap, and even discarded tape and materials from other students' studios, which she stitched together to create a four-layered cover that she hung above the gallery between the first and second floors with fishing lines. Her installation will be among the first pieces people see as they enter the Annual Student Exhibition on Friday.
Calling all HuffPost superfans!
Sign up for membership to become a founding member and help shape HuffPost's next chapter