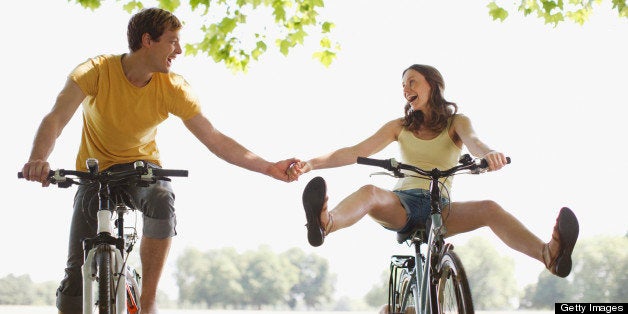 Planning the perfect wedding can foster plenty of angst. Even when utilizing a wedding planner, the number of decisions to make and details to address may produce the kind of irritable, undesirable side effects that bridezillas frequently exhibit. It pays to give the planning process a rest... literally.
What are honeymoons made of? It's really all about just being with each other, away from the daily grind. It's about embarking on an unknown adventure, eating good food, sightseeing, and exploring any number of fun, new experiences. In short, it's a vacation, one that just happens to be in celebration of a marriage. But there's no law that says such celebratory vacations can't happen before the "I Dos."

Wedding planning should be as wonderful as the wedding day itself, and spending a day, a weekend, or a whole week here and there throughout the wedding planning process, doing whatever suits your fancy, helps keep pre-wedding stress from boiling over. The pre-wedding honeymoon is a delightful respite, but carving out time for honeymoon pleasures before the wedding doesn't necessarily mean traveling long distances or killing the wedding budget.
The best honeymoon destinations are those found in the heart. Honeymooning in the lush and colorful tropics, or on a faraway, snowy mountaintop, may or may not be in the honeymoon cards. But it's not the location that makes a honeymoon. It's that undeniable "you and me against the world" feeling, a feeling that can be created anytime and anywhere.

Kimberly, a very busy bride-to-be, recently shared with me that her pre-wedding honeymoon has lasted the whole year of wedding planning. She and her intended made a pact to never forget what the wedding was all about, and that meant frequently finding time to simply be with each other. Every month they set aside enough time to do something honeymoon-like, no matter how pressing the wedding planning tasks were. They enjoyed couples massages and time spent in a private pop-up cabana at the river's edge, with just nature, cheese and wine for company. They took a dawn-to-dusk bicycle trip, documented with helmet-mounted cameras. And they enjoyed picnic lunches in some pretty imaginative places. Now, as her wedding day approaches, she vows she wouldn't have changed a thing during the wedding planning process. Wedding plans still got handled, but life during the planning phase was undeniably richer, thanks to the mini, pre-wedding honeymoon adventures they embraced.

Any honeymoon idea is a good one. Maybe checking into a local hotel for a day and a night, and ordering room service for every meal, would be an ideal pre-wedding honeymoon experience. Even the simple act of just wandering off, banning cell phones, laptops and other electronic intruders for one whole day, could trigger a positive change of perspective.

It doesn't matter what entertainment is chosen. The beauty of a pre-wedding honeymoon escape is that it is designed by the bride and groom, for the bride and groom, and the possibilities stretch into infinity.

When faced with a tight wedding budget, adding honeymoon-inspired excursions to the financial mix may feel unjustified. But the key to managing any perceived financial strain is to make those excursions as important as any other aspect of wedding planning. Give them their due and factor them into the budget. In the end, dollars spent on "just-the-two-of-us" days may prove to be your favorite wedding planning investment.
Planning a wedding is a wild kaleidoscope of fun, stress, exhilaration, frustration, anxiety, and accomplishment. Gentling that experience with mini, pre-wedding honeymoon events is good for the soul, and good for the marriage to come.
So, what about you? Did you have a pre-wedding honeymoon escape? Are you planning to have one... or many?
Related