Unwittingly, I became a member of a club no one wants to belong to early on a chilly Friday morning, December 14, 2012. I had never even heard of this club. There is no formal name for this group and we don't have a clubhouse. The members are from across the country, all races, ages and genders. We live in urban areas, the suburbs and rural communities. Yet we all met the memberships' one criterion, a life taken by gun violence. The price of admission to this club is bullets.

The price of my admission was my sister Mary Sherlach. Mary was the school psychologist gunned down in the lobby of Sandy Hook Elementary School. My sister went to work that Friday morning and was never seen again, her name added to the never-ending list of victims murdered by guns. Her right to live a long and happy life was taken by bullets, making me a member of the club no one wants to join, but are all in for life. My sister's favorite band, the Eagles, sums it up perfectly: "You can check out any time you like, but you can never leave."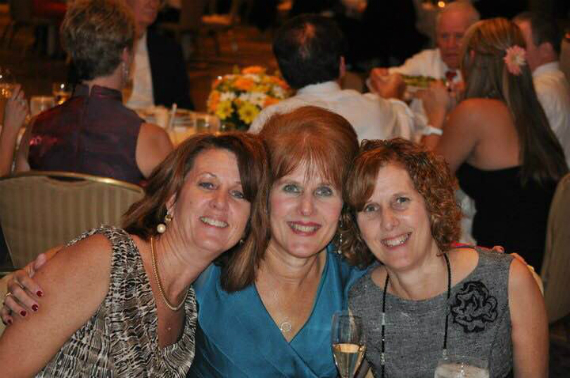 Jane, Mary and their sister Sue. Photo courtesy of Jane Dougherty.

After being a member of this club now for over two years, I have met many fellow members. Each of them had a loved one who paid the price of admission. We have met lobbying and testifying for common-sense gun laws, at charity events, and at memorials and vigils. I know family members of victims from nearly every mass shooting in recent history and those whose children have been gunned down in their own neighborhoods. I have hugged them and cried with them. We find solace in each other's company. These are my people now.

All of the victims in these shootings were going about their daily lives -- going to school, shopping at the mall, watching a movie. Then the bullets came. Every day we hear about more lives taken by bullets. In the last month, there have been three high-profile shootings that captured the nation's attention. But what about the daily toll of gun violence that takes the lives of 88 Americans and injures hundreds more each day? These shootings often don't make the news. Thoughts and prayers, moments of silence, memorials and vigils have become routine. Every day, more members join our club. We have come to be known as "survivors," because we must go on in the face of unbearable tragedy. We are the foot soldiers in the battle against gun violence. As our family members fall prey to bullets, we step up to help save others from the same fate. We work in our communities and states to bring about awareness, to help pass sensible gun laws in the hope of preventing the next tragedy. Our club's mission is saving lives.

And while this club continues to grow, we need our leaders in Congress to step up and take action. We know that an overwhelming majority of Americans support common-sense gun laws like background checks that keep guns out of dangerous hands. But Congress continues to sit on their hands, while we are all sitting ducks.

Earlier this week in Washington, D.C., gun violence survivors joined Senators Schumer, Blumenthal and Murphy -- along with Everytown for Gun Safety and Moms Demand Action for Gun Sense in America -- in calling on Congress to demand a vote on background checks, just like we did after 20 little children and six educators, including my sister, were killed in Newtown. Will this time be any different? Will this finally be the time that our elected leaders decide to put lives ahead of the gun industry's profits and take a stand to stop this unending surge of gun violence?

Every time I see or read about another tragic shooting, my heart breaks at the thought of our club having a new member. Every day I wonder whose life will be taken by bullets. Will it be someone in your family? Will it happen in your child's school? Will a bullet take the life of a loved one at the mall or in a place of worship? Will an unsecured gun go off in a house where your child plays? Will domestic violence shatter your family? Will you become known as a survivor and join our club?

Don't wait another day until your loved one pays price of admission. Don't wait another day to demand a vote from Congress on background checks on all gun sales. Call your elected leader and tell them to take action now so that 'Not One More' is killed by senseless gun violence in this country.
Calling all HuffPost superfans!
Sign up for membership to become a founding member and help shape HuffPost's next chapter