Unfortunately, we don't have National Theater here in the United States. But who needs it? After all, we are enjoying - or rather suffering - by watching our fractured political system and its self-righteous players in such a state of disarray that only the genius of Shakespeare would be able to make sense of by using it as fodder for a drama or comedy.

I wonder if our friends across the aisle remember all the political repercussions they experienced when they succeeded in shutting down the government in 1995, just a few days before Christmas? Among the thousands of reasons to be bitter about this self-inflicting political maneuvering was one involving art. And not just any art, but the great art of Vermeer, a celebrated 17th Century Dutch painter, whose blockbuster exhibition in Washington at the National Gallery drew huge crowds in the weeks leading up to Christmas. Having Vermeer's Girl with a Pearl Earring - along with his other masterpieces - locked down for three weeks during that Christmas season was a cultural crime, considering that hordes of tourists were flocking to the capital with the Vermeer exhibition at the top of their must see list. Commenting on the absurdity of the government shut down that December, the army of commentators used the Vermeer exhibition as the crying example of the unjust punishment dealt to the American people. Mr. Gingrich never fully recuperated from the political punch delivered to him by the mighty Vermeer.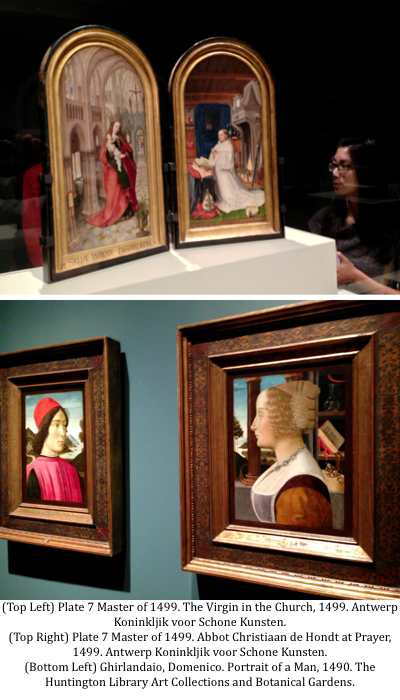 This coming Sunday, the National Gallery was scheduled to open another very important exhibition, Heaven and Earth: Art of Byzantium from Greek Collections, consisting of 170 extremely rare works of art never before seen in the United States. Well sorry folks, until further notice, these magnificent Gods and Angels will remain under lock-down. And, once again, our friends across the aisle better be prepared to pay the price for messing with Gods and Muses.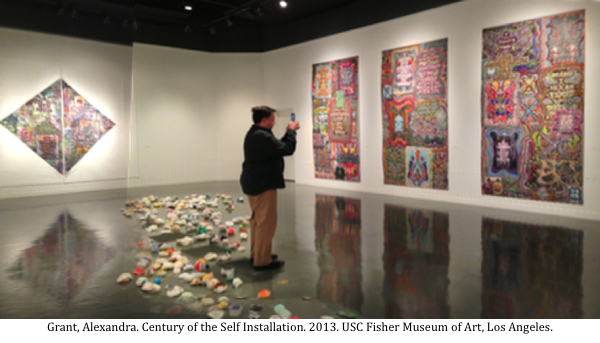 For me, this last week in LA turned out to be a marathon of seeing one intriguing museum exhibition after another. The Huntington unveiled a stunning exhibition of 29 extremely rare Renaissance paintings by both Flemish and Italian artists, among them by Domenico Ghirlandaio, Hans Memling, and Pietro Perugino. It is an absolute must see show, and you might save yourself a lot of money by choosing to meditate peacefully in front of these paintings instead of sitting on the couch in front of your therapist.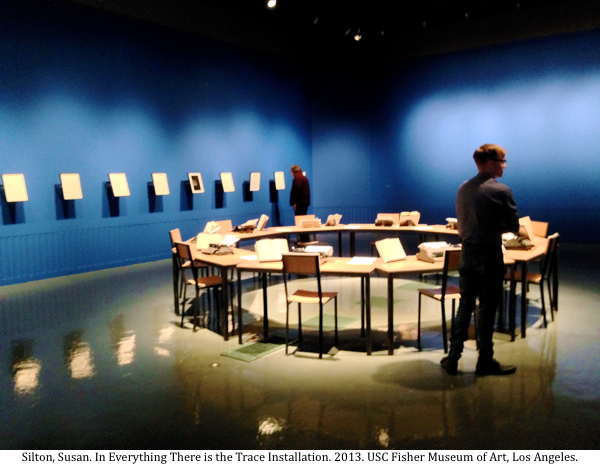 At USC Fisher Museum of Art, I saw the group exhibition, Drawn to Language, featuring five artists who incorporate text into their paintings, photography, and performance art. Yes, it might sound a little academic, but in reality it is a very engaging, sometimes a touch puzzling exhibition with art installed to the maximum theatrical effect.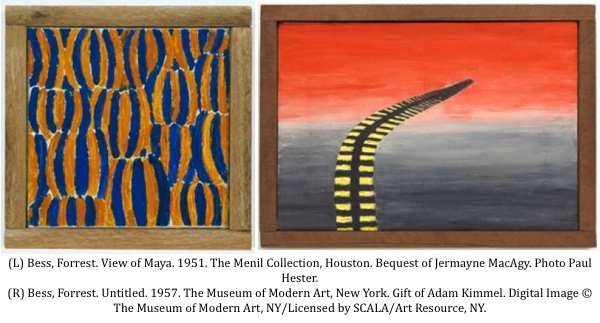 The UCLA Hammer Museum continues its streak of imaginatively installed, first rate exhibitions - this time with the double bill: an exhibition of well known LA photographer, James Welling, along with an exhibition of paintings by American artist Forrest Bess (1911-77). Have you heard this name before? No? I hadn't either. I was absolutely taken - or rather seduced - by the integrity and uniqueness of his vision. Artistic fashion and trends of the day be damned - Bess followed his own artistic path. His mostly small and medium sized abstract paintings are quirky, colorful, and speak in tongues. And if you are lucky you might hear the message.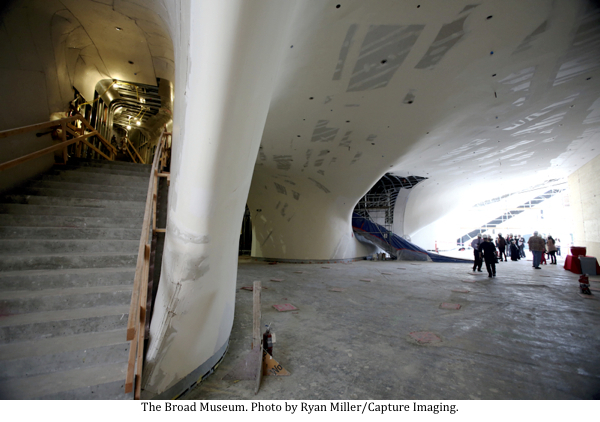 So, let me finish with the architectural adventures I had in downtown LA on the Grand Avenue next to Disney Hall and across from the MOCA. It was a hardhat tour of the Broad Museum, which is scheduled to open late next year. This ambitious architectural project by Diller Scofidio + Renfro reveals a welcome sense of adventure that is not traditionally associated with projects by the philanthropist and mega-collector, Eli Broad. It's too early to judge its architecture, but what I've seen so far - especially the flowing, organic shapes of the ground floor lobby - has me intrigued and even reasonably excited. Let's stay tuned.
Edward Goldman is an art critic and the host of Art Talk, a program on art and culture for NPR affiliate KCRW 89.9 FM. To listen to the complete show and hear Edward's charming Russian accent, click here.
Calling all HuffPost superfans!
Sign up for membership to become a founding member and help shape HuffPost's next chapter