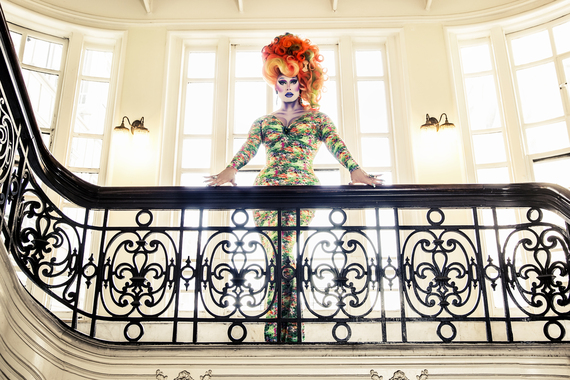 Carson Kressley told me once that for him, "drag queens are the superheroes of our community." I would have to say that I completely agree. I have worked with these talented artists for many years, and am honored to include some of my favorite ladies in my #PrideSeries. These performers are artists in every sense of the world; they add color and shading (no pun intended) to our community, and without them, I think we all would have a little less sparkle. Now get out there, grab some singles, and watch these talented performers on a stage near you; and TIP!
Alexis Michelle is one of those queens that has what "drag" is down pat; the over the top hair and a personality to match, Alexis is making her mark on the New York Drag scene in a way that is very rare in this extremely competitive town.
For those that have never seen Alexis Michelle on stage, how would you describe your performance style and "drag" as a whole?
My style is definitely theatrical, given that's where I come from as a performer. I grew up acting and got my degree from the University of Michigan in Musical Theatre. I strive for authenticity on stage. Some drag performers go for the comedy first, or something that's fun, but isn't necessarily real. I try, even in comedy, to capture an authentic experience in a given moment. I realize that talking about "REALNESS" in a drag context can be taken solely on an aesthetic level, but what I mean is, I try to stay in the moment and live my truth for the audience.
How did Alexis Michelle get her start in the extremely competitive New York City drag scene?
Well I had my first gigs as Alexis 13 years ago, but I never chased after my drag dreams in a full time way until about three years ago. I fell into my first weekly show with Schwa de Vivre, which we hosted together for over a year and that led to judging a singing competition as Alexis for several seasons. Then I competed in and won "So You Think You Can Drag" Season 5 and that put everything into motion.

It's so hard to stand out in New York City and in drag; how have you carved out your own niche?
I definitely consider myself a performer first; that's the excitement in drag for me. Even putting looks together is part of the performance, AAAANNNNDDD I can turn a LOOK hahahahahaha! I also strive to remain true to myself when selecting material; if I don't feel connected to something I won't perform it.
What are some of your career highlights so far?
"So You Think You Can Drag" was an amazing introduction to NYC's drag community. My winning Broadway/Disney week performance of the competition exposed me to more people online than I ever imagined possible from a local competition. Placing 2nd runner up in my first national pageant, Miss'd America last September was thrilling. I've had several opportunities acting in plays and readings this year also.
What is left that you want to achieve as Alexis Michelle? Any aspirations to be on "RuPaul's Drag Race" perhaps?
I will continue competing in pageant systems. I welcome doing more theatre and other acting projects in drag. As far as "Drag Race" goes, I'd love to do the show! Its an incredible opportunity and being a part of that legacy would be very meaningful to me. I've auditioned for every season after the 1st, so who knows, maybe Season 9 will be my lucky number!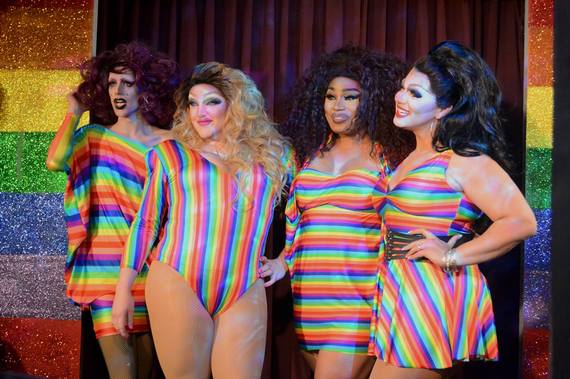 Speaking of "Drag Race" several NYC girls have won. How do you think the show as a whole has been for the drag community?
I think the greatest thing RuPaul's Drag Race has done for the drag community has been how it's increased visibility. Before the show, RuPaul was THE household name in drag in this country. There have been other greats who have had tremendous success; Charles Pierce, Lady Bunny, Hedda Lettuce, to name a few, but for many year RuPaul was the singular most famous drag queen in the world. I believe that's still a true statement, however RuPaul and the other producers of the show have brought one hundred drag queens into the spotlight, some of them achieving tremendous visibility. And as in any community, visibility is whats its all about.

What does Alex do when Alexis is not on stage?
The line between Alex and Alexis is very fine; I love attention out of drag too hahahaha, but when I'm not on stage, I like to relax. Spending time with friends is very important to me. Some of my best friends are actually my drag sisters; Dusty Ray Bottoms, Brita Filter and Tammy Spenks are like brothers to me. If I'm not hanging out with friends I also love riding my bike, swimming at the Y, yoga and cooking.
The gay community has had a very trying summer. What do you think are the biggest issues facing our community and what do you see as your part in helping to address them?
We can't control people's hate, or their own self hatred or even their acts of violence like those that lead to the tragedy in Orlando. What we can control is speaking our own truths, living with pride and NOT in fear, and fighting for equality; the gun control this country is so severely lacking. The greatest thing I believe our community needs, that ALL communities need, is for us to unify and come together. Separating ourselves into groups, pockets, or classes is the root of the problem. I wish for a country and a world where #BlackLivesMatter as much as #LGBTQLivesMatter as much as #MuslimLivesMatter and so on, until ALL lives actually matter equally. We have a LONG way to go, but I refuse to accept any less.
All of that being said, drag queens have the crucial job of bringing joy and levity into this deeply troubled world we're living in.
What does "pride" mean to you?
Pride means living your truth. Whether thats doing drag, working in a bank or anything else you can dream up!
Most importantly-where can people see you perform?!
You can catch me Wednesdays from 8-10 at Boots & Saddle Drag Lounge. When it's in season, I host Drag Race at Boxers Chelsea. You can also find me guesting at Pieces for Frisky Fridays with Dusty Ray Bottoms, as well as Had It Happy Hour on Saturday afternoons. Throughout the summer I'll be making appearances at The Ice Palace in Cherry Grove on Fire Island.
You can follow Alexis @ Twitter: @alexislives
Photo Credits:
boy shot is Evan Zimmerman @evzmm
drag shot is Matthew Murphy @murphymade
group shot is Jenn Witek @jenniferwitek
Calling all HuffPost superfans!
Sign up for membership to become a founding member and help shape HuffPost's next chapter