This season more than ever, the month of June, typically "Pride" month, means just that much more. I thought that rather than just dedicate one month to Pride, I would recognize other communities throughout the United States that are diverse, LGBT friendly, and have made their communities a true destination for the LGBT community. And of course, the many ways that they are demonstrating their Pride.
Rehoboth Beach, DE is a perfect representation of a community that has weaved a wonderfully diverse LGBT community into the fabric of their town. A large part of this progress can be attributed to Camp Rehoboth, a non profit community service organization that is, as their site explains is "dedicated to creating a more positive environment in Rehoboth Beach and it's related communities". Their publication, Letters, continues to promote a multitude of businesses in town, working closely with many of them to advertise their events and feature them "up close and personal" perspective. Letters has become the essential bible for all things Rehoboth Beach. (www.camprehoboth.com)
One of the best things I have noticed about Rehoboth Beach is their diversity. You can see two wonderful men walking down Rehoboth Ave. with their daughter the same as you can see their heterosexual counterparts doing the same. The LGBT-geared businesses are mixed in wonderfully with the more straight themed ones, making a community in the truest sense of the world. The women have no problem getting down on the dance floor right along with the boys, and many of the dance floors in town have a mixed crowd on many nights. Communities like this one are not only can they be proud of their individual communities, but they can be proud that all of them have merged together in the best interests of the town.
My partner and I purchased a home here several years ago and fell in love with our little home away from home. After getting over the initial culture shock of being quite different from our homes in Asbury Park and the Philly suburbs, we started to have a mutual love affair with Rehoboth Beach. The thing that resonated with us the most about the community is how the political boys of D.C. can blend so perfectly with the boys of the Gayborhood in Philadelphia, how the quintessential Jersey guys can mix so wonderfully with the boys of Baltimore. Different ages, different cultures, and different generations meld together regularly to create a community that have managed to carve out their own colorful and eclectic niche in this sleepy shore town. More than anything, that is something truly to show pride in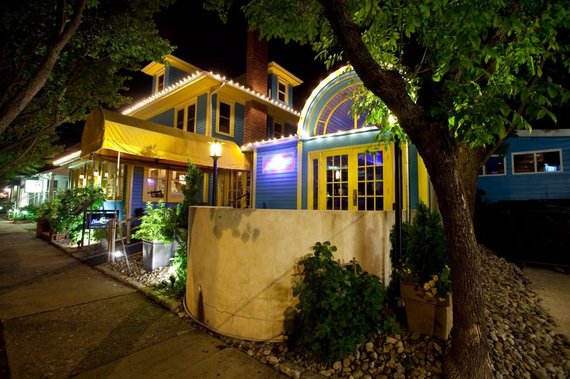 The Blue Moon continues to be one of the leading destinations for the Rehoboth Beach community. Not just a nightclub, and much more than a restaurant, co-owners Tin Ragan and Randy Haney have cornered the market on high profile entertainment in Rehoboth Beach, making their 35th year their best yet! If you are looking for a drag show in it's truest form, this is where you want to come. Mona Lotts is the "house mother" of the Moon, hosting the Friday night "Spotlight Show", which also features other local gals like the multi talented Roxy Overbrooke and Rehoboth's own Carol Burnett, Magnolia Applebottom. Fun Fact: Bravo's "Real Housewives Of Potomac" even popped into the Blue Moon on their cast trip this past season, bantering with Mona herself! Throughout the season, you never know who you may have the chance to catch at "the Moon"; Anne Steele made the Blue Moon a stop on her "The Mixtape of My Life" tour, and Broadway stars like Telly Leung and drag icons Sherry Vine and Joey Arias make annual return visits to entertain packed houses. Not just settling on one night of drag entertainment, you can catch some of the ladies during the week, from Roxy Overbrooke hosting karaoke on Thursdays, to Magnolia Applebottom leading "Games with Magnolia" on Tuesdays. One of the busiest and consistently wonderful events is to see the legendary disco diva Pamala Stanley, who hosts her always packed cabaret show daily, Sunday through Thursday; get there early to see this legend belt out some of today's hits and yesterday's classics; "going to see Pamala" has become a Rehoboth Beach staple. Any mention of the Blue Moon would not be complete without mentioning the spectacular creations that Head Chef Lion Gardner has come up with, especially for the Blue Moon's dinner menu. Not only can you grab dinner, but Sunday Brunch is always a sure bet if you're looking for a fantastic way to close out your weekend. (bluemoonrehoboth.com)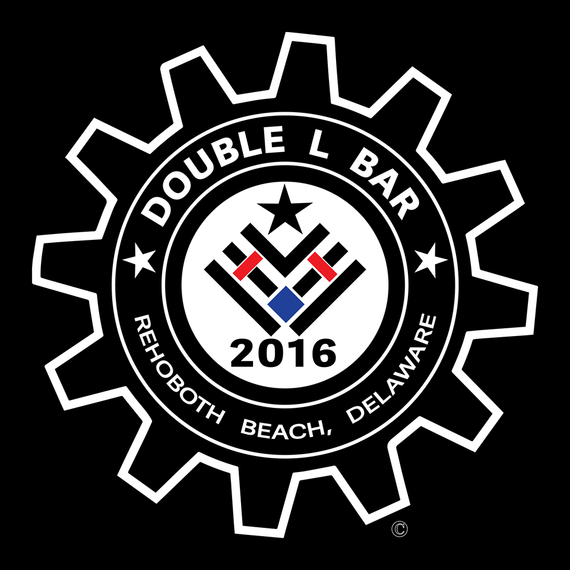 Like the Renegade before it, the Double L Bar is the perfect spot to for an amazing night of dancing with some of the burliest and most handsome men in Rehoboth joining you on the dance floor. Stephen Durkin's MANdance has reignited the definition of a true "dance party" in Rehoboth Beach; not since the days of the aforementioned Renegade has there been a true big room venue where you could really hit the dance floor. You can take a break during MANdance by grabbing a cocktail and heading outside to chat with the multitude of guys on the patio, then return to the dance floor for Durkin's signature blend of high energy anthems that keep this party one of the most popular in town. During the week, Double L Bar has other events, like Monday's Showtune night or special Gear/Leather nights. For the Fourth of July week, they welcomed the deliciously handsome DJ Spencer Reed from Beriin to spin for several events. (www.doubllbar.net)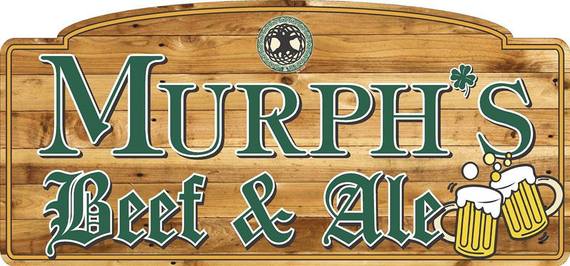 Any resort town with a heavy LGBT population would not be complete without wonderfully talented cabaret performances and the backbone of that community, their talented piano accompaniment. In Rehoboth Beach, John Flynn and Matthew Kenworthy have combined their talents. Kenworthy (formerly of Resorts Casino in Atlantic City, when they had a short lived, but very successful relationship with the LGBT community) and Flynn, (a Philadelphia institution), can be seen tickling the ivories everywhere from Rigby's on Rehoboth Ave, to Aqua Grill, another huge LGBT destination (more on that later). Flynn and Kenworthy even have "dueling pianos" at Murph's Beef & Ale, also on Rehoboth Ave. Seeing these two talented gentlemen together in an intimate setting is a treat not to be missed when you're visiting Rehoboth. (http://www.murphsbeefandale.com/)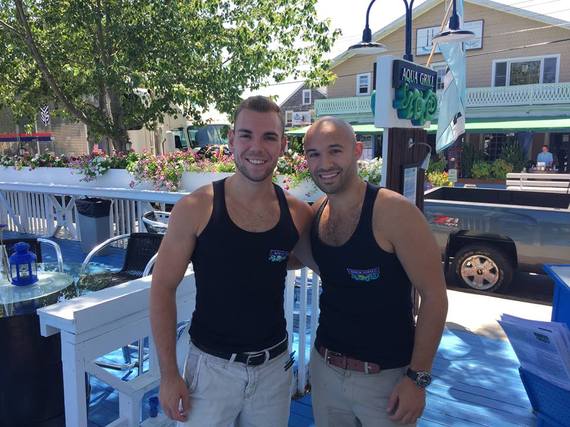 Located almost directly on the corner of Baltimore Ave, Aqua Grill is the best place to see and be seen in Rehoboth Beach. Happy Hour at Aqua is the perfect way to finish up a great beach day or to start a fantastic night a bit early. The cocktail servers present plenty of eye candy while delivering your cocktails, and the boys behind the bar keep you coming back for more at the bar (hint: Josh makes a killer dirty martini)! High top tables present the best kind of viewing for the boys strutting down Baltimore, and snagging one of the tables is a great way to strike up conversation with new friends, or catch up with old ones. As mentioned earlier, cabaret has been weaved into the entertainment at Aqua, with the aforementioned John Flynn and Matthew Kenworthy playing on separate nights, and have incorporated the divine Karen Murdock into these nights, allowing a true feeling of cabaret music under the stars. (http://aquagrillrehoboth.com/)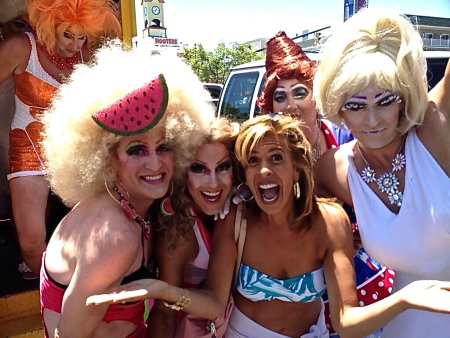 Like the Fire Island Invasion of Fire Island, and the Miss Paradise Pageant of Asbury Park, every LGBT community has their drag queens and their unique traditions to thank for adding some of the most vibrant of colors to their community. With the "Pie Ladies" of Rehoboth Beach, this shore town is no exception. Thought to be derived from "The Ballad of the Pie Ladies" poem, this decade plus tradition involves some of the town's most entertaining and daring gentleman, dressed to the nines and, as the poem tells, taking part in a "neighborly exchange, the giving of pie". The ladies show up in their own custom "Jolly Trolly" and the crowds to welcome the ladies have grown as the years have passed. Hoda Kotb has even gotten in on the action and showed some love to the pie ladies. This year's event involved a Donald Trump theme, and with tongue planted firmly in cheek, the ladies delivered performances dressed as Melania Trump, Hillary Clinton, and even Sarah Paiin!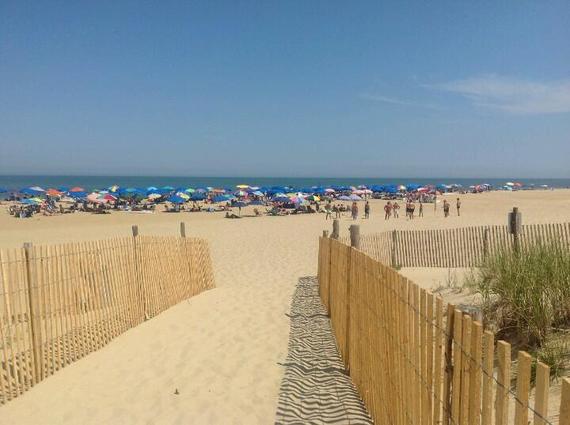 For any shore town with a strong LGBT community, it is essential to have a proper beach to set up your umbrella, soak in the rays (and the eye candy). Rehoboth Beach is lucky enough to have two. Poodle Beach is what many would call the "gay beach" and is definitely the place to see and be seen when it comes to beach life. Both the visiting tourists and the local boys will find it easy to make fast friends in the water or on land, and the sunnier the day the more packed Poodle seems to be. If you want to pop over to a slightly less crowded, yet still sunny situation, North Shores is the beach for you. With a slightly lazier more relaxed feel, North Shores caters to both the burly bear crowd and the lesbian crowds, with plenty of extra room for frisbee throwing, extra large umbrellas, and walking your four legged family members.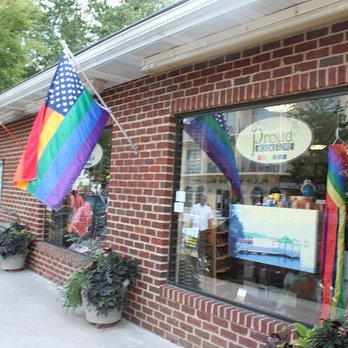 On days that you can't enjoy the beach, shopping is definitely the must do activity in Rehoboth Beach. Now while the outlets on Route 1 are tempting and sometimes have can't miss deals, it's essential to pop into some of the best small shops in Rehoboth Beach and support small businesses. The Proud Book Store is one of the classic LGBT stores of old, with everything from the latest books and magazines to kitschy pieces to beach and holiday accesories. They have a great used section, and are always happy to accept donations. Gidget's Gadgets is the perfect place to find some of the best retro toys around, and Browseabout Books is one of the best spots to grab that perfect beach read before hitting the sand.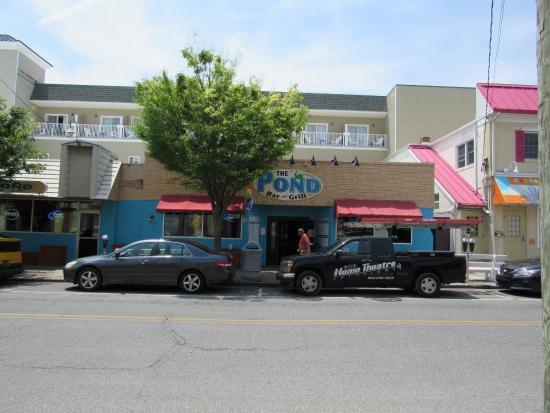 The lesbian contingent of Rehoboth Beach are definitely a big part of the community, I mean, Fay Jacobs is a Rehoboth Beach institution, with her numerous books and is the Features Editor for Rehoboth's local publication, Letters! As always, the ladies know how to have a good time and can usually be found giving the boys a run for their money, and it's no different in Rehoboth Beach. The ladies have carved their own little area of North Shores beach out, where you can see plenty of gals chatting in intimate circles, and their wonderful dogs adding to the beachiest of atmospheres. Post beach, you can catch the gals at The Pond Bar and Grill, where you can see some of the best live music in Rehoboth Beach on various nights. While not an "official" ladies bar, the gals have made it their own, giving you an eclectic and ultra friendly group of ladies on any given night. (http://www.thepondrehoboth.com/)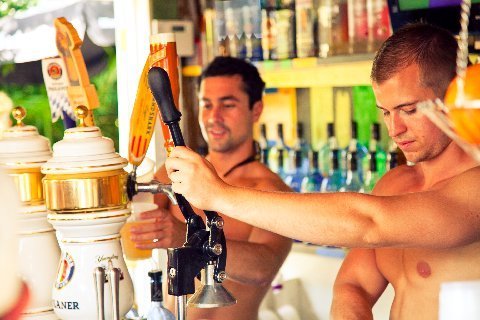 If you're looking for a great bite along with some fantastic entertainment, the Sunday night drag show at the Purple Parrot is the spot to check out. "Sunday Funday" is a popular activity in Rehoboth Beach, popping from the Blue Moon to Aqua, sometimes ending up at the Purple Parrot for Sunday night's main event, Tara Austin and the Birdcage Bad Girls Show. Now while the new Biergarten and karaoke every Thursday, Friday and Saturday can pack the dollar bill decorated bar and restaurant, Ms. Austin and the ladies certainly is the main event. Sometimes a powerful ballad, and sometimes a tear off the roof dance number, these ladies know how to work the stage and sometimes even make their way into the crowd for an up close and personal experience! (http://www.ppgrill.com/)

Bear themed weekends have been popping up recently from Asbury Park to Provincetown, and Rehoboth Beach is not going to be left out of the movement. These events have proven to be hugely successful, and Rehoboth Beach's First Annual Bear Weekend last year was such a hit, that they've decided to do it all over again this year! The boys roar into town on Thursday with a bar crawl event, followed by such furry events as the Fun' N Fur Dance Party on Friday night, Bears on The Beach during the day on Saturday, singer/songwriter Tom Goss on Saturday night, and a Tea Dance on Sunday! The men and those that love the bears will be "woof-ing" around town all weekend, so this is the perfect post Labor Day event to ease out of the steamy summer and into the crisp fall. Who knows, maybe if you're extra lucky you may find your own bear to keep you toasty while we hibernate all winter. (https://www.rehobothbeachbears.com/)
Think your town has their own special definition of "Pride" and deserves it showcased? Follow me on Twitter (@cookster74) or send me an email @ mykeyc76@aol.com.
Popular in the Community