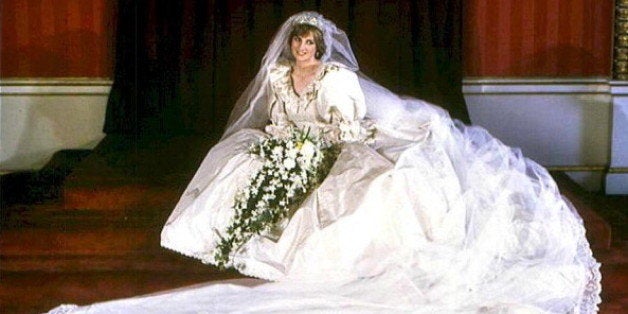 The alluring fairy tale that I call the "princess myth" runs deep in many women from an early age. This underlying desire to look and feel like a princess can even overlap into the dream of being a bride -- surrounded by all the glittering trappings the wedding pageantry offers. From my experiences working with thousands of brides through the years, I've seen how intense such a shimmering-in-white, princess-for-a-day desire can be. Indeed, many brides -- of all ages and backgrounds -- not only said they "felt like a princess" when dressed in their bridal finery, but some women acknowledged this was the main reason for wanting to have a wedding and get married!
The Great White Wedding
I've even dedicated a book to the intrigue of the "princess myth." Of course, it didn't begin with Princess Diana -- every generation in memory has fallen under the spell of their own princess bride: Marina, Elizabeth, Grace. But the global impact of Diana's gleaming royal wedding in 1981, after nearly two decades of social upheaval, resurrected the appeal of the ritual-rich society wedding and put the stylized bride back into the spotlight. It was the revival of what British historian Ann Monsarrat had deemed, in the sentimental aftermath of Queen Victoria's nuptials in 1840, "the great white wedding." This particular collection of rituals--the dress, the music, the attendants, the cake--all came together to set the standard for generations of wedding-planning mothers through the 1950s.
Nonetheless, in a gown designed to evoke fairy-tale imaginings, Lady Diana Spencer -- Queen Victoria's great-great-great-grandson's starry-eyed young bride -- embodied the "princess myth" like no other. And in turn she showed how the fabled, feminine-to-the-core white gown was, indeed, the ubiquitous centerpiece of all this wedding pageantry. "The grandest dress of her lifetime," as Carol McD. Wallace in All Dressed in White described the gown that dazzled the imaginations of young women over the decades. "This was as glamorous as her life was going to get, as close as Everygirl would come to being royal," the author added.
With weddings fashionable again in the heady luxury of the late 1980s and '90s, high-fashion designers took over the once-staid wedding industry (so princess-brides could now be stylish and sexy); the post-Diana celebrity culture took over our psyches; and the Disney Princess phenomenon -- launched at the beginning of the new millennium -- whipped it all into a look-at-me frenzy!
Paradoxically, as the women's self-actualization movement arose during the last two decades of the twentieth century, the princess-bride planning her own wedding did as well. She was sleek -- hair, make-up and shoes planned to a T -- and this overly maquillage'd bride posed like a red-carpet celebrity in her big white dress. Now in today's image-addicted, reality-show-saturated, Pinterest-loving culture, the gown's enchantment not only lives on, but thrives.
Beyond Disney
Perhaps it was bound to happen with the first generation of Disney princesses coming of age and "with the single population ever increasing -- and people becoming more and more self-interested and privileged," wrote Tom Teeman in late 2014 for The Daily Beast about something he calls the "self-marriage movement." A company in Japan offers "solo wedding" ceremonies and, as Teeman explains, one package deal includes "choosing your own gown, bouquet and hairstyle, a limousine service, a stay at a hotel and a commemorative photo album." Plus, to encourage more "positive feelings," the single bride can rent a "decorative" man to pose alongside her. (A fake man for a fake ceremony!) Is the idea of marrying yourself a declaration of independence and liberation or just more of a me, me, me "exercise in pampering," as one young woman labeled her experience? (I think it's merely the princess myth stretched to extreme.) After trying out the package, another young woman reported that it '"boosted [her] sense of self-esteem... the effect was equal to a more extraordinary experience, such as visiting a World Heritage castle.'" But maybe the most forlorn aspect of all this to me--and the most telling--is the company's promotion. They proclaim that their solo-wedding ceremonies offer an opportunity for "single women who are not sure if they will get married, but want pictures of themselves in a bridal gown while they are 'young and beautiful'" (and you knew it was coming) so they can "'experience the feeling of being a princess.'"
Therefore, with my query into the provocative "princess myth" on high-alert, a recent article in Vogue Daily caught my eye: "The Cool Girl's Guide to Wedding Shopping." It shares that "while there's nothing wrong with wanting to go traditional, not every bride dreams of a dress of Disney-princess proportions." (Of course what's considered "traditional" hasn't always been, well, "traditional"--changes in fashion may be the only "constant" we can count on!) The article features colorful, floral, unfussy designer dresses for brides--not a crinoline or corset or pouf in sight--more chic milkmaid than celebrity princess! (Can the "princess myth" survive such no-fuss simplicity?)
Indeed, would there have been generations of princess-dreaming girls without the allure of a glamorous gown? Does one really want to be a "princess" if there's no glam gown in the offering? (Or, on the other hand, perhaps the "princess myth" is more Jungian than sparkly dress.)
Your Inner Goddess Calling
When shopping for a wedding dress, I ask brides through my wedding blog to consider just who is doing the choosing! Is it the latest fashion that's tugging at your heart or maybe 'tis some once-upon-a-time "princess" yearning? Or perhaps something deeper happens when you try on "the dress"? Something more akin to: "I feel like a destiny-shaping goddess...inside and out!" For the last 30 years I've encouraged brides to let this feeling--like an intuitive feminine presence--soak deep into their bones, keeping it close to their hearts during this seminal rite-of-passage. This is the mantra I share: "Don't settle for being a princess-for-a-day, be a goddess for a lifetime!"