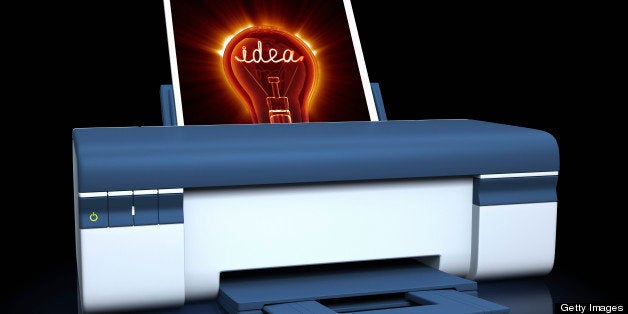 As part of the "Blog Blog Project," I've been posting blogs about politics, media, and technology from the courses I teach at the University of Delaware. This blog, written by UD junior Eric Hastings, a Criminal Justice major, discusses how the media are (or are not) covering the evolving story on 3-D printable guns and gun parts.
My friends love to debate. Like most politically inclined college students, they have ideologies, preferences, and allegiances to certain schools of thought. But gun control has consumed our conversations of late. After the Sandy Hook school shooting that shook the roots of our nation, many called for stricter gun control laws. Obama is listening, we are all listening. And although it looked as if law makers were listening, Senate has appeared to move on. But one man is listening for different reasons, and boy, does he have a lot to say. I think it's time we should start listening to him. His name is Cody Wilson.
Wilson is a 25-year-old University of Texas law student -- not someone you would expect to be on anyone's "Most Dangerous People in the World" list. But Wilson is the face and pioneer in the new frontier of 3-D printable firearms. You read that right: printable firearms. Three-dimensional printers are being used in extraordinary ways, and they are making waves in the national media. Wilson is the founder of Defense Distributed, a group that designs 3-D versions of gun parts for anyone who downloads these files from their website. Recently, Wilson and his gang received their federal license to build and sell the guns parts they have been making. Vice's new documentary from Motherboard Click, Print, Gun follows the "crypto-anarchist" as he creates these gun parts, uses them successfully, then proudly boasts about his progress. Wilson seems to loves the attention, but I'm wondering why he isn't getting more attention than he does. The media has covered the 3-D guns story in fits and spurts. But in light of the recent events in Boston, where IEDs were used to harm Marathon bystanders, fits and spurts aren't good enough. Wilson can change the entire landscape of the gun debate -- with a printer.
As we've discussed in our Politics and Media class this semester, a subject is most likely to be covered in the news if it satisfies certain criteria of "newsworthiness." One element of newsworthiness is timelessness. After Vice's documentary on 3-D guns was released only a few weeks ago, Wilson was a guest on The Blaze and was a top story in many news sites like Forbes. It's no coincidence; the time is ripe for the media to pick up on a big player in the gun debate like Wilson.
Another element of newsworthiness satisfied by this ongoing story is the consequence and impact of 3-D printing firearms. Wilson claims there have been 400,000 parts downloaded from the Defense Distributed website. Now, imagine you have a government-hating, trigger-happy, not-so-friendly neighbor being one those people who is printing off gun parts for free, in potentially unlimited amounts. This "what-if" scenario can so easily become a reality, and the possibilities are unsettling. Perhaps more unsettling is that what Wilson is doing is entirely legal.
In Glenn Beck's Blaze interview, he turns to the camera and asks, "Is this guy hero or villain?" Is he a protector of the second amendment, or a danger to progress in gun reform? Wilson's actions have vast consequence on the future of gun control, and that makes him, and the 3-D gun parts he provides, newsworthy. It's clear that America has sunk its teeth into the gun debate, and regardless of Senate's recent actions, many don't plan to release anytime soon. In fact, this 3-D printable guns story is just getting started.
The 3-D printing story -- accompanied by its biggest character, Cody Wilson - has received some attention, but is only in its beginning stages. That's likely why it is not the top story of the day. There are a few elements keeping it from being the most attractive item to place in the news hole. Defense Distributed's actions are completely legal as of now, and 3-D printers have not found a place in most Americans' homes. Because there is no obvious legal conflict, the sparks created by Wilson's actions hinders the story from generating daily news attention. The lack of a prominent figure also lessens the impact of the printable guns. Cody Wilson is not a celebrity, politician, or eminent figure. If a prominent figure were to back up Wilson's plan then maybe the prominence element would be satisfied. Ted Nugent, where are you?!
Regardless, this story is growing. People like Cody Wilson are putting intellectual property, patents, and copyrighting in the sights of 3-D printable guns, and it looks like Wilson is going to pull the trigger. Wilson knows 3-D printing is a technology of the future and it is recognized as such. President Obama addressed this in his 2013 State of the Union, saying, "3-D printing ... has the potential to revolutionize the way we make almost everything," and that "the next revolution in manufacturing will be made in America." Cody Wilson takes this literally when he replies that "a revolution means a revolution." Wilson craves attention, and it's time we should give him some. He's got mine.
-- Eric Hastings, University of Delaware
REAL LIFE. REAL NEWS. REAL VOICES.
Help us tell more of the stories that matter from voices that too often remain unheard.