For several years now, international non-governmental organizations (NGOs) have had a laser focus on the issue of wildlife trafficking with the help of the U.S. government, other national governments around the world, and multilateral institutions such as the Convention on International Trade in Endangered Species (CITES). This week, at the White House and at the National Geographic Society, I believe we took another step forward in that fight thanks to the private sector.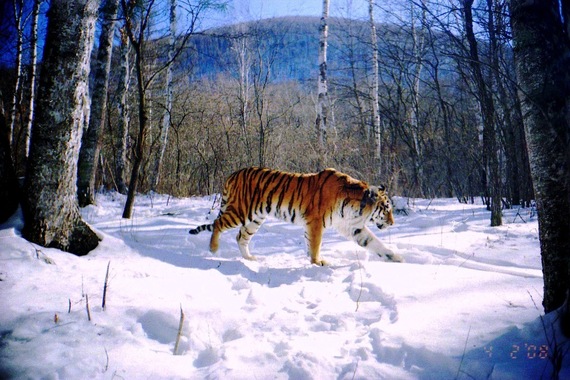 Between 2000 and 2013, more than 27,000 seizures of tiger derivatives were reported to CITES, mainly originating in China and Vietnam. Photo credit: ©WCS Russia.

Targeting wildlife trafficking is essential if we want future generations to live in a world that is still home to our most iconic animals. The demand for ivory, rhino horn, tiger skins, and other products is causing those endangered species and many others to rapidly diminish.
With a particular focus on elephant ivory, coalitions such as 96 Elephants have engaged the public to urge governments to take further action to restrict the trade in illegal wildlife products. We are now very close to seeing the Obama Administration release new regulations that would severely restrict ivory trade in the United States, following actions by some of the states with the largest markets in nation such as New York, New Jersey, California, and Washington.

WCS president and CEO Cristián Samper with WCS/Niassa Reserve field op team investigating carcass left by poachers. Photo by Alastair Nelson © WCS

With better laws and regulations nearly in place, we must work towards the next step: educating the public and making sure the rules are making a difference. Unfortunately, the U.S. continues to be one of the world's leading markets for illegal wildlife products including jewelry, skins and trinkets.

That is why WCS is proud to be a founding member of the U.S. Wildlife Trafficking Alliance (USWTA), a public-private partnership that has brought together the conservation community, the private sector and government to seek solutions to this crisis. The Alliance is committed to working together so that illegal wildlife products are not sold in the U.S. and to educating consumers that their actions will ensure a future for wildlife.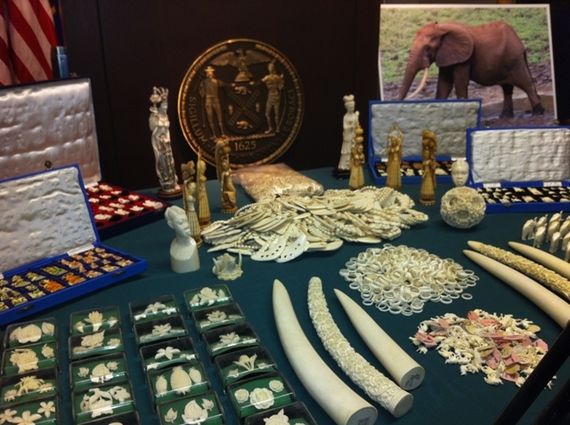 Some of the $2 million in illegal elephant ivory seized in 2012 by the New York State Department of Environmental Conservation, in conjunction with the U.S. Fish and Wildlife Service and the Office of Manhattan District Attorney Cyrus Vance Jr. Photo credit: Manhattan District Attorney's Office.

Corporate leaders understand that they can play a constructive role implementing policy goals when they are engaged from the beginning of the process. For this reason, the companies joining USWTA are taking proactive steps to ensure that illegal wildlife products remain out of their supply chains.

Online retailers Etsy, Google, and Ebay are pledging to make sure these products are not sold on their sites. Fine jewelers such as Tiffany & Co. are ensuring that none of their articles include things like ivory, coral, or exotic skins. Companies in the travel sector, including JetBlue and Royal Caribbean, are taking steps to ensure they are not transporting illegal wildlife products and advising their customers that these products should not be taken home.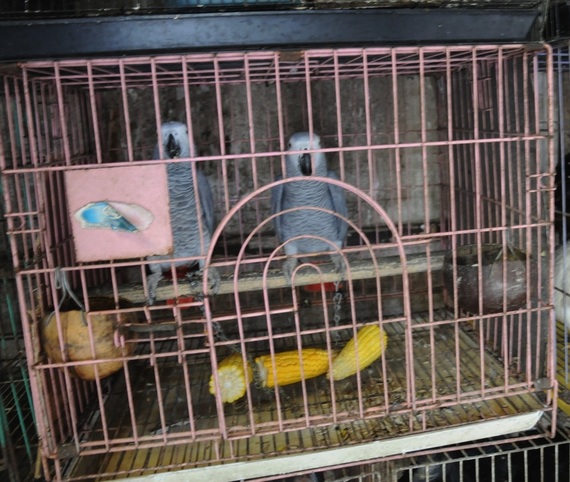 Two African Grey parrots for sale in the infamous "Bird Markets" of Jakarta. Photo by Steve Zack ©WCS.

This week, I met with other representatives of NGOs and companies at the White House to celebrate these corporate commitments and participated in a panel discussion at the National Geographic Society to discuss the next steps for the U.S. Wildlife Trafficking Alliance in the fight against wildlife trafficking. Soon, other companies will see the benefits of getting behind this effort and join the cause.

I am inspired when I see new faces and organizations supporting this effort. Based upon the strength of committed conservation organizations, responsible corporate entities and proactive government leadership, we have seen remarkable progress. However, in the end it is up to the American public to make the decision to stop buying these products. We can end the scourge of wildlife trafficking and the danger it brings to U.S. interests only if we are all in this together.
Calling all HuffPost superfans!
Sign up for membership to become a founding member and help shape HuffPost's next chapter