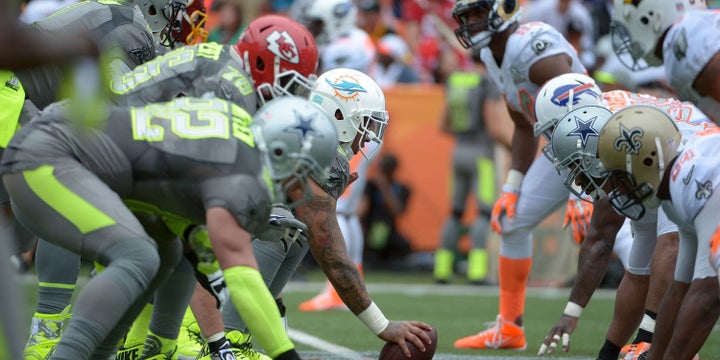 People love football. People love All-Star games. So wouldn't a football All-Star game be like the most popular event on the face of the earth? For real, there's way more talent there than there is at the Super Bowl, even if the teams are composed of non-Super Bowl teams. Doesn't matter. It's a terrible event and it needs to go.
The premise of it makes sense: the best players in the NFL playing each other in a game. That sounds lovely. But football is a big-time injury sport.
Even when guys aren't sitting out, they're always playing through pain. There's no sense in them putting their bodies in worse shape by playing in a meaningless game. It's not worth the risk of injury ― hence why the games are so terrible. No one tries.
The defenses sure as hell don't try. The games would not be as absurdly high scoring as they are if they did try. And they wouldn't let Patriots special teamer Matthew Slater play wide receiver when he doesn't even play receiver on the Pats.
Further proof that it's stupid: Blair Walsh hit a 48-yard field goal in the 2013 game. Yes, he played in a Pro Bowl. You have to figure all the other kickers just didn't want to go or something.
Fortunately, this year the game will be strictly AFC vs. NFC. The little fantasy drafts for the Hall of Famers might have been the dumbest thing in all of pro sports. It's not pickup football. It's the NFL.
Apparently, it doesn't matter what team you're on though because in 2013, they let Jeff Saturday switch teams ― mid-game mind you ― to do one more snap to Peyton Manning. Nice gesture? Sure. Real football? No.
I'm not sure how many people saw this, but they're also adding some sort of a skills competition to it. Seriously? A skills competition? Nice try, but please don't try to copy the NBA. That's not how the world works.
Oh, and one of those skills is dodgeball. This isn't friggin' gym class, this is the most popular sports league in North America. There's not even a good way to argue how stupid that sounds.
The game used to be a paid vacation for these guys to Honolulu. Now they're moving the game around it seems. Stop. Just end it.
REAL LIFE. REAL NEWS. REAL VOICES.
Help us tell more of the stories that matter from voices that too often remain unheard.