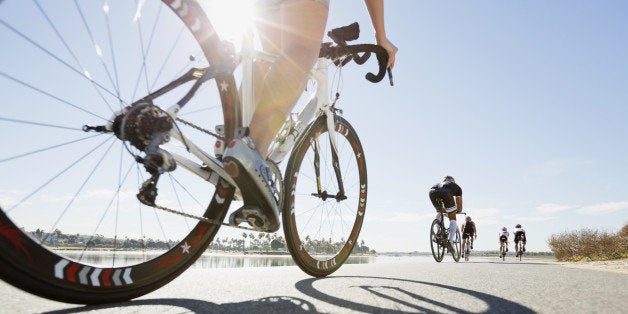 A few years ago, I started cycling.
And by cycling, I don't mean the I-need-to-commute kind of cycling I'd done at school and doing college ministry, but the Now-I-will-wear-lycra-pants-and-shoes-that-clip-in type of cycling. To say that the learning curve was steep was putting it mildly. I still blush a little when I think of how many times I came to a stop and, having forgotten to unclip my shoes from my fancy pedals, realized too late I had no free feet to put down and so just keeled over onto the sidewalk. (It's okay if you laugh. We all did.)
I remember taking my first longer ride out into the country: a 35-mile-round trip, with a half-way stop at a cute coffee shop which was welcoming to smelly lycra-clad cyclists. The first two or three miles were gorgeous: an encouraging warm sun just rising, the breeze in my hair, the regular breathing that felt like life in my lungs. But a few miles in, I was suffering. I couldn't figure out why: the terrain was flat, and I'd gone so much further than this on the stationary bikes in the gym before. Could I really be this unfit? Had my hours of training until now been so ineffective?
I nursed my disappointment quietly over my coffee while my riding pals chattered on, not sure whether I had the stamina to make it back. I gathered up my shards of courage and mounted my bike, prepared to make my excuses about why I couldn't keep up with the others on the long ride home... but a few miles in was stunned to find that the trip home was going so much better than the way out had gone.
Really? Why? Why had it been so hard, and now it was going more smoothly? If anything, I'd expected the second half to be harder as the sun was higher and I was that much more tired.

I muttered to the much-more-experienced cyclist next to me: "the way home is going a little easier than I expected." She laughed: "yup. that's the difference a tail wind will make."
A wind? I couldn't feel it. I hadn't felt it on the way there, and I couldn't feel it on the way back... all I was aware of was the feel of the breeze as I biked... but as it turned out cycling directly into a 5mph headwind and then cycling back aided by a 5mph makes a huge difference to how much work it takes to bike. In fact, the difference isn't even linear: it's an exponential function (here's a graph if you have a geeky itch that needs scratching). It requires DOUBLE the amount of power to bike at 20mph as it does at 15mph, just with regular wind resistance caused by the fact that we're moving through air. If you have a 5mph wind against you at 15mph... well, you do the math.
As it turned out, the struggle was that much worse not because I was failing my training in ways I hadn't accounted for, but because I was meeting with real, albeit invisible, resistance.

I was chatting with a friend recently who has been feeling deeply discouraged in some areas of her life where she wishes she were just doing better/being stronger. She sounded exhausted, and was filled with self-reproach that the struggle she was going through was just further evidence of spiritual failure: "If I weren't so evil, this wouldn't be so hard to overcome," she lamented.
But as she described her journey, I became more and more convinced that there was something spiritual going on, too. Christian theologians have long described the enemies of the soul as consisting of the world, the flesh and the devil. My friend was accounting for the world and the flesh in her struggle (and those are real), but it had not crossed her mind that there might be more at work there than she was giving it credit for.
The western church, for all its love of CS Lewis, does not have nearly as robust an awareness of the spiritual realities of a dark and evil opponent in the life of faith as our older brother in the faith did. The Screwtape Letters are worth revisiting regularly not only for their written genius, but for the stark reminder that there are evil, personal powers at work to distract and discourage us. "We are not unaware of his schemes," wrote the Apostle Paul. Sadly, that can often not be said of us.
The image of me, discouraged and beating myself up for my weakness on that first long bike ride, came to mind as I talked with her. Just like I sometimes do not take the invisible-but-real resistance of the wind into account when biking, so too we do not take the invisible-but-real resistance of the enemy into account, as he blows straight into our faces to slow us down and impede our progress.
And exhausted, we collapse and say to ourselves the words the Accuser (that's what His name means, anyway) hurls at us: failure. weak. evil. quitter. laughable. why do you even bother?
But it helps to know that there is an enemy. It helps to know that the resistance we are feeling is real, and not imagined, and that the fight we are fighting is not just because our faith-muscles are weak but also because we are wrestling against a skilled opponent. Satan is the invisible headwind on our course, and he delights to remain unnamed and unnoticed so that we will lose heart.
But we will not lose heart. Forgetting what is behind, we press on; fueled by faith and reaching forward--ever onward and upward--to complete the race. We learn, as skilled cyclists do, how to keep our heads down and cycle close behind others: for these things do a lot to decrease that relentless invisible resistance.
And so, together, we will go the distance. For we are not unaware of his schemes.
This post first appeared here. Follow Bronwyn Lea on Facebook and Twitter for more on faith, family and culture.
Calling all HuffPost superfans!
Sign up for membership to become a founding member and help shape HuffPost's next chapter