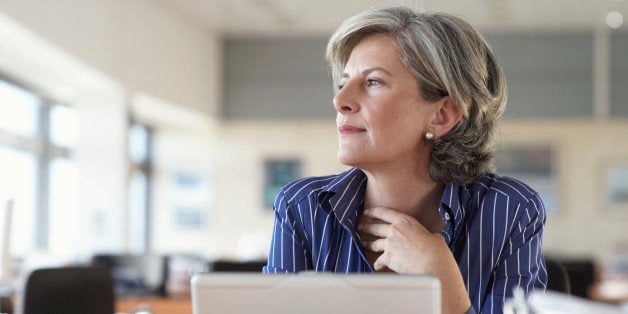 Many successful career women are finding themselves somewhat discriminated against in the workplace in their "middle years" as the symptoms of menopause start to appear.
Women find themselves silently suffering symptoms such as hot flushes in the workplace for fear of being stereotyped as getting old.
Anxiety is another symptom often expressed during peri-menopause and menopause. In many cases it may not be the hot flushes that are causing anxiety in these women, but rather the stigma attached to being seen as menopausal.
The New Age, Mature Woman in the Workplace.
Both employers and workers need to change their attitude to women who may be going through peri-menopause or menopause. The time in the life when a woman is experiencing menopause should not be seen as a weakness or a barrier to a successful career. Instead, they should recognize the "mature-aged" woman in a more positive light as a woman who is:
Ambitious
Resilient
Dependable
Wiser
The most common symptoms that may affect a woman's workplace achievements during the peri-menopause and menopause years include:
Headaches
Fatigue
Anxiety
Memory loss
Hot flushes
For many years I have been working with peri-menopause and menopause women. Many women said that the more they experienced the above symptoms, the less they felt engaged at work, satisfied in their jobs and committed to the organization they were working for.
From this insight, it is imperative that the workplace put in place achievable practices in order to assist the mature woman by accommodating the infrastructure that she works in.
From the short list of symptoms mentioned above the most pressing symptom for women, and the one most commonly associated with menopause, is the symptom of hot flushes.

The knock-on effect of experiencing "Hot Flushes".
Experiencing hot flushes at night affects the woman's sleep pattern. Many a night can be spent restless, with poor quality sleep, due to the constant waking with night sweats.
Adding to the fray are the hot flushes experienced during the day.
Both the hot flushes and the night sweats further exacerbate the symptoms of headaches, fatigue, anxiety and memory loss. All these issues can affect a woman's performance at work and may add to the stigma of seeing menopause as a weakness.
Other issues affecting the Mature Woman.
It is important to note that there are other issues that may also be happening and thus affecting a woman's capabilities in the workplace. These women may also be experiencing the stress of juggling parental or child-caring responsibilities or other life transitions such as a divorce or mortgage commitments.
Menopause also coincides with a time in a woman's life when she may reflect on her achievements, her aspirations and her dreams. This reflection can make many women despondent if they have not achieved what they had hoped to achieve by the time they reached the middle years.
For many women, the "Middle Years" may be seen as the time in their lives when they shift from seeing the future as one of much potential to one of limitations.

The same issues of "Middle Years" could be said to be affecting men at this age also. The only difference is that men do not have to cope with their hormones changing which can be very debilitating for women.
Improvement tips in work place practices.
The simple act of allowing women suffering with hot flushes access to controlling the temperature of their work environment (such as the placement of a fan at the work desk) is a positive one. Assisting when a hot flush occurs through fans -- or by being able to lower the temperature controls in the workroom -- can reduce the occurrence and intensity of hot flushes experienced.
Having more control of the temperature of their work environment can send a subtle, yet important message as to how valued older women are in the workplace.
Information should be available to all staff about menopause and its symptoms so they can provide support where needed.
Flexible working hours for women can assist in better work practices.
Organizational support and workplace cultures need to be more supportive of the mature woman rather than allow stigmatism commonly associated with these women. Having a hot flush should be viewed as a natural occurrence and not a weakness in the woman.
Open dialogue in the workplace can help alleviate any misconceptions and allow for greater harmony in the workplace, particularly if the woman is working in a male-dominated area, or a workplace with a higher proportion of younger colleagues.
Simple techniques and a greater understanding of the anxiety and stigma attached to peri-menopausal and menopausal women allow for a more coherent workplace.
It is a small subset of the workforce but one that contributes great wisdom and wealth of knowledge. We need to see beyond the symptoms and see these women for the assets they are within the workplace.
Julie Dargan is the Menopause Whisperer helping successful businesswomen in eliminating hot flushes thus leading to better productivity and well-being in the workplace.

PHOTO GALLERY
Menopause Treatment: 10 Natural Remedies
Calling all HuffPost superfans!
Sign up for membership to become a founding member and help shape HuffPost's next chapter