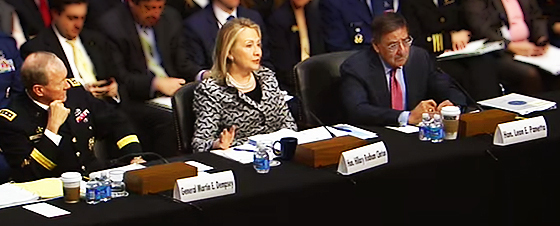 Clinton was more convincing about Arctic exploitation than she has been about Arctic protection.
At the outset of the first 2016 Democratic presidential debate on October 13, CNN's Anderson Cooper zinged Hillary Clinton about her flip-flops on same-sex marriage, immigration and trade. She said she had evolved. Absent from that list was her Arctic stance, a flip in policy not as easily explained.
Headlines blared and environmentalists cheered last August 18 when Clinton seemingly parted ways with President Obama via Twitter over his decision to allow Royal Dutch Shell to drill in the Arctic:

But Candidate Clinton's 92-character policy statement also parted ways with Secretary of State Clinton who was an architect of the Obama Arctic Doctrine of mineral and oil exploitation, militarization, and the new Cold War with Russia.
Shell has since weighed anchor and returned home at a cost of billions of dollars but the planet's northernmost ocean is still very much in play. Every Arctic nation is vying for strategic position. During President Obama's highly publicized Alaska trip, he announced plans for a new high-tech Coast Guard icebreakers to patrol the Arctic and catch up with Vladimir Putin's fleet.
Cooper goaded Clinton that her about-face on the other issues was "based on political expediency." Was campaign gamesmanship also behind her stunning reversal on the Arctic?
Some environmental friends say it doesn't matter. Her current, not her past stance is what counts. The problem with that reasoning is Secretary of State Clinton was far more convincing, and loquacious, about Arctic exploitation than she has been about Arctic protection.
The United States was the only Arctic nation that had not yet ratified. The right to Arctic exploration was a central, thorny issue. She and then Senator John Kerry, committee chair and soon-to-be Secretary of State, were of one mind regarding the strategic importance of securing "certainty" for American rights to the Arctic's oil and mineral reserves. In Clinton's words:
We benefit from [LOST's] provisions on offshore natural resources. As a country with an exceptionally large area of sea floor we benefit from our ability to extend our continental shelf and the oil and gas rights on that shelf.
For Clinton and the Obama administration, the climate-induced Arctic ice melt posed an irresistible opportunity to exploit resources and establish an American presence. Clinton warned the committee about its failure to act:
As the Arctic warms and frees up shipping routes it is more important that we put our navigational rights on a treaty footing and have a larger voice in the interpretation and development of the rules because it won't just be the five Arctic nations, you will see China, India, Brazil, you name it, all vying for navigational rights and routes through the Arctic.
After a cold reception from key committee members who believed LOST threatened U.S. sovereignity, Kerry postponed a vote. He wanted to keep the issue "out of the hurly-burly of presidential politics."
Afterward, Kerry took up the cause for Obama and Clinton in Politico:
We've dealt ourselves out of the game that's unfolding right before us. . . [LOST] can strengthen our hand against China and others, which are staking out claims in the Pacific, the Arctic or elsewhere. It is designed to give our oil and gas companies the certainty they need to make crucial investments to secure our energy future. It puts our telecommunications companies on equal footing with foreign competitors. And it will help secure access to rare earth minerals, which we need for computers, cellphones and weapons systems that allow us to live and work day in and day out.
The following year, the administration rattled its saber for the world to hear with the release of its May 13, 2013 National Strategy for the Arctic Region, presumably formulated with Secretary Clinton prior to her departure from State. It again equated America's right to the Arctic's oil and mineral resources with American national security and defense, but promised:
We will enable our vessels and aircraft to operate, consistent with international law, through, under, and over the airspace and waters of the Arctic, support lawful commerce, achieve a greater awareness of activity in the region, and intelligently evolve our Arctic infrastructure and capabilities, including ice-capable platforms as needed. U.S. security in the Arctic encompasses a broad spectrum of activities, ranging from those supporting safe commercial and scientific operations to national defense.
Today the stakes in the Arctic are higher. Russia's miltary buildup is the largest since the breakup of the Soviet Union. And, despite Shell's retreat, every Arctic nation has its eyes on this oil and mineral frontier. For its part, the Obama administration is staying the course on the policy Secretary Clinton fiercely advocated.
Candidate Clinton has given no reason for her dramatic reversal. The question must be asked: Does she still believe America's economy and security are at risk without the freedom to exploit the Arctic?
Her tweet left ample room for wiggle:
Given what we know (emphasis added), it's not worth the risk of drilling.
What I know of it, as of today, I am not in favor of what I have learned about it.
Hillary Clinton's Arctic tweet is an unpresidential response to a domestic and foreign policy controversy that has been a moving target for decades, and in which she has been deeply enmeshed. She has given even her environmental supporters adequate cause to confront her with the devil's advocate fervor of an Anderson Cooper, who asked:
Will you say anything to get elected?
Portions of this post appeared on EarthDesk, the blog of Pace University's Dyson College Institute for Sustainability and the Environment.
Calling all HuffPost superfans!
Sign up for membership to become a founding member and help shape HuffPost's next chapter