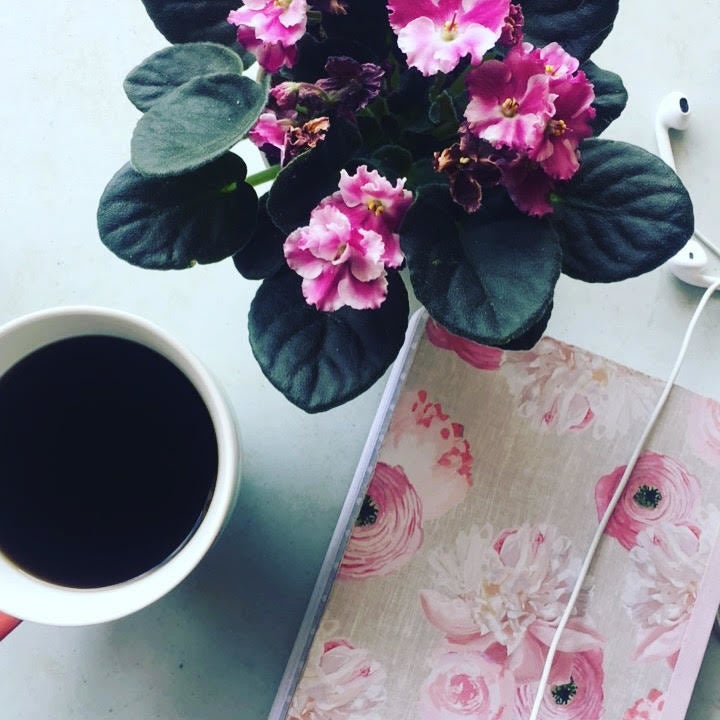 When you write how-to content, you draw in the people who are looking for "7 Steps to Take When You've Lost Your Motivation," or "How to Turn Facebook Fans into Customers," or "Ways to Meet the Man of Your Dreams." And that's cool. But will they keep watching or reading?
The people I love whose content continues to change my life? They very rarely create how to content. They're showing up every day creating content for themselves, primarily. And I'm grateful, and so are the thousands of others who follow them.
Honestly, I should have known this sooner. Realized it earlier.
My favorite creator in the world? Gwen Stefani. And I've always read every interview with her that I can get my hands on. I remember when she launched L.A.M.B., her clothing line, she said these were all clothes that she would wear.
When she's written music, her best music, she's written it because it was what needed to come out of her. That's how she produced work like "Make Me Like You," which makes me cry tears of joy every time I listen, and "Used to Love You," which makes me cry sad tears every time I listen. By being moved and letting that out, she made music that moves me with each listen.
I don't know about you, but I don't really remember a single damn how-to video I've watched. I took the valuable tips and tools before moving into action. Now it's knowledge I possess from experience, and I can't really remember where I heard it from.
I'm not sure about you, but even if my creating how-to content paid millions.... If most people who encounter my content didn't remember my name or that they learned something from me, I'd be really frustrated.
Maybe it's not a popular thing to say, or a 'cool' thing to admit, but I really do want to be REMEMBERED. I want to create art that changes other peoples lives so that my name means something to them. I want you to learn from me all kinds of stuff -- including the how of making more money than you ever imagined -- but if I'm not memorable, I'll just die.
(OK, so I'm a bit dramatic; is this helping you remember me?!)
Are you like me, even a little?
Being of service is so important, altruistic and beautiful. Yet I really don't think anybody's 100% selfless. You surely want to be known for your powerful art.
Wait... Don't you realize that you're here to make art? That ART is more helpful to someone's life than consciously contrived how-to content? It's TRUE!
Gwen Stefani's art? That changed my life.
I remember being 12, sitting in my room, listening to No Doubt's Rock Steady album, and looking at myself in the mirror. That was when I realized that I could choose to love myself exactly as I am and share that with the kids at school, the way Gwen Stefani is unapologetically herself.
Gwen Stefani, who has no idea who I am (yet!), changed my life by living hers. By daring to live out loud, she forever impacted me.
I can't imagine if after No Doubt wrote Tragic Kingdom, Gwen Stefani had decided, "You know, I'm not really sure I can handle this music thing. I oughta get a day job and play it safe." Can YOU imagine?
So, see? It's actually almost selfish if you don't want people to know your name. Being a 'name' and having a magnetic and big presence means that you'll get access to opportunities bigger than you can imagine right now; opportunities that will put you in front of people who need you but may not have otherwise had access to you.
If you are actually afraid of people knowing you, afraid of being the face of your MOVEMENT (let alone your business), then you are selfishly shortchanging the people who can benefit from your wisdom and genius.
Who are you to hurt those people by NOT showing up to them in a memorable way?
The world needs you to be a little selfish here. For you to choose what may feel like obscurity now with the intention and faith that you're going to be someone whose art has an impact on people whose names they don't know.
Now how do you create art that has an impact on other people? Well... I've already given you the true answer: You create for yourself first.
What do YOU need to create?
What problems are you having today? What solutions do you need? What do you feel? What are you thinking? What do you have to say?
Let your human (or superhuman) needs and desires and wisdom pour forth. Find your medium, or explore them all, and let it out of you.
Maybe you'll feel really strongly compelled to fit your wisdom into a how-to container with a headline like "Ways to Change the World." You can sure do that. Let it come out of you naturally, in flow. Don't force it.
You may do the how-to stuff to call in people who need you, but don't let that be all you create.
I promise it'll suck out your soul if you don't also create stuff that doesn't fit into a neat little box. At least if you're a true artist like me. (And it's OK if you're not, but I think, if you've read this far, you're very much like me. I love you.)
P.S. Do you want to live a life and operate a business that excite you? Does that feel like a stretch? Get the information and tools to live all abuzz for just $10 per month: MyLifeElectric.com
You get instant access to 10+ goodies, including video, ebooks and journal prompts, when you join. And you'll get a minimum of 3 new pieces of content each week, and exclusive access to ask me questions and get advice.
A little more about me in fancy 3rd person…
Rosella LaFevre is an author and philosopher known for #truthletting, her refreshingly honest writing about building a better life and business. As a Coach, Rosella helps you access your godliness so that you can build a rosier life and business. Got a burning question for her? Email her at rosella@rosellalafevre.com.
Related
Popular in the Community