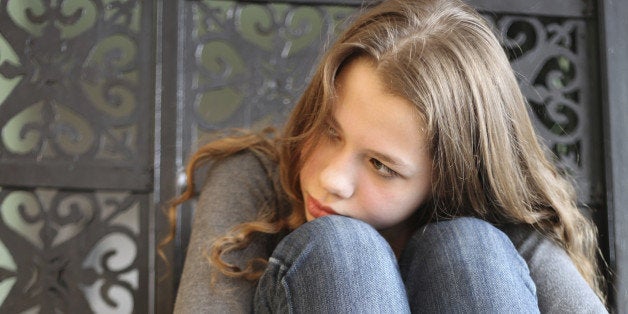 Some of my kids' friends often show up uninvited at our house. When they first started dropping by to play with my kids, I welcomed the interruptions. It was summertime, my kids were bored with too much time and too little to do, and suddenly there was someone to play outside with. But the friends always wanted to come inside where it was cooler and there was a pantry full of snacks. It meant unanticipated noise and added mess in my home but I was okay with it because my kids were having fun.
Until early one morning I was standing at the sink doing dishes in my pyjamas and felt a pair of eyes on me. I turned to find one of my kids' friends had quietly let herself into our house and was standing in the kitchen staring at me. I hid my irritation and politely said hello but minutes later she was sitting on my couch complaining, "I'm bored!" I smiled and suggested that we wouldn't make her stay if there was maybe something she would like to do elsewhere.
That's when I realized it was time to set some boundaries around unexpected visits from my kids' friends.
Now, I have a rule that kids who drop by unannounced must stay outside. I don't feed them freshly baked treats anymore and my kids aren't available to play at certain times of the day. (It's getting dark already? Sorry, no, they can't come out.)
At first I felt like I was being a grumpy, mean mom who was ruining all of my kids' fun. But that got me thinking, why does setting boundaries make me feel unkind? Does making the effort to be a kind person mean that I have to let others (even children) dictate how my day will go? What, then, do I think "kindness" really is?
I believe that love is patient and kind. I believe that no act of kindness is ever truly wasted. I believe that it's important and often necessary to be kind to people who are not being kind to me. But if that's my definition of "kindness" then it's perilously incomplete.
And that's the problem with kindness. The definition has been reduced to "being nice no matter what," which has led most of us to believe that choosing kindness in any circumstance is equivalent to choosing weakness. Yet often, the choice to be kind is the most difficult choice you can make.
Here are just a few examples of what kindness is not:
Saying "yes" to everything.
Avoiding confrontation at all costs.
Refusing to take the lead when you should.
Pretending to be someone you're not.
Doing all the work yourself.
Allowing yourself to be taken advantage of.
Avoiding issuing consequences or discipline.
Pretending not to notice something that isn't right.
Not standing up for yourself (or someone else).
Being generous for the sole purpose of receiving a reward.
Not having opinions of your own.
Never taking time to rest.
Being a people-pleaser.
If you are doing any of these things and calling it kindness, please stop. Don't ever use "kindness" as an excuse to avoid dealing with a problem.
Kindness is the decision to impart grace to someone whether they deserve it or not. It is the ability to choose compassion over judgement. To consider the needs of others before your own. To grieve with those who grieve. To offer help when someone wasn't expecting it. It is the choice to value a relationship over the need to be right. It is telling the truth when a lie would be more convenient. The definition of kindness is broad and so it is all of these things and many more.
The difficulties in defining the word "kindness" often result in a confused mess of misunderstandings and misguided intentions. But the lack of a narrow definition also means that we have unlimited opportunities to show kindness to others every day. So instead of forcing myself to make decisions I'm uncomfortable with in order to pat myself on the back for being "kind," I've decided to rewrite my definition of kindness.
Even if the neighbourhood kids don't like it.