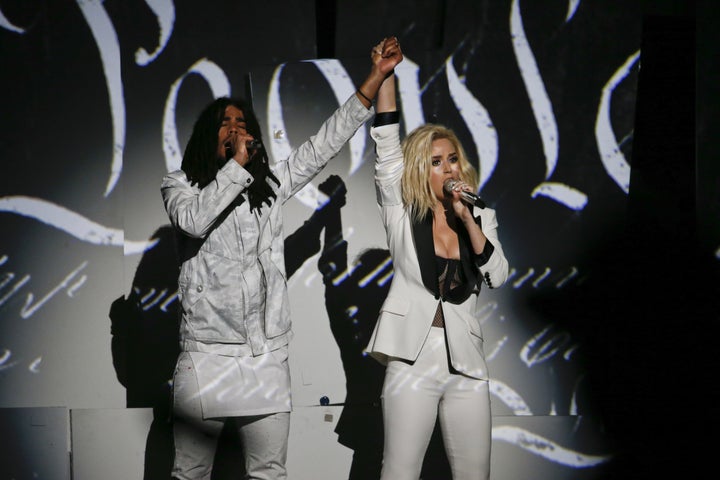 The election of Donald Trump has seen a massive surge in the number of pop stars who have been taking decisive stances on hot button political issues. Especially in regards to the Trump administration's decision to begin revoking Title IX protections for transgender students in public schools, many formerly silent artists - including inauguration performer Jackie Evancho - have spoken out against the administration.
Perhaps none of those pop singers has staked their career on the eventual triumph of the Democratic Party as Katy Perry. As part of the promotion for her new single "Chained to the Rhythm", Perry and featured artist Skip Marley have been making the award show rounds to showcase often very politically charged performances. At the Grammys, Perry was heavy handed in her imagery of fences, mirrors, and the eventual projection of text from the Constitution on herself and the black background. She went further at the BRIT Awards earlier this week, incorporating giant moving skeletons dressed as Donald Trump and Theresa May into the performance.
"Chained to the Rhythm" as a lyrical creation is somewhat vague in its political assertions. Perry sings lines like "Turn it up, it's your favorite song/Dance, dance, dance to the distortion/Come on, turn it up, keep it on repeat/Stumbling around like a wasted zombie/Yeah, we think we're free/Drink, this one is on me/We're all chained to the rhythm". This is perhaps why the overtness of her performances of the song seem slightly jarring: the song itself is largely open-ended, although it's certainly possible to read politics into it.
Contrast this, then, with Skip Marley's verse (re-produced here from Genius Lyrics):
It is my desire/Break down the walls to connect, inspire/Ay, up in your high place, liars/Time is ticking for the empire/The truth they feed is feeble/As so many times before/They greed over the people/They stumbling and fumbling/And we're about to riot/They woke up, they woke up the lions
There's not much room for secondary interpretations here. Marley condemns the state of the current political system, and goes so far as to call for a revolution to overthrow the order in place.
Perry has trotted Marley out at her major performances of this song, using him halfway through the performance to offer his rap and then awkwardly dance around while she finishes off the song. At the end of both the Grammys and BRITs performances, she has grabbed his hand and thrown both their arms skywards in a show of triumph.
As lovely as this image might be, it doesn't change the fact that Perry is treating Marley as a human stage prop. In hiding him away for the bulk of her time onstage, only to reveal him for the final third and then construct an image of racial unity and triumph with Skip Marley of the Marley's, who are so political and racially revolutionary for so many reasons, Perry is making a cheap attempt at claiming commercial wokeness.
At least she let Marley stay political. Her arch rival and fellow Pop Feminist, Taylor Swift, used Kendrick Lamar - who has spoken out about police brutality and mass incarceration through his rap lyrics and the powerful imagery of videos like "Alright" - to talk about a feud over back-up dancers. Swift reduced the man who showed up for his Grammy performance in chains to protest the police state to delivering such lines as "My TLC was quite OD, ID my facts." Not only did Swift do this, she made him sit in a chair behind sunglasses in the video and then made a bazillion dollars once the record went to number one.
Swift and Perry are emblematic of white women using black culture to make wimpy political statements and profit off of them in huge margins. Not only do they make money, they gain cultural capital as progressive, inclusive artists. Swift said nothing about politics the entire election, made one half-assed statement in support of the Women's March and deliberately takes hot button issues out of her music yet gets credit for "breaking" Lamar into the mainstream. Not only was he capable of doing that all by his damn self, Swift did this in a way that eradicated most of what made him politically powerful.
It's not just Black men who are the targets of this manipulation. Nicki Minaj's beef with Taylor Swift over the racial representation of women in the Video Music Awards a few years ago culminated in Swift positioning herself as the victim of raceblind, sexist aggression and a performance of - you guessed it - "Bad Blood", where she got to promote her song and do damage control.
It's good that entertainers are taking a stand on important issues. When you have cultural capital, it makes sense to support topics and issues that you care about. But white women exploiting the labor and political persuasion of Black artists to make their points in the name of feminism is disingenuous and reproduces damaging racial and gendered hierarchies.
Related
Popular in the Community