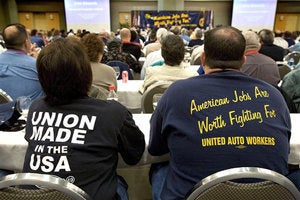 Shortly after the Arkansas Democratic primary, at the height of discontent between the labor community and the Obama White House, top officials with the DNC and the administration trekked over to the offices of the AFL-CIO to repair burned bridges.
The night before, anonymous White House aides lashed out at the union federation for flushing millions of dollars "down the toilet" in an effort to defeat Sen. Blanche Lincoln (D-Ark.). And so it was not without tension that the president's political director, Patrick Gaspard, and the DNC's Executive Director, Jennifer O'Malley Dillon, addressed the AFL-CIO's political directors at their office on I and 16th Street in Washington D.C.
Over coffee and soda, the two tried their hand at rapprochement. They acknowledged that the anonymous swiping was in poor taste and pledged to solicit greater policy input going forward. There were no apologies. But the message was clear: labor and the White House needed each other.
The political directors weren't yet sold. They had invested heavily in Lt. Gov Bill Halter and were smarting over the loss. More than that, they were embittered by the health care reform process, convinced that the White House had used their priorities as bargaining chips. Talks progressed but one question lingered: What, exactly, would their electoral philosophy be going forward?
The final answer could best be defined as calculated but serious -- the union would not take its ball and go home, as was vaguely threatened. Instead, it would rally despondent members, spend boatloads of money and wage one of the most extensive campaign efforts in organizational history. But they would only do it on their terms.
"What is the result for working people in this country for the labor movement sitting it out?" political director Karen Ackerman explained. "Will working people or families be better off if [West Virginia's John] Raese or [Nevada's Sharron] Angle and [Kentcuky's] Rand Paul and these characters are elected? [New York's Carl] Paladino? Are working people better off if these right wing, really white wing, 100 percent corporatist people take over this country? Oh my gosh, no."
As approaches to the 2010 campaign go, the AFL-CIO's is, perhaps, the most illustrative of the mindset adopted by the disaffected or "professional left" -- as the White House pejoratively labeled it. Griping over the way the past two years played out and eager to demonstrate its discontent, the community nevertheless bit its tongue and invested itself in the elections. It wasn't spending money for the sake of it. And with respect to the cable chatterers, it was hardly full-throated endorsement of the president or his approach. Rather resources were offered and arguments made with specified purposes and the begrudged recognition that as disapointing as the Democrats were, it could get worse.
"I think progressive organizations are on board with this," said former DNC Chairman Howard Dean, one of the most influential voices within that occasionally cantankerous progressive community. "It's the fourth quarter, it's time for the game face. There are big fights afterwards about how progressive the Democratic Party is. We want to make sure right now that our team wins."
"You have to be very careful about how you say it though," he added. "In no circumstances can you construe it to say, 'Oh, we're okay with what's going on.' ... At the end of the day, you have to realize it's a whole lot better for the country and the progressive wing of the Democratic Party to have Obama and a Democratic congress."
It's a tricky proposition, Dean admits. Above all else, the progressive ethos is fragile. While a Republican-controlled Congress may be disheartening, they are also wary of being taken for granted by Democrats. And so, with heavy deliberation, individual groups invested in races, although with less than normal coherence in strategy.
Take, for instance, Rep. Tom Perriello (D-Va.). One of the more aggressive defenders of the president's agenda, he's been a prime beneficiary of the Democratic Party's resources and attention. And yet, among progressives, surprisingly, the reaction has not been unanimously favorable. MoveOn.org, the five-million-strong advocacy group, has invested heavily in the Virginia Democrat. The Progressive Change Campaign Committee, a group devoted to getting liberals in Congress, has been tepid.
"A lot of people on our staff were integral to his initial victory," explained Adam Green, a group founder. "His vote for the Stupak amendment [restricting access to abortion in the health care bill] alienated some progressives. But nonetheless he is, at this point, part of the national narrative about the fate of progressives in this election. So we did make some calls for him early on and we will make calls for him [PCCC made 45,000 calls for Perriello on Monday]... For Tom Perriello, we have forward-looking hope instead of loving everything he has done in Congress."
PCCC has raised and spent millions on behalf of congressional candidates that toe the ideological line, even, on occasion, when there is no immediate or apparent political point. Sen. Russ Feingold (D-Wisc.) as well as Senate aspirants Joe Sestak (D-Penn) and Jack Conway (D-Ky.) -- all in tight races -- received help. But two weeks ago, the group ran an ad supporting Roxanne Conlin, a prominent Democratic Iowa lawyer and candidate for Senate who has little chance of winning.
For Green, the logic is clear. Not spending on Perriello, who has a real shot of winning, sends a message that a vote against abortion rights is not without price. The PCCC didn't take its ball and go home in the 2010 elections. It just exhibited its frustrations by selectively choosing what campaigns to engage in.
Such an approach has not been adopted across the progressive spectrum. In some quarters, the animus towards the party has been too palpable to ignore. The gay community, in particular, has found self-motivation for Democrats difficult, certainly after conservatives began co-opting the same-sex marriage debate and Congress and the White House punted on their key issues. Gay donors stopped taking out their checkbooks for Democrats in June. And little has changed since, save the protests at Obama rallies, which have grown increasingly louder.
"[W]hat do I tell my LGBT readers this time around?" said John Aravosis, editor of AMERICABlog. "'Vote for Democrats. They won't keep their promises, but they suck less?' Of course I'm voting, and of course I'm urging our readers to support Democrats who have actually kept their promises. But it's difficult motivating people to vote once again for the same guys who already threw them under the bus."
Things, of course, would be much different if Democrats weren't controlling the levers of government. The thirst for political power is innately crystallizing and in 2006 and 2008, Aravosis, Green, MoveOn and Big Labor were willing to overlook the ideological differences that drive their decisions today.
"In 2006 we elected plenty of people who weren't necessarily progressives, and I was happy to do it," recalled Dean, who was DNC chairman at the time. "But I was happy to do it. We knew what the other side looked like and we knew that wasn't what we thought America should look like. It's a whole different circumstance now."
2010, indeed, has been a different breed of election, one in which the frictions between political pragmatism and ideologically purity confronted both political parties but tripped up only one. While Republicans quickly embraced the Tea Party culture, the White House spent over a year keeping their progressive base at arm's length.
"My guess is the party would have preferred a much broader strategy like what we did in '06, which was that any Democrat elected to Congress was better for us," said Ilyse Hogue, communications director for MoveOn. "But we are operating in a new, progressive reality where our members don't believe that is true. And there are plenty of progressives out there battling for their lives who we were going to go to bat for."
A month after being briefed by Gaspard and O'Malley-Dillon about the state of White House-labor relations, officials in the AFL-CIO's Arkansas office got a call. It was Senator Lincoln. She wanted to set up a meeting to gauge the possibility of mending the primary campaign wounds. The union officials agreed to talk at their state offices. At that point, the possibility of re-engaging in the Arkansas Senate election was not entirely out of the question.
Lincoln came in with a straightforward case, according to an official briefed on the exchange. She was, simply put, a much better fit for the AFL-CIO's agenda than her opponent, Rep. John Boozman (R-Ark.). She wouldn't change her position on some of the more contentious issues, namely the union-priority Employee Free Choice Act. But wouldn't it be better to have a more sympathetic listener in the Senate?
It was a traditional pitch, one that had worked in the past. But, failing to account for the scars the union had endured from the past year-and-a-half, it fell flat.
"The people in Arkansas were so angry at her for so many years for basically ignoring people there that there was no way she would get the endorsement, even after she won the primary," said Ackerman. "And now she's not coming back to Congress."

Popular in the Community