Whoever succeeds Pope Benedict faces challenges that will impact Catholics everywhere, but will the choice have any impact on Catholic doctrine, which many believe is suspended somewhere between the Council of Trent counter-reformation and Vatican II.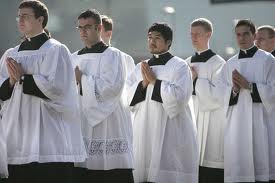 Photo American-Catholic.com
I surveyed the Boston Archdiocese--which was at the heart of the Church Abuse scandal to get a feel for the tensions underlying Catholic religious teachings.
Latin, Vestments and a Blast from the Past

I've just entered the cavernous vestibule of the Holy Cross Cathedral. At this hour, there are two different masses being held, in two different languages, two visions for the future. In the upper church, a Mass hymnal in English; in the basement chapel, another in Latin.
A staircase separates the two, but it could just as well be separated by centuries of religious traditions. Following his election in 2005, Pope Benedict XVI affirmed his belief in conservative Catholic doctrine and promoted the symbols of traditionalism, including vestments and the Latin mass.
"As if Jesus himself spoke Latin or as if he conducted the mass wearing vestments," said James Carroll, a former seminarian and distinguished scholar in residence at Suffolk University in Boston. He said like conservative Catholic doctrine, the Latin mass is a throwback to the pre-Vatican II era. And for many folks that is appealing.
"The truth is there was something beautiful about it," Carroll said. "It was coherent. It was orderly. There was an answer to every question and symbolized by the Gothic cathedral, the epitome of all that we loved about the Catholic Church. The astonishing thing is that this beautiful, coherent, Gothic, edifice that was Catholicism -- there was something deeply, deeply inhuman and corrupt in it."

The Second Vatican Council, or Vatican II, in the early 60's, was a response to centuries old stagnation within the church, Carroll said. And so, Catholicism -- constructed as a "Gothic" fortress against external and internal forces -- opened up, if only slightly, to new, modern-day realities.
But in 2013 the doors are shut again, said Eileen Doherty, a member of the Spirit of life Community -- a Catholic lay organization whose members believe in the ordination of women as priests, gay marriage, contraception in general, and even abortion under some circumstances.
"The way the Roman Catholic Church is going now is that they are excluding more people than helping," Doherty said.
Under an iron-gray sky streaked with rain, Doherty and others are passing out flyers in front of the Cathedral. She accuses Cardinal Sean O'Malley and the church hierarchy of abandoning the poor.
"We have to be there for the people who can't speak for themselves to make some necessary changes that have to happen for the church," Doherty said.

I asked her if those changes include doctrine.
"Yes, because the gospel of Jesus is not being adhered to, because Jesus was there for those that were deprived," Doherty answered. "And they're not my church. I don't find them true to the gospel."
Doherty said that Catholic doctrine -- the way that gospel is taught and interpreted -- must change to accommodate progressive viewpoints. But traditionalists in the church are pushing back.
PUSHING BACK AGAINST THE PROGRESSIVES
As passengers dart from the subway in the Downtown Crossing section of Boston, they pass through a gauntlet of conservative activists passing out religious flyers. Ross Dutcher, a Catholic from Wakefield, MA., hands me a pamphlet. What does he think of progressives claim to the church?
"They're not really Catholic," Dutcher said. "I mean, the church's doctrine doesn't change."
How should the Catholic Church in your view and in the context of doctrine accommodate those folks who believe that women should be ordained?
"Just tell them the truth," Dutcher said. "Jesus ordained only men."
But Ray Flynn, former U.S. ambassador to the Vatican, and a traditionalist, said that the church is fundamentally open to new ideas.
"I've seen the Catholic Church in Ghana, in Mexico City, in Sarajevo, in the middle East," Flynn said. "How do you bring those traditions of culture into what we as Americans know the Catholic Church to be, consistent with our culture? That's the challenge. Not by changing doctrine but by changing attitudes and making it more open and more inclusive."
Larry Kessler, who heads the Boston Center for Living, a facility assisting people to live with HIV, describes this as tinkering around the edges of change, not change itself. Kessler has spent most of his life working with AIDS victims in clinics and in hospices. He also attended Catholic schools and even went into the seminary.
"I guess I would say I have been a very practicing activist within the church for forty years, but recently I have had some serious doubts about whether I should hang on in there any longer," Kessler said.
The Catholic Church has acted more like the Republican Party, and we know what kind of trouble the Republican Party's in.
Kessler said he was hopeful following Vatican II, which gave lay people a greater role in church life. But he added the current Catholic hierarchy is mired in scandals and not receptive to change from below.
"The pews are getting more empty every Sunday, because it's not listening or speaking to the people that used to come to those pews," Kessler said. "And it's larger than the sexual abuse crisis. It's a lack of leadership, a lack of vision, a lack of a coherent policy."
Catholic Hierarchy and the Republican Party
Kessler said that instead of advocating for the kind of people he assists, he believes Catholic bishops -- including Boston Cardinal Sean O'Malley -- have directed their political energies into fighting contraception, abortion and gay marriage.
"The Catholic Church has acted more like the Republican Party, and we know what kind of trouble the Republican Party's in because they've lost touch with the people who need strong government, and in terms of the church, we've lost trust in the bishops because they're not being very Christ-like."
But Flynn, a longtime advocate for the poor, strongly disagrees.

"There are advocates for change, but the change is completely inconsistent with Catholic doctrine," Flynn said. "The Catholic Church is not going to change its doctrine. Anybody that suggests that is trying to make headlines."

Francis Fiorenza, a professor of Catholic theology at Harvard Divinity School, said traditionalism and progressivism are not necessarily incompatible.

"All one has to say is this is where the church is today," Fiorenza said. "And the only way to do it is to develop a mutual respect to say, 'Well, what is the side that doesn't want change afraid of, and what do they really want to hold on to?' And those that want change, they're not wanting to throw the baby out with the bathwater, so to speak. And we need to try to understand the positions of both. And you also would have to ask the question: What in modern culture is positive that demands change?"
As you think about that question, another word or two about Francis Fiorenza. He studied theology in Germany. His teacher was Joseph Ratzinger -- who took the name Pope Benedict XVI, a resolute conservative. So Fiorenza's answer to what in modern culture is positive and demands change may surprise you.

"If I take a controversial issue like women's ordination, there I think change is possible," Fiorenza said.

John Allen, national senior correspondent for the Catholic Reporter in Rome covering the election to succeed Benedict, said "not likely."
"Bear in mind, everyone of the 117 cardinals who will vote in this election were appointed by either John Paul II or Pope Benedict XVI, and on the big picture level, they're all of like mind," Allen said. "So I think its quite unrealistic to think whoever is elected pope is going to revise the church's teachings on issues like abortion, or gay marriage or the ordination of women."
But Carroll -- who's witnessed the Church evolve from a legacy of anti-Semitism to an embrace of civil rights -- said never say never in the context of Catholic doctrine.
"Because we've had the breakthrough already: the breakthrough into the world of change," Carroll said. "And what's the most palpable recent incidence of that? Pope Benedict himself. By changing a practice of the church that's a thousand years old that pope's don't resign. Well, yes, they do. And the church of Benedict will never be the same."
But some Catholics are not waiting for the outcome of the conclave.
"This church is an aberration of Catholic doctrine," said Doherty, passing out progressive literature in front of the Cathedral of the Holy Cross.
"Women ordained? Same-sex marriage? Contraception? The Church isn't going to go that way," said the conservative Dutcher, handing out flyers on the Red Line platform.
Both are waging a spiritual battle, if you will, for the heart and soul of the Roman Catholic Church, which they both claim as their own.
Calling all HuffPost superfans!
Sign up for membership to become a founding member and help shape HuffPost's next chapter