Last week marked the opening of yet another major "bi-annual" exhibition. While its organizers are reluctant to call it a biennial, Portugal Arte 10 is Lisbon's attempt to snag a place in the art world's summer calendar. (And why not -- the seaside city is a perfect summer destination.) While the first (and perhaps only) edition of this "survey" is overly ambitious, mostly unorganized, and confused... that's not to say that it doesn't have a lot of promise.
The "multi-platform international survey" presents art "interventions" in the cities of Lisbon, Grândola, Portimao and Vila Real de Santo António, but really the breadth of the show is in Lisbon, in the Portuguese Pavilion designed by Pritzker-winning architect Alvaro Siza Vieira for the 1998 World Expo, as well as public art pieces -- by Sterling Ruby, Robert Melee and street art collective Faile, among others -- dotting downtown Lisbon. The press materials claim that the exhibition, coinciding with the country's 100-year anniversary of Republicanism, reflects the historic occasion, but, where and how? It feels more like a survey of contemporary art in East Coast and West Coast U.S., with a few Portuguese artists sprinkled in and a side plate of Cuban art, undercooked and unseasoned.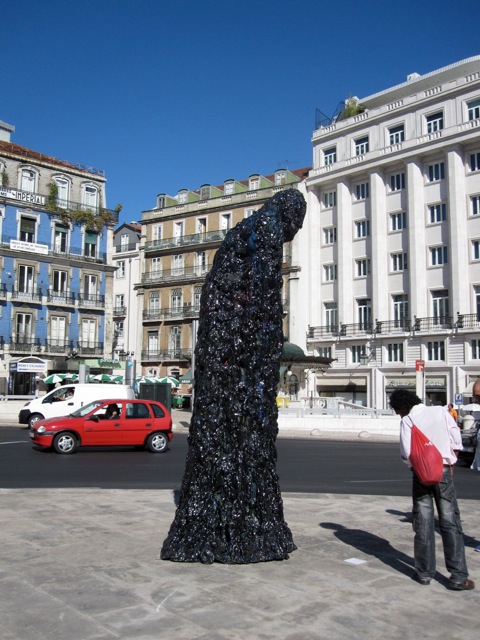 Robert Melee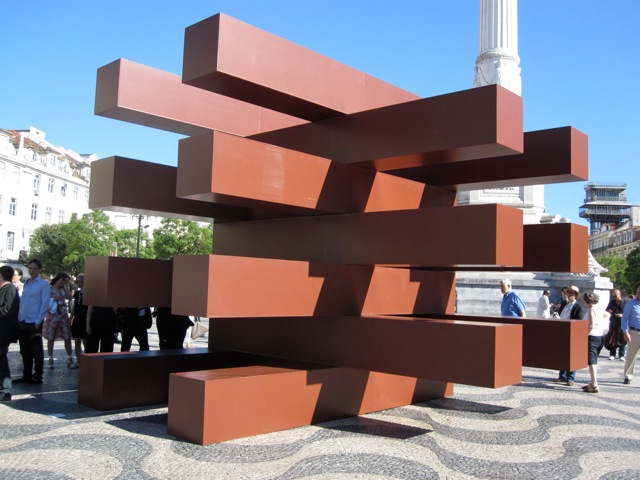 Sterling Ruby
"Personal Freedom," on the ground floor, is the best use of the gargantuan Pavilion space, and curator Johannes VanDerBeek (Read my interview with VanDerBeek below), who is also an artist, managed to finesse the large rooms just as elegantly as he did the small rooms. The 28-year-old artist-cum-curator's bent was artists born in the 1970s and '80s (with a few exceptions), including several of his Cooper Union peers (Aaron King, Ernesto Caivano, Max Galyon, Nancy Lupo), former Zach Feuer artists like Justin Lieberman, and artists he may have searched out at Columbia or Yale MFA degree shows. This exhibition was refreshing and engaging. Works that particularly stuck out were the elegant ink-on-paper pieces by Caivino, including Diptych Arbor Axis (Body of Leaves), 2006, which was hung solitary on a wall overlooking an atrium; Anya Kielar's visceral collage assemblages; Stephen G. Rhodes's historical un-coverings; Valerie Hegarty's warped, mutated, burned and/or slashed installations; David Kennedy-Cutler's magpie sculptures; Portuguese artist João Pedro Vale's ironically camp and crafty works; and of course, VanDerBeek's own monumental Ruins, 2007, made of Life, Time, and National Geographic magazines and which debuted at Zach Feuer Gallery in 2007.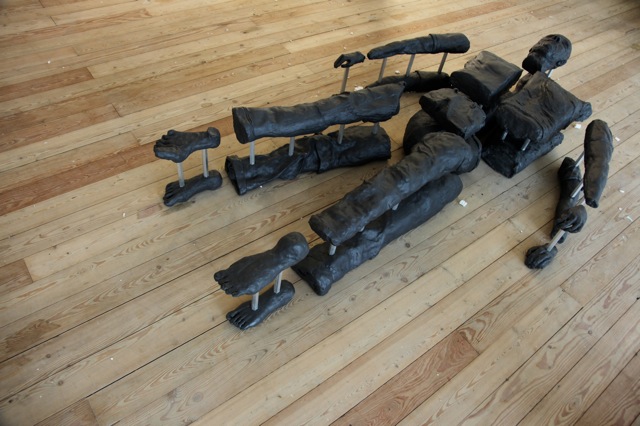 Halsey Rodman, "The Navigator", 2006, from "Personal Freedom"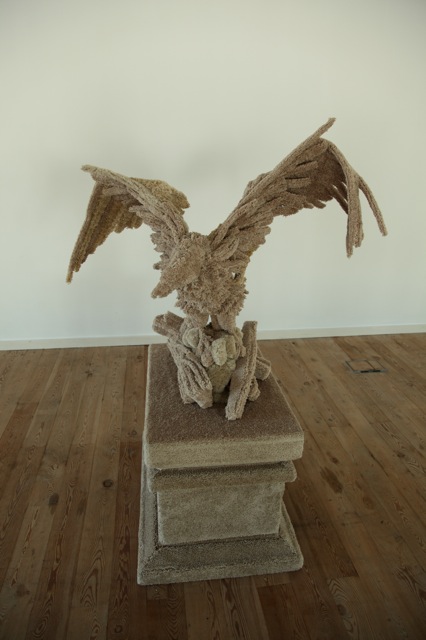 Aaron King, "Cat Scratch for Stella", 2006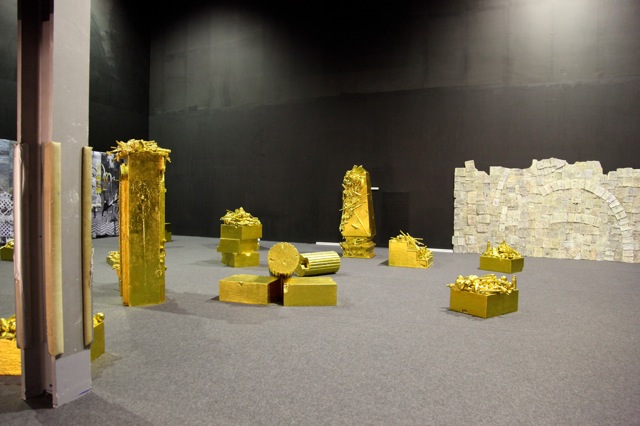 John Miller, Installation view of "Refusal to Accept Limits", 2009
Upstairs "Inside/Outside," curated by Swedish gallerists Martin Lilja and Amy Giunta, is the most cohesive exhibition in the Pavilion, with a focus on New York and New England artists who have embraced the taboo -- earnest appropriation of pop culture, cartooning, and neon colors, for example. Neolithic Joe Bradley paintings and Cory Arcangel's personal abstract large scale "paintings" based on Photoshop's gradient tool share a room with Jim Drain's gnarly (in a wonderful way) "Orange Shadow", 2007. In a small room, early works by Tauba Auerbach exude an innocence that seems to have oozed out of her recent works. As seen beside Providence-based artist Ara Peterson's kaleidoscopic and hypnotic "Tube", 2008, and wall reliefs, Auerbach's works seem tame and delicate.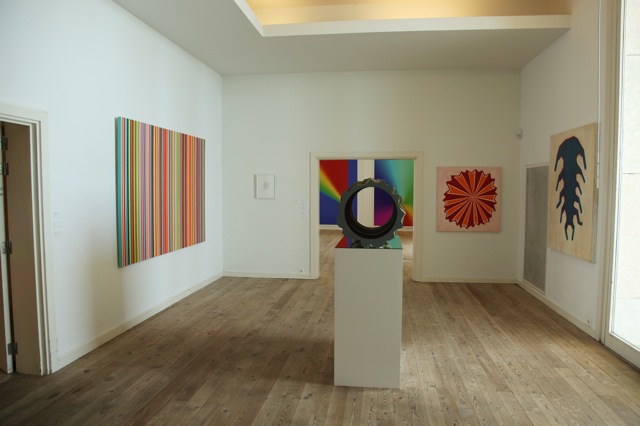 Installation view of "Inside/Outside"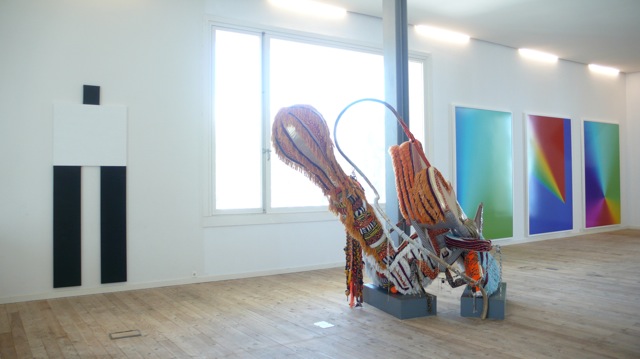 Installation view of "Inside/Outside"
Almost jarringly dissimilar is the dreamy, laissez faire, and at times disconnected neighboring exhibition "California Dreamin'," a sprawl of work meant to epitomize California life -- namely beach life, surfing and drug culture. Tie-dye paintings by Michael Phelan, a large-scale photograph of surfers by Olaf Breuning and Til Gerhard's LCD-inspired paintings of hippie culture are more direct, while works by California art collective Date Farmers, part of the Beautiful Losers street art scene, cull particular movements that have arisen in the "Eureka" state. While the majority of this exhibition felt humorous (Phelan's Bock beer-drinking bears), light, and, well, dreamy -- job well done -- it was the video works that gave it some weight, with usual suspects like Bruce Nauman and Mike Kelly and then less expected works like Bruce Bickford's claymation "Prometheus' Garden", 1988, and Kate Gilmore's "Wallflower", 2006-2007.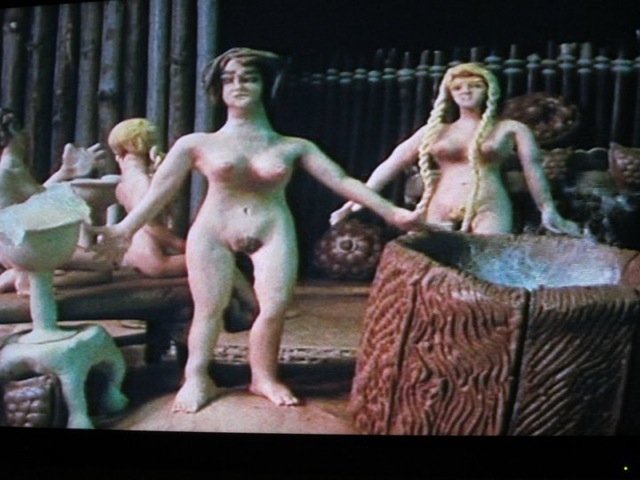 Film still from "Prometheus' Garden", 1988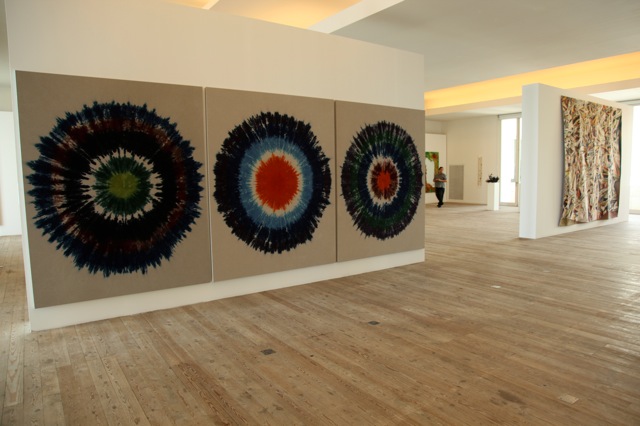 Installation view of "California Dreamin'"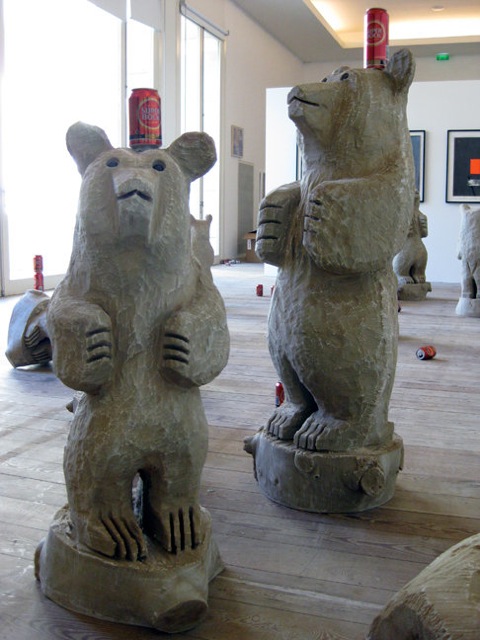 Michael Phelan, "The fucking Zoo's Closed, Ray...", 2010
A painting exhibition titled "Gradation" and the obscurely organized "Points of View" are less inspiring, and the delicate, thoughtful, though somewhat anachronistic works in the Cuban exhibition "Serendipity" was gobbled up by the sensory overload of its neighboring exhibitions, especially the roaring techno music spewing over from next door's addendum to "California Dreamin'," a coma-inducing cavernous video room that could enwrap a viewer for hours. Marco Brambilla's "Civilization (Megaplex)", 2008, which one might recognize as the seductive videos in the elevators of the Standard Hotel in New York, shines (or rather hypnotizes) in this room of overstimulation.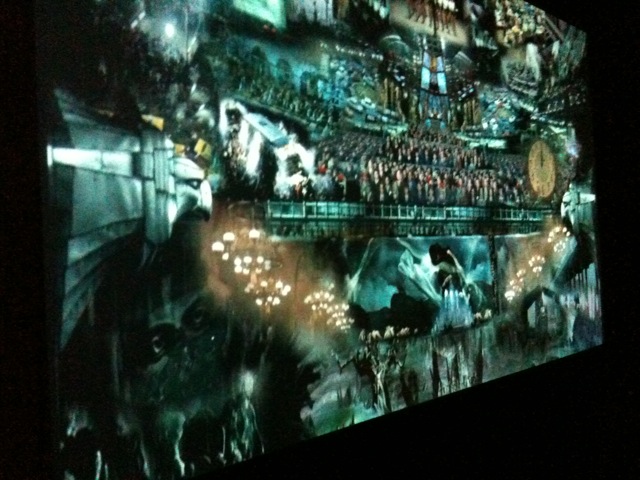 Marco Brambilla, "Civilization (Megaplex)", 2008
Artistic director Stefan Simchowitz, a fixture in the celebrity photography and film world (and son and step-son of art collectors Manfred and Jennifer Simchowitz), emphasized the words "integration," "coordination" and "participation," and whilst the latter seemed to fit with the overall essence of the exhibition, the integration and coordination aspect felt a bit gritty, something that needs to be more finely tuned. No doubt Simchowitz managed to get some very interesting curators and artists involved -- having lost quite a few on the way -- but he has also managed to make some enemies in the art world, something he talks about quite openly and a situation that added to the difficulty of organizing such an ambitious exhibition. But Simchowitz is as open to say that he doesn't give a shit what the art world thinks of him; he's setting the mark for "creative cultural entrepreneurship." I appreciate his zeal, however I question whether his enthusiasm has longevity. Is this just another one-off project for Simchowitz, like a film, or is it an attempt to make an art exhibition that's brand-able? "We'll take Portugal Arte to Angola," he says enthusiastically, ignoring my question of where the Portugal aspect would fit. I can't tell, but my recommendation would be that if the exhibition does want to get some solid legs, a clearer direction and a strong community foundation (and artistic inclusion) are necessary. With the hopes of securing the magnificent Pavilion space for future editions, a major financial sponsor (Portuguese energy giant EDP) and one year under its belt, Portugal Arte 10 has all the logistical ingredients for a must-see exhibition. But we'll just wait and see.
In Conversation with Johannes VanDerBeek, on curating "Personal Freedom," Portugal Arte 10
MC: The Portugal Pavilion, the main building of the Portugal Arte 10 exhibition -- designed by Pritzker-winning architect Alvaro Siza Vieira for the 1998 World Expo -- was pretty spectacular, or at least architecturally. It looked like it was very challenging curatorially, though. Not only was is a lot of space to work with but the building has not been in use since the Expo. Was this difficult, as I know you had limited time for installation and your show was the largest of all the exhibitions within the Portugal Arte exhibition.
JVDB: Yeah, the building really hasn't been used since 1998. In theory a beautiful space, but to be used as a museum or exhibition space, there were many hurdles, like vents everywhere or walls with too many windows. It makes for a beautiful space but for hanging a show, you only have two walls and a big window.
MC: But I felt like you managed the space very well, very elegantly, as you had both very large rooms and very small rooms on the ground floor. You managed to break up these spaces with the perfect type, size and style of works. For example, I loved the Ernesto Caivano ink-on-paper diptych ["Diptych Arbor Axis (Body of Leaves)", 2006] hanging on the wall overlooking that atrium. It almost oversaw that area and you couldn't help but be drawn to it. You really brought that work out. The same goes for the Ana Santos and Anya Kielar rooms, as well as the light-filled room with sculptures by Aaron King, which I loved. You managed to really highlight each artist in a way so that he or she wasn't competing with the other artists and works in the show.
JVDB: When you're dealing with a space that's modular but also sprawling and with quite a large artist list, it was a real struggle. There are a couple key things that make it difficult: One, to allow an artist to breathe and represent what that artist's vision is; I always take the artist into high consideration and often in big shows, the work can get flat because it becomes this graphic representation. It's almost like everything is too strong. And in a big show, you don't want to just catalog. So that was the idea with one big group show and lots of solo shows [within the show]. What comes of a big show that's mainly comprised of solo shows?
MC: One important thing to note about "Personal Freedom" was that you were only one of two curators to include any Portuguese artists. The whole Portugal Arte 10 survey felt more like an East Coast - West Coast contemporary art survey. How did you come across these Portuguese artists?
JVDB: That was an extra challenge because I'm based in New York and I don't know a lot of people there. So what I did was a lot of Internet research. But in any city there are networks of artists that work within groups and that come from certain disciplines or modes of making work and you start to see a lot of the same artists show in the same places. A lot of it was one artist recommending another artist. My whole logic was to create clear connections between American artists and Portuguese artists, to show that there was a lot of commonality there no matter where you're coming from.
MC: Like João Pedro Vale, who was even looking at American History and made references to Moby Dick.
JVDB: Yeah, he was looking at all the misreadings of Moby Dick.
MC: So were you able to go to Lisbon a few times before the installation?
JVDB: No, it was all done online, which was really hard because I had no idea. And the only other thing I did was -- which is what I did with the gallery [Guild & Greyshkul, founded in 2003 by Anya Kielar, Sara VanDerBeek, and Johannes VanDerBeek and closed February 2009] -- I knew that artists are always running in groups so when you meet one you say 'Hey, who do you like?' and it really becomes a string of recommendations and you have to make sure it's still in accordance with what you're interested in, but a lot of it was one artist recommending another artist. I feel like everything functions that way, on that level.
MC: Yes, every art movement has become a movement because of this. I do think it's more difficult to have a movement in the Internet era but there will always be that sense of community nevertheless.
JVDB: Interesting people tend to gravitate toward interesting people. They all have different approaches but... I mean, there were certain learning curves even for me to get on the same wavelength as some of the Portuguese artists, as I feel like there's a slightly different discipline there. I think there's generally a difference in European art. In American contemporary art something is physically presented; in Europe it's about what's conceptually developed. In general, I was happy to learn about all of their work. I wouldn't have otherwise had that opportunity to research a city and learn about what's going on there. We probably missed many great artists and maybe it would be good one year to primarily focus on Portuguese artists.
MC: The exhibition has a lot of promise, and I also think that there could be more of a relationship to what's happening in Portugal -- a meeting of these geographical areas and of potentially multitudes of disciplines, practices, circles of artists. But the exhibition, only in its first edition, is in a position to grow and refine. They have the opportunity to refine the approach or concept or mission. I know there is also talk of having Portugal Arte be a branded exhibition that travels... but then my question is where does the Portugal part come in, or would they name it something else?
JVDB: Yeah, I think it's all a bit nebulous right now but I think that's an advantage. The interesting thing would be to do a combination, which is how it started. I think it would be great to focus on cultural identities formed based on geography, for example if you had California as the focus and you have that cultural identity interact with the place you bring the exhibition to. There could have just been a Portuguese show but I found it more interesting to meld the artists: Here's a group of artists [in the US] and what's happening there and they're thinking about these things but then to also see what's happening here with this group of artists [in Lisbon, for example] all with the energy of Portugal Arte--which I think is the most impressive thing about it, the scale and this idea of infusing the city with this energy. It's an ambitious idea that could be refined but it could be this traveling enterprise.
MC: Yeah, I think that concept of cultural identity would be interesting, one cultural identity introduced to another. They may be very similar but equally very different and ultimately the undercurrent of what art really is, the root of what all artists -- no matter what location -- are attempting to achieve will come through in some respect. For example, your show even focused on a small niche within New York, many young artists, born in the late '70s and '80s. I learned about several young artists who I hadn't heard of before. And then saw similarities in their approach--not necessarily their practices but their approach. Then I realized that many graduated from Cooper all within a 5-10 year span, you included. I found that very interesting. Thanks for introducing me to them!
JVDB: Yeah, that was great. I have a lot of friends who haven't showed very much. And for some artist, that was their very first show. That was one thing that I appreciated -- they [the organizers of Portugal Arte 10] were open to that. The biennial didn't rely on big names.
MC: Yes, that was a wonderful quality, I agree.
More installation views of "Personal Freedom"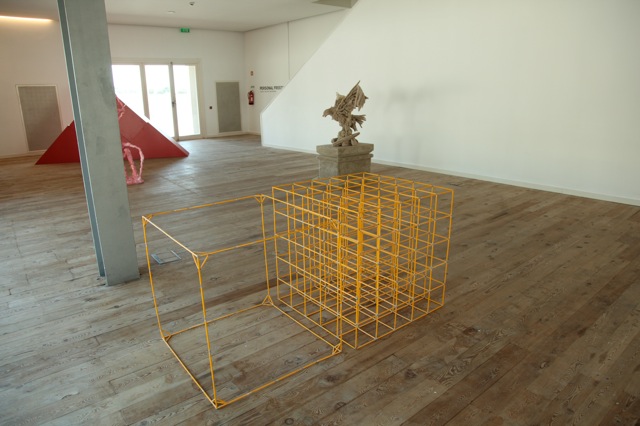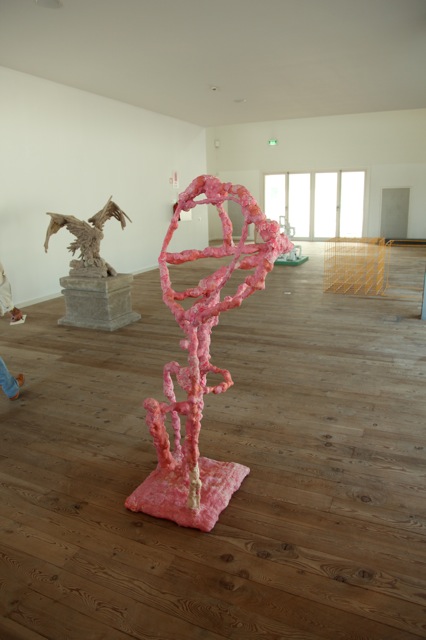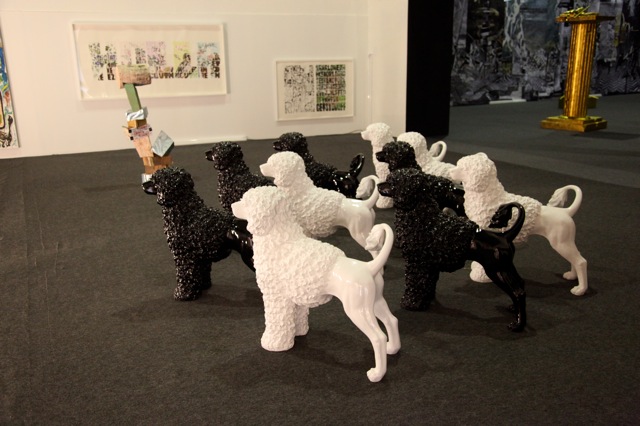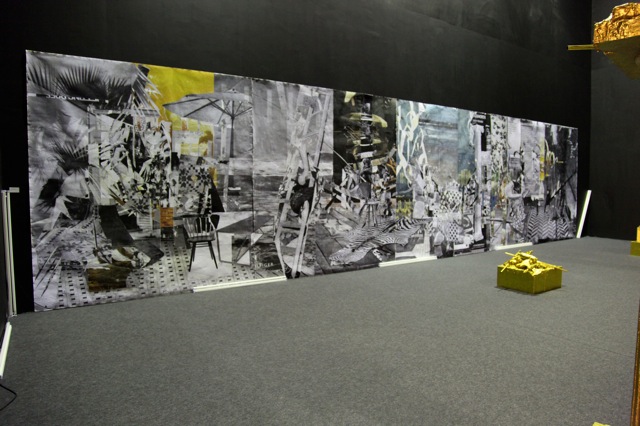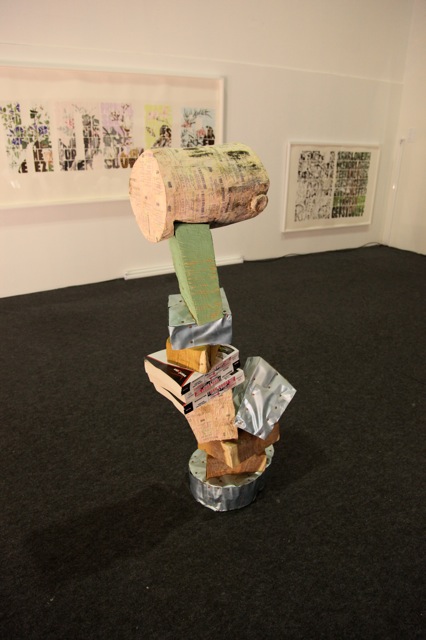 Popular in the Community