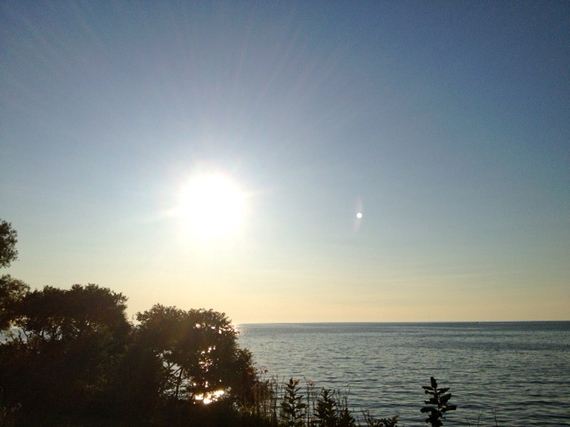 I am a creature of habit when it comes to watching cable television. I tend to limit my viewing to shows that are intelligently done, with good plots and acting. One of my favorite shows is Cold Case. The show is set in Philadelphia, Pennsylvania and focuses on "cold cases" or investigations, which were not being actively pursued by the police department. At the end of each episode, the spirit of the victim would be seen by one of the detectives and accompanied by a song meant to symbolize the period in which the killing took place. Cold Case aired on CBS from September 28,2003 to May 2,2010 and can still be seen in syndication.
I never tire of repeatedly watching episodes of Cold Case, even though I know how they are going to end. I have asked myself why I am constantly drawn to watch this show over and over. Recently, I came to a very simple conclusion. Cold Case allows me to embrace the promise of eternity; that there is something more beyond our physical deaths.
The Evolution of Our Souls
If we live long enough, we are going to face a variety of challenges, many of which are presented as a result of catastrophic losses. From my perception, catastrophic losses are those that defy the natural order of the universe, and/or are life altering. My catastrophic loss occurred on March 1, 2003, when my 18-year-old daughter Jeannine died due to an aggressive and rare form of cancer. In order for me to fully integrate the death of my daughter into a redefined life, I needed to embrace a new set of rules, many of which were based on sacred law, or laws that govern the development and evolution of our souls. Books such as Many Lives, Many Masters by Brian Weiss, Life on the Other Side, by Sylvia Browne and , The Afterlife of Billy Fingers, by Annie Kagan have reinforced among other things, that we survive death over and over and that any challenges that define our physical lifetimes exist for the evolution of our souls and those souls that are a part of our earthly dance. If we view our time on earth from the perspective of soul learning, we can come to realize that we are all in service to each other. So it is possible that even the person or person with the characteristics we perceive to be the most distasteful, can yield rich lessons for our souls. And these are teachings that we can build upon the day that our promise of eternity becomes a reality.
Jeannine has given me numerous signs of her presence since her rebirth into a new existence. Her communications through signs further reinforces the promise of eternity. I have also asked the universe to make known those individuals of the highest level of thought, those who can help me see the rich connections that occur with signs and other events in our physical world. I can honestly say that individuals of that level of thinking have witnessed my life path, and that has allowed me to view life and death from different perspectives. I also know that I will encounter spirit guides of those highest levels of thought when eternity begins for me. To be able to welcome these types of thinkers into my life now, allows me to be the creator of my own heaven on earth during this current physical incarnation of my soul.
For Now... Eternity Can Wait
For a period of time after Jeannine's death, I wanted eternity to begin almost immediately. I wasn't suicidal; I just had a strong desire to be with my daughter. Many individuals I have talked with, who have experienced catastrophic loss share this same desire to be with their deceased loved ones. Today I am in no hurry to start eternity. I know that the promise of eternity will come to fruition when my purpose on earth is fulfilled and not a moment sooner. My daughter and the spirit guides she has encountered in her new existence have exposed me to rich teachings about life, death and the value of a life which have enriched my service work with others. I also believe that it was part of Jeannine's contract to teach me that love and relationships can exist on the other side, that we can grow and in the process, discover our higher selves. Because of Jeannine's unconditional love and teachings, through ritual and ceremony I have given her permission to grow outside of the sacred relationship that we share and to become a part of the universal intelligence that guides those who walk in awareness to do so with honor and integrity, and to help those who wish to be of service to others, to do the same. This wish that I have for my daughter's continued growth and evolution in her new life is the greatest gift that I can give her. It is also the greatest gift that I can give to myself, for it is the gift of peace. What I have also discovered is that when we embrace sacred perspectives and sacred law, we get a glimpse of eternity on earth.
Related
Popular in the Community