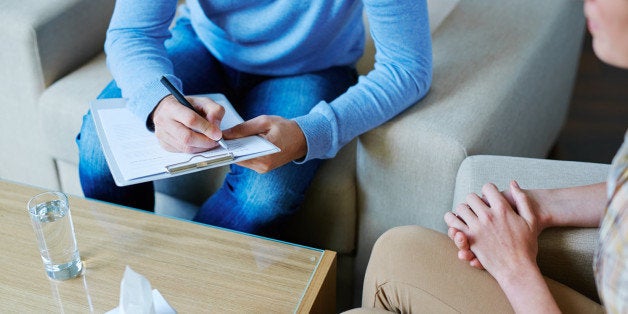 There are a lot of ways you could describe the mental health bill that passed the House of Representatives in July. A first step. A start. A compromise. It's a decent piece of legislation that tackles the margins, not the meat, of mental health reform. That's okay. A system as expansive, entrenched, underfunded and wholly broken as our mental health system will require more than one bill to fix it.

What's not okay is to call this bill historic, pat ourselves on the back and move on. (Today's gridlocked Congress has a tendency to do that when something is labeled 'comprehensive' or 'bipartisan' -- take the win and check that issue off the list).

But the millions of Americans suffering from mental illness and the families who love them deserve a government in this fight for the long haul, not the quick headline. For these families, the urgency that existed yesterday remains today. Too many roadblocks still exist on their path to care. And that is what makes Congress' continued efforts on mental health so critical and a particular hearing on Capitol Hill this week so significant.

On Friday, the House Energy & Commerce Committee will hold a hearing dedicated to assessing the state of mental health parity. The idea behind parity is simple -- insurers should treat mental and behavioral health the same way they treat physical health. It shouldn't be easy to secure coverage for shoulder surgery but impossible to secure coverage for in-patient addiction treatment.

Eight years ago, Congress came together to validate this basic commitment to equity in our health care system. Under the leadership of many, including my cousin, former Congressman Patrick Kennedy, the bipartisan Mental Health Parity & Addiction Equity Act was signed into law. A few years later, the Affordable Care Act expanded parity protections to millions more Americans.

So to recap quickly: mental health parity is already the law. This isn't a new proposal or policy shift. It's a rule of the road insurers have been required to follow for nearly a decade.

Unfortunately, they haven't. Enforcement and execution of the law has been woefully inadequate. Penalties for non-compliance are practically non-existent. The National Alliance on Mental Illness estimates that insurers deny claims for mental health care at twice the rate they do for physical care. Our communities are ridden with stories of the opiate-addicted young man cut off from in-patient treatment after just three days or the teenage daughter whose parents can't get coverage for the counseling her eating disorder demands.

Those stories are the reason I introduced legislation last year to hold insurers accountable for violations of parity laws. It would require transparency when it comes to how and why claims for mental illness are denied and implement audits to ensure the rules are being followed. Beyond those regulations, it would also create a one-stop portal where patients could easily lodge complaints and learn more about the coverage options from different insurers.

Despite widespread support from the mental health patient and provider community, this proposal didn't make it into the House bill in July. But Friday's hearing brings renewed optimism that Congress' efforts on mental health are ongoing. Most importantly, parity appears to offer continued opportunity for common ground. The Chairman of the Energy & Commerce Committee, Congressman Fred Upton, has shown an admirable willingness to take on this issue, as has Republican Congressman Tim Murphy, one of the leading voices on mental health reform in Congress. Both Rep. Upton and Rep. Murphy have voted in favor of strengthened parity provisions in the past.

This shared commitment to address parity reflects a reality that anyone serious about mental health reform would be hard-pressed to ignore. No matter how many providers we train, grant programs we fund or community health centers we expand, if we don't ensure basic insurance coverage for those services, then the vast majority of working and middle-class families won't be able to afford them.

These families can't just write a check when their insurer says they'll no longer cover drug rehab. They don't have endless savings accounts to empty on counseling sessions, critical medication or in-patient care. Knowing this, most of them diligently pay into their health insurance policies in return for a promise that they will be covered when they're in need.

Within our mental health system, the durability of that promise is especially critical. Mental illness and substance abuse disorders are rarely remedied with one prescription or one treatment. They are more likely to be chronic and enduring, requiring those suffering to fight bravely for their health every single day. The one in five among us shouldering this battle deserve a system that fights with them and for them, instead of standing in the way.
Calling all HuffPost superfans!
Sign up for membership to become a founding member and help shape HuffPost's next chapter