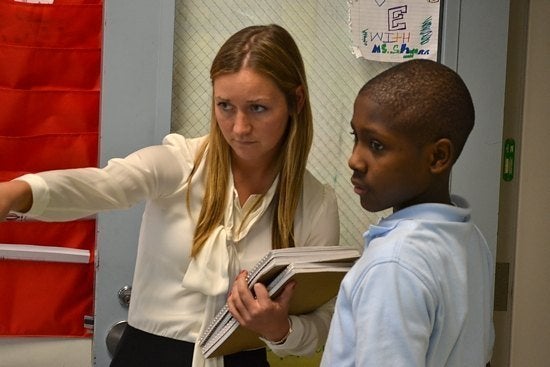 By Jignasha Pandya

"We need to radically change society's views of teaching from the factory model of yesterday to the professional model of tomorrow, where teachers are revered as the thinkers, leaders and nation-builders they truly are." - U.S. Secretary of Education Arne Duncan
Last Wednesday, I sat in the front row as U.S. Secretary of Education Arne Duncan introduced a new initiative, called Project RESPECT, aimed at elevating the teaching profession. Project RESPECT is intended to address nearly everything that is broken about the teaching profession, from teacher preparation to retention and compensation.
We, as teachers, have long understood the importance of tackling these issues. We can hardly expect to compete with the likes of high-performing nations like Finland and Singapore if we fail to prepare teachers adequately before they enter the profession. Once they are in the classroom, we fail to develop them effectively so that they can have a lasting, positive impact on student achievement. And finally, we fail to retain our effective teachers through fair compensation and leadership opportunities that teachers can undertake without leaving the classroom. Project RESPECT hopes to address all of this and more. But what's most unique about this initiative compared to others is the name itself. For the teaching profession to be truly revitalized, it is imperative that we address the issue of "respect."
"Why are you just a teacher?" "What are you going to do after teaching?" Teachers, especially younger teachers, often hear such questions. I know I have. Our decision to work on the most important social issue of our time is often misinterpreted as lack of ambition, and our hesitation about staying in the classroom is often encouraged. Teaching is not respected as a profession and teachers are not respected as professionals. This is precisely why I am so excited for this first step towards a national conversation about transforming the teaching profession. It is monumental that the lack of respect for the teaching profession is being recognized on a national platform.
If we as teachers are skeptical of the changes promised by Project RESPECT, then we are rightfully so. In the past, many such well-intentioned initiatives have back-fired and ended up vilifying teachers. Nonetheless, I believe Project RESPECT could finally be the exception to the rule. At the town hall last Wednesday, Maddie Fennell, a teacher and representative of the National Education Association, asked the Secretary of Education a crucial and poignant question: "How do we [teachers] truly lead our profession, at a time when the current wave is against us as professionals and vilifies teachers?"
I was heartened by Secretary's response. He not only validated the apprehension and skepticism that teachers rightly feel, but also acknowledged the fact that the Department of Education does not have an answer to the question. Instead, teachers and policymakers will have to arrive at that answer together. Teachers and policymakers have never engaged in a national discourse together about the teaching profession, and now is the time. Teachers know firsthand how well-intentioned policies can end up hindering classroom learning. While policymakers can create the big picture vision on the macro-level, teachers can help translate that vision to the micro-level: our classrooms.
For the first time, the Department of Education is acknowledging that we need an honest conversation about the state of the teaching profession in our country, and that this conversation must be had with one of the most important stakeholders in education: teachers. I know the transformation will not happen overnight or even over the next few years. But for the first time in my teaching career, I feel hopeful and excited. Because this is the first time I, as a teacher, feel heard.
Related
Popular in the Community