Anyone can tell you who's already made it, but HuffPost Arts & Culture's On Our Radar series is here to tell you who's about to blow up -- and, in some cases, go pop.
The Propeller Group, a trio of multimedia artists based in Ho Chi Minh City and Los Angeles, exists somewhere in the nexus between public art, advertising, and satire. Comprised of visual artists Matt Lucero, Tuan Andrew Nguyen and Phunam, the young team crosses disciplinary borders, playing with popular culture concepts that reveal their sensitivity to the political environments of both Vietnam and the United States.
Take their recent video project, "Television Commercial for Communism (TVCC)," for example. The three artists imagined what it would be like if the five remaining communist countries banded together to create an ad campaign for their ideology. In fact, TPG went as far as hiring a global agency to actually bring the ad to fruition; an elaborate project that endeavored to see how the favorite child of capitalism -- advertising -- would digest this sort of demand.
The project is currently on view as part of the Guggenheim's "No Country: Contemporary Art for South and Southeast Asia" exhibition. The group trekked to New York City this week for a joint symposium with the Queens Museum to discuss their work (and, spoiler, to perform a rendition of Devo's "Mongoloid"). We caught up with Matt, Tuan and Phunam ahead of their performance to talk Communism, childhood teachers and "Argo."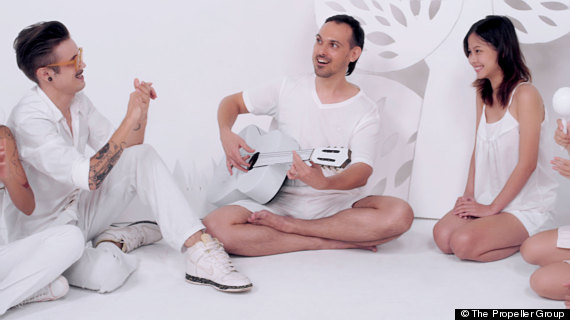 The Propeller Group, Television Commercial for Communism, 2011-12, Color video, with sound, 1 min., edition 1/5
Solomon R. Guggenheim Museum, New York, Guggenheim UBS MAP Purchase Fund, © The Propeller Group, Photo: Courtesy the artists
Who or what was an early influence on your art?
We always talk about graffiti. It influenced what we do now quite a bit in the ways we want to work outside of the gallery and the ways we think about our audience and art in the public. Like COST REVS. They were like a dynamic duo in the early '80s and they were doing these posters with just the words "COST REVS" on them. They looked like billboards for concerts or ads on the street selling clothes or watches. You'd just pass by and not know what it was. And they were everywhere. They were a huge influence because it was mixing identity with a sort of advertising and branding. They were playing in a field of commerce and advertising, skewing things a little bit in the public place.
What have been the lowest/highest points in your career so far?
We hope this is the lowest point so we can keep on going higher, right?
How would your childhood art teacher describe you?
Matt Lucero: Well, I didn't have a childhood art teacher. I didn't take art until I was a grown up. [Laughs] Actually, my mom is a school teacher and she works at an elementary school where my kindergarten teacher, Ms. Bergstrom, also works. So she has contact with her and my mom tells her everything I am doing.
Tuan Andrew Nguyen: I was always a nerd. I was good at math and science, and I didn't take an art class until maybe sophomore year in high school. I started learning about Dadaism and I drew this hand with the head of a gorilla. It got into the city's top 10 artworks of the year. Thanks for reminding me of that.
Phunam: I went school in Singpore and ... you really have to follow the books. I had a hard time with school teachers. They didn't really have anything to say about me.
What are you obsessed with right now?
Videos. Music videos. We're also into advertising and commercials. The funny thing is that we make art about what we're interested in.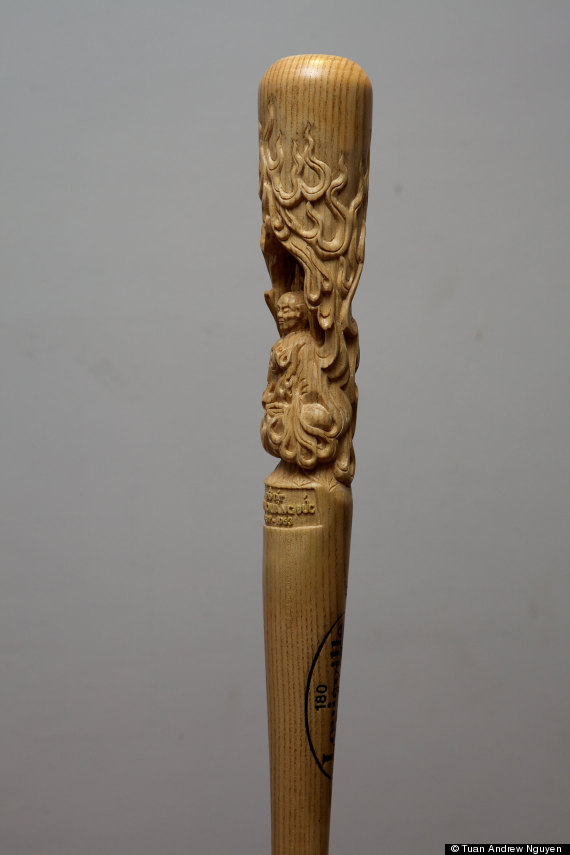 Tuan Andrew Nguyen, Enemy's Enemy: Monument to a Monument, 2012, Wood, 87 x 6.5 cm diam., prototype 3/3, edition of 5, Solomon R. Guggenheim Museum, New York, Guggenheim UBS MAP Purchase Fund, © Tuan Andrew Nguyen, Photo: Courtesy the artist
Name a movie or book that you are embarrassed to have never seen or read.
We have never seen "Argo." We're not embarrased but it's embarrassing. We like to talk about the things that we have read, ingested, and seen, and if you read a book on your own, it's hard to have a conversation with other people. It's easier when someone's read something, passed it on and waited. So everyone's waiting to talk about "Argo." [Laughs]
Why does this project -- the work on view at the Guggenheim's "No Country: Contemporary Art for South and Southeast Asia" exhibit -- matter?
The work that is featured at the Guggenheim exhibit is in two parts. One is a collaborative television commercial for Communism. There's a lot of co-mingling and overlapping between Communism and capitalism happening today. During the Cold War they were separate ideas, but now they are fused into this third ideology. The other aspect of the exhibition is one of Tuan's works -- a sculptural work based on an image in Vietnam of a monument dedicated to a monk who self-immolated.
For the commercial, what we did was we hired an advertising company, TBWA -- a big global ad company. They work with Apple commercials, and take care of Nissan and Gatorade. So they are really big. They had just opened an office in Ho Chi Minh City, maybe four or five years ago. And we asked them to create a new brand for Communism -- to re-brand Communism, basically. The final product ended up being in the form of television commercial, which we are trying to get aired on national television.
We are doing a Kickstarter now. The commercial is complete, but our goal was to launch it on Superbowl Sunday. Unfortunately, we couldn't raise the millions of the dollars we needed to do that. We think it's going to be a pretty big campaign, with a pretty big impact. To actually air a commercial like this. [Editor's Note: The Kickstarter isn't online yet but the group stated that it should be active in the next few weeks.]
"No Country" is the first exhibition of the Guggenheim UBS MAP Global Art Initiative, a five-year program involving curatorial residencies, touring exhibitions and new acquisitions; it will run from February 22–May 22, 2013. For more on the exhibit, check out our original article here.
REAL LIFE. REAL NEWS. REAL VOICES.
Help us tell more of the stories that matter from voices that too often remain unheard.
BEFORE YOU GO