The long Labor Day weekend is traditionally when Americans kick back for a bit. Catch a three day-long breather before these same people then plunge into all of the projects work that they've got planned for the Fall.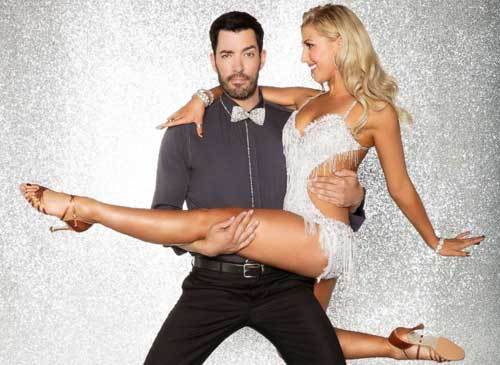 Well, Drew Scott clearly never got the take-Labor-Day-off memo. For – while he's been out in Los Angeles with his twin brother Jonathan shooting "Property Brothers at Home: Drew's Honeymoon House" episodes (FYI: The latest season of the Scott's super-popular house renovation / home improvement show "Buying & Selling" began airing on HGTV this past Wednesday) – Drew's also been rehearsing with Emma Slater for their upcoming debut on ABC's hit reality series, "Dancing with the Stars."
"Whenever Jonathan and I are shooting new episodes of our 'Property Brothers' show, we typically spend 12 – 14 hours a day in front of the cameras. But these days, as soon as I finish doing that, I then do three, sometimes three-and-a-half hours of dance rehearsal with Emma," Scott admitted during a recent phone interview. "It's been exhilarating but exhausting. I love taking on a new challenge."
And speaking of challenges … The next two weeks should be especially challenging for the brothers. For – on either side of "Dancing with the Stars" September 18th premiere – Drew & Jonathan will be traveling all over the country, making stops in 11 major cities as they promote their new memoir, "It Takes Two: Our Story" (Houghton Mifflin Harcourt, September 2017).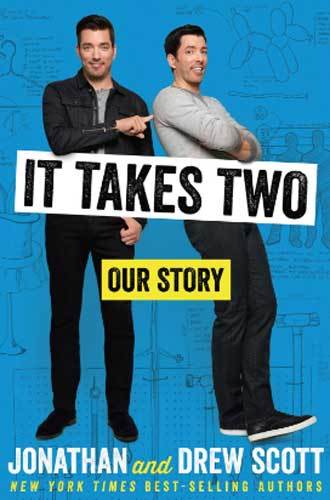 "And because Drew and I have never done anything normal in our lives … Well, we decided that we didn't want this to be the typical sign-and-shuffle kind of book tour. We wanted to do something special for our fans. Something that really lets these people know how much my brother and I appreciate all of the support that they've given us over the years," Jonathan explained.
Which is why – tomorrow night at the Bergen PAC in Englewood, NJ – the Scott brothers are kicking off Jonathan and Drew's House Party tour. Which promises to give "Property Brothers" fans an uncensored look at the lives of these 39 year-old twins.
"Our goal with this book tour is that – at each stop along the way – we want to make it seem as though we're staging the ultimate variety show for 2000 of our closest friends. Drew and I have actually been calling this a bro-riety show, because – as part of this program – we'll be singing a song that made Billboard's country charts a few years back. And I'll also be doing some magic. Plus showing behind-the-scene bloopers from the show and giving away door prizes," this Scott Brother enthused. "There'll be something for everyone."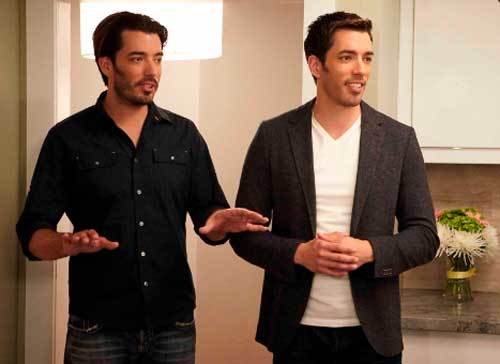 One aspect of Jonathan and Drew's House Party that "Property Brothers" fans are particularly sure to enjoy as their impromptu design consults.
"During this interactive part of the show, Jonathan and I are going to do something that we've ever never done before. We're going to have people who come out for our House Party tour submit a photo of the worst room in their house. And then Jonathan and I are going to bring these fans up onstage and we're going to be doing live digital makeovers of these problem spaces in their homes," Scott continued. "Mind you, it's only the people who come out for our book tour who'll get this opportunity. And did I mention that everyone who buys a ticket for Jonathan and Drew's House Party also gets a free copy of 'It Takes Two' ?"
And what makes "It Takes Two: Our Story" different from the Scott's earlier book, "Dream Home: The Property Brothers' Ultimate Guide to Finding & Fixing Your Perfect House" (Houghton Mifflin Harcourt, April 2016) ? That New York Times best seller was really more about the design side of things. Drew and Jonathan's process when dealing with their clients. Whereas "It Takes Two" attempts to address a lot of personal questions that "Property Brothers" fans have had about this pair.
"What we tried to do with this book, this memoir, was show the good, the bad, and the ugly. Drew and I weren't born with silver spoons in our mouths. We grew up on a ranch in Canada after all. We had to work hard for every penny. And we've definitely had our ups & downs over the years," Jonathan stated.
"That's why – when we began working on 'It Takes Two' – Drew and I made a pact with one another that we would not eliminate anything from this book. That if something that happened to us was an important part of our story, crucial to our fans understanding how we wound up the way we did, it was going to be in this memoir," Scott continued. "That's why – in 'It Takes Two' – even I've never ever talked about my divorce before, I share how painful that was for me. I also talked how when I was scammed when I was younger and how I was forced to declare bankruptcy."
The present day has also had a lot of challenges for the Scotts. Take – for example – all the effort it takes to complete production on all of their series for HGTV.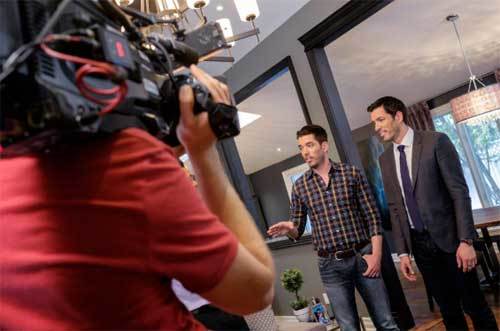 "We shoot up to 17 episodes at a time. That means that we're actually doing 17 full renovations at the exact same time. Which would just be impossible – especially when you take into consideration that, every two or three months or so, we move across the country to a brand-new city and then start working with families on their house renovations. But that's where our great production team comes in. Without that well-oiled machine, our terrific design & construction crews, Jonathan and I would never be able to do what we do," Drew said.
It's this kind of candor about what actually goes on behind-the-scenes that's sure to Jonathan and Drew's House Party a must-attend event for Property Brothers fans. Not to mention the insights you'll be able to glean about the brothers' next show for HGTV, "Drew's Honeymoon House" (which doesn't officially debut 'til November).
"I overheard a recent conversation when Drew and Linda were negotiating who gets how much closet space," Jonathan laughed. "And Drew was saying that he'd only allow her to have 30% of the closets."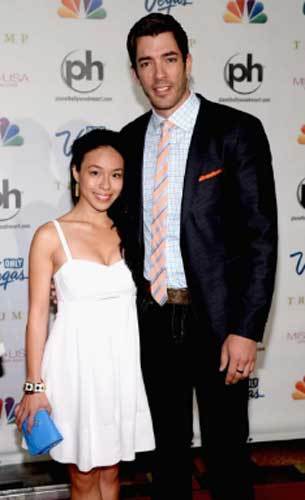 "That's because my shoes are three times the size of hers!," his brother interjected.
This is the sort of live onstage silliness that you can expect to Jonathan and Drew's House Party. Which – after it kicks off tomorrow night at the Bergen PAC in Englewood, NJ – then travels over North America before this not-your-typical-book-tour makes its final stop at the Cobb Energy Center in Atlanta, Ga on September 19th.
And speaking of energy … That's one of the main reasons that the Scott Brothers are so looking forward to the Jonathan and Drew's House Party getting underway tomorrow night.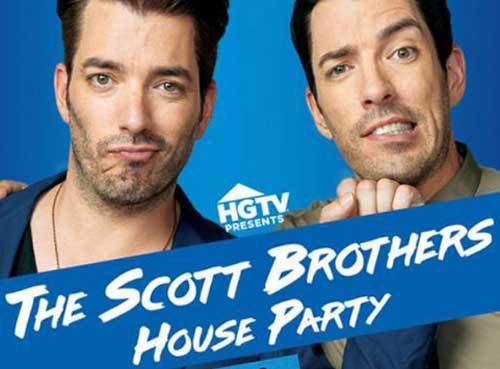 "The two of us actually come from an improv comedy, stand-up background. That why Jonathan and I have always enjoyed cracking up the crew whenever we're on location shooting a new episode," Drew enthused. "But now we get to do that silly sort of stuff for our biggest fans. I can't wait to feed off of their energy of the audience.
"You know, we have a very unique relationship with our audience. Thanks to social media, we're very, very close to a lot of these folks," Jonathan concluded. "That – to me, anyway – is the greatest compliment. When people come up to us on the street and then say 'You two are just like you are on the shows.' " That's because we're not pretending to be somebody else. These are the people that my brother and I actually are."
Popular in the Community