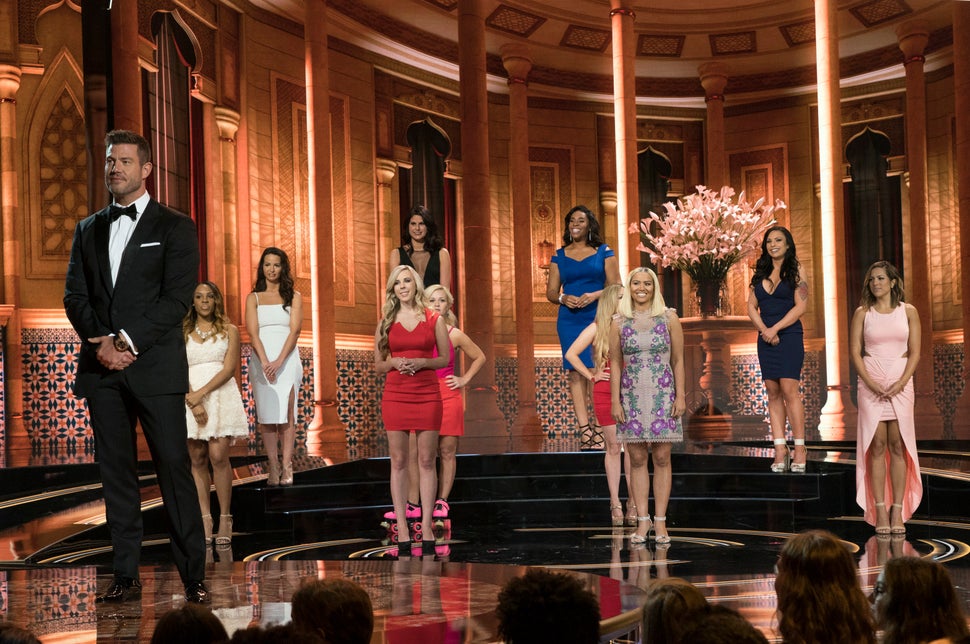 Jessica — a 30-year-old Steelers fan who loves partying, whitewater rafting and science — makes her way center stage. She's one of 10 women vying for an engagement with a stranger on national television.
In the first official challenge of the "soul mate pageant," she and her competitors are required to "bare their souls and their bodies as they reveal what's most important to them, in their finest beachwear."
Welcome to "The Proposal," a new ABC show that takes the "Bachelor" franchise's recipe for instant love and grinds it into a powder you can rail.
The whole thing takes place in front of a live studio audience, on a set that's part "Bachelor" mansion, part "Miss America" stage. The mystery man Jessica hopes to wife sits inside a futuristic pod, a curved, cagelike structure shielding him from view. He can see her, but she can't see him. None of us can. 
"So the first thing I want to do is —" Jessica says to the audience before pausing. "Dad, I'm sorry, but I want to be vulnerable." She then removes the sarong around her waist, revealing a white, ruffly swimsuit as the audience cheers wildly. The camera zooms in on Dad in the audience. His glazed-over grin seems to be saying, "My daughter's a hoot!" 
Freshly vulnerable, Jessica takes out a collage she prepared, featuring photos of her parents' "love story" that culminates with her birth. She flips the piece of cardboard over to reveal a blank side. "This is where I want our adventure to start," she says, to heightened applause. "I want to fill this scrapbook with memories of us."
"Bachelor" fans will recognize this move ― the family scrapbook left unfinished ― a classic gift that contestants bestow on the lead the night before they hope to wind up engaged. Except Jessica hasn't even seen her suitor's face, and she's not even waiting 24 hours to become his fiancée. 
The hourlong (shit)show that is "The Proposal" premiered Monday night directly after "The Bachelorette," appealing to viewers who think the beloved reality show's procedural 10-week-long courtship is 10 weeks too long.
No longer must viewers toil through seemingly endless rose ceremonies to reach the orgasmic climax of the grand proposal and the sweet release of happily ever after. Now "Bachelor" junkies can jump to the finish line week after week for the ultimate grotesque love rush.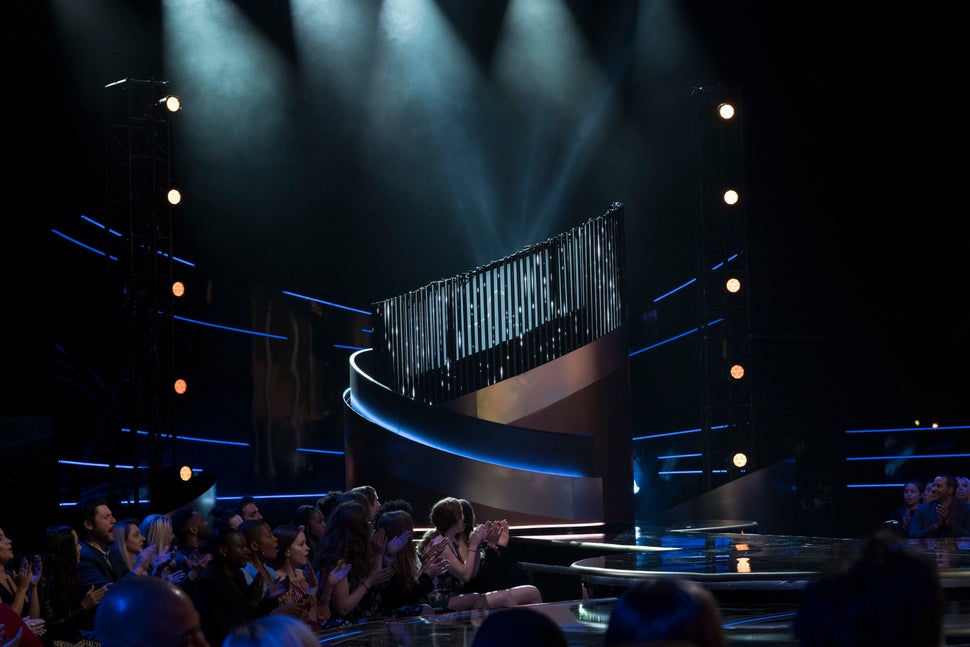 The nightmarish spectacle, something right out of "Black Mirror," takes the now codified "journey to find love" imprinted into the brains of "Bachelor" fans and boils it down to its essence. Physical attraction, check. Trauma porn, check. Teary speech about "finding your person," check. Father's approval, check. Neil Lane diamond ring, check. 
Our host is Jesse Palmer, a Chris Harrison type who has undergone a mandatory system upgrade. "What you're about to see has never been attempted before on television," he says, welcoming those in the audience and at home and congratulating us all for "making history." Palmer, who was the Bachelor himself in 2004, seems to have dutifully observed the melodramatic yet monotone ways of Harrison, the veteran master of ceremonies, and adopted them as his own. 
We then meet the groom-to-be ... well, kind of. One of the show's strange twists is that neither the contestants nor viewers see the man's face until the very end, as if the hourlong competition courtship weren't worrisome enough.
A large screen rolls video introducing Mike, a 29-year-old police officer from Bakersfield, California. (The city has one of the most corrupt and racist police forces in the U.S. Hello, Prince Charming!) To prevent viewers from seeing his face, Mike's physical form is obscured by an inexplicable, Alex Mack–style silver goo, yielding a sight as horrific and uncanny as Kevin Bacon in "Hollow Man."
We learn that six years ago, Mike was in a motorcycle accident and lost his right leg. He's still mobile and athletic, and he loves CrossFit. A woman in the audience wipes away a tear. 
Next we meet the women, including Jessica, who parade down a staircase in cocktail attire as batshit descriptions of them play over the speakers.
When Havilah "isn't writing or speaking, she's tending to her massive collection of dolls."
Before medical student Rihanna started studying emergency room medicine, "she was a flight attendant, and she's very proud of her calves." (The camera then zooms in on those gloriously shaped gams.) 
Kendall, introduced as a baton twirler, has "been twirling batons her whole life ... and sometimes those batons are on fire. Kendall is also a neuropsychologist."
The last woman to walk the plank is Monica, a smiley, 31-year-old real estate agent from Southern California who "learned to surf even though she's horrified by the ocean."
After the women are introduced and before they utter a single peep, Palmer chimes in. It's elimination time. "I know this is difficult. We've barely gotten started, but out of these 10 women, which seven would you like to see more of?" he asks.  
"Wow, this is a lot harder than I've anticipated," Mike's disembodied voice bellows from the general vicinity of the pod they've trapped him in. The show is a parody of itself. When he chooses which women he'd "like to get to know better," each gives a little wave to the audience. Some blow kisses at the dark void where their future husband lies in wait. 
Next comes the aforementioned bathing suit competition, in which women can "be vulnerable" by exposing their dark secrets and sexy bodies for approximately 30 seconds. This is magic of "The Proposal." It takes what "The Bachelor" says it's about (finding love) and mixes it with what "The Bachelor" is really about (being hot and being on TV) and presents them both without pretense or apology.
Fans know the key to "Bachelor" glory is having a backstory that's moving (I've been hurt in the past) but not too tragic (My parents are divorced), lest you be a cursed leper whose unromantic affliction will bedevil your future marriage. "The Proposal" contestants know these rules like the backs of their hands. One woman tears up recalling her battle with anxiety and depression, before running her hand down her slim figure suggestively and shouting cheerily, "Clearly I'm over it!" as the audience whoops. 
The depravity makes "UnReal" look quaint. 
After the bathing suit round, the women are whittled down to four. They then answer "deal breaker" questions that can be about anything — "politics, religion, even sex" — in 30 seconds or less.
First, Morgan's up. "There's no easy way to say this," the voice from the pod roars. "How do you feel about dating an amputee?" After a moment of hesitation, Morgan replies that she is "not opposed" to it. "I believe the soul is what matters, not the physical appearance."
Next is Jessica, the collage girl. "As a police officer, there are those dangers that we face in the field, in which we may not come home," Mike's voice booms like the Wizard of Bakersfield PD. "Are you able to live with that?" 
"I am," Jessica responds without missing a beat, as if she cannot wait for her future hubby to be six feet under. "I definitely could live with that. I have strong religious beliefs, so I would believe you are always in God's hands and he would take care of you and I know that you would be OK. I know our time is precious on this earth, and we would have so many moments, and I would hold those forever in my heart ―"
Palmer cuts her off. "Jessica, your time's up," he says. "Thank you."
The camera zooms in on the starless prison keeping Mike captive. We cannot see his facial reaction but do see a slight movement from the right side of his head. Certainly he's alive. Possibly he approves.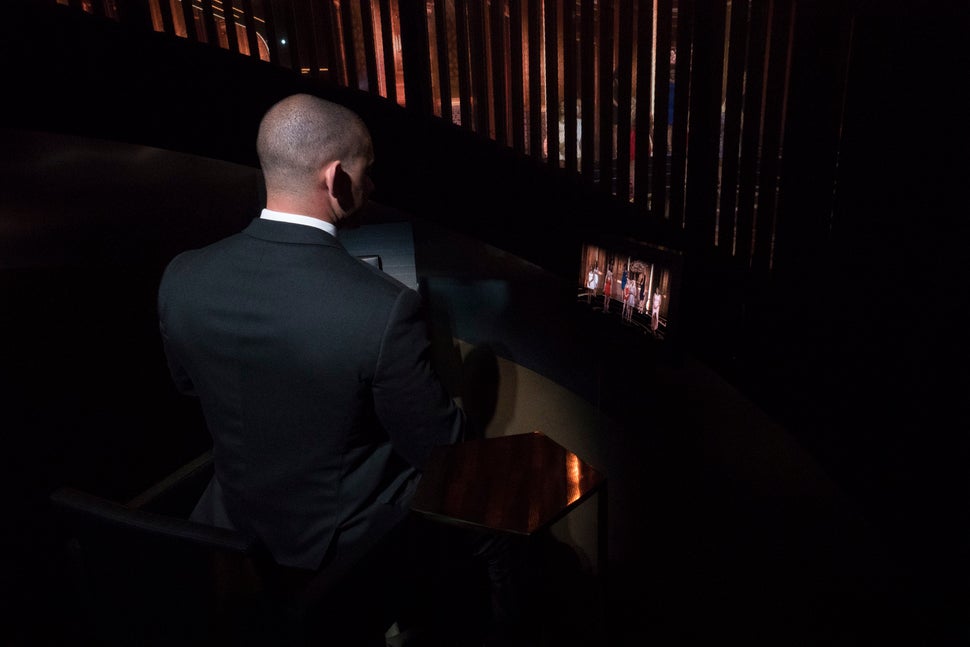 In the next round, Mike's best friend emerges from the audience to ask questions that only a best friend could. Kendall is cut for saying she doesn't want kids — a rare reasonable moment amid the bananas display. The question of whether to become a mother is a complicated one, an issue that prevents many couples from committing to a life together. Fair! 
Before the final round, Mike emerges from the dark pod that has kept him captive to face his two potential brides. He's cute, kind of like a meaty Wilmer Valderrama. "I'm glad I got to come here and see two amazing, beautiful, stunning women," he says, putting to bed any worry that he doesn't fully appreciate their complex interiority. 
Then the two finalists ― collage girl Jessica and smiley surfer Monica ― give last-ditch appeals to win Mike's eternal love. They've both changed into glittery, floor-length gowns for the occasion. Jessica's up first. She tells Mike she's a "traditional woman" and needs Dad's approval before taking the plunge. Camera jumps to Dad in the audience, whose eyes are welling with tears. For some reason he gives his blessing, assuring his withered 30-year-old daughter ― ancient by reality-TV standards of desirability ― will finally be dicked down.
Jessica takes a deep breath. "I can't promise we're never going to not have a fight or a disagreement or argue about what we're gonna watch," she says. "But what I can promise you is that I will love you and be there for you every single day, every step of the way. I'm your person."
Holy shit. She starts crying, the sobs interspersed with eruptions of maniacal laughter.
She promises to love him when she's "old and gray and 60 and can't walk," perhaps a Freudian slip about her future husband's amputated leg. 
She closes with, "Let's do the damn thing!" ― quoting the catchphrase of the current Bachelorette, Becca Kufrin. 
Then it's Monica's turn. She starts crying right away, and Jessica looks pissed. "I've yet to find someone that has as big of a heart as me," she says between perfect baby sobs. "But you just seem to fit that really well." Her speech is better less creepy. Jessica knows it. 
It's time for Mike to close the deal. "I know from the very beginning I never thought I'd find somebody as special as you guys," he says. "And I never thought I'd find love. But after hearing what you guys have to say, I feel like I have. And so ... Monica."
Mike gets down on one knee and pops out that sweet Neil Lane bling. Monica looks thrilled, as if this is everything she has ever wanted. The public performance of a fairy tale ending eclipses the value of an actual relationship with an actual partner. Monica and Mike eat each other's faces. The camera zooms in on Jessica's contorted grimace, giving its monstrous viewers just what they want: suffering.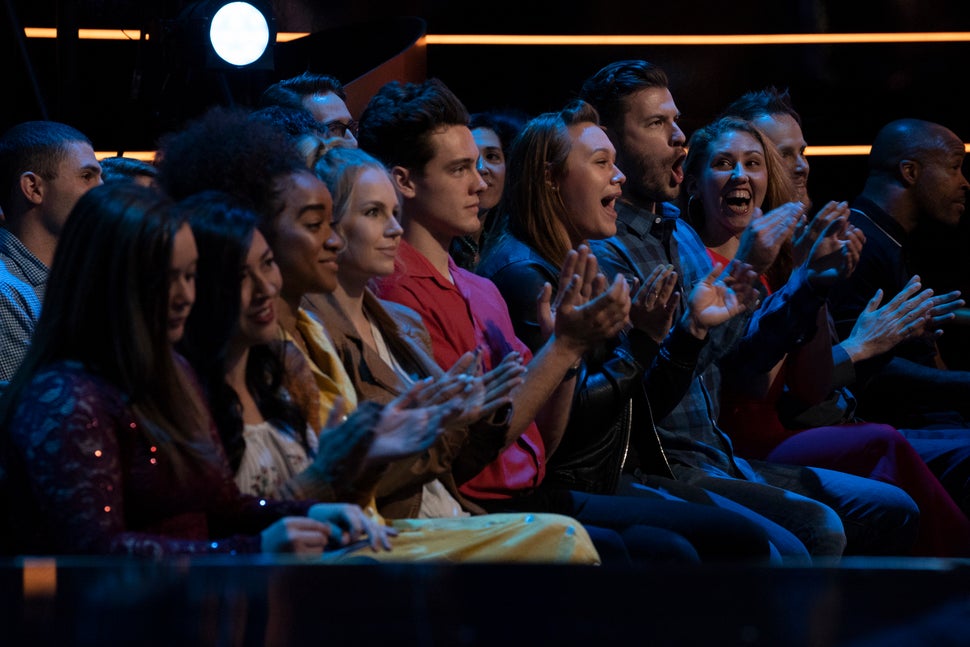 If "The Bachelor" is a simulacrum of the perfect love story, "The Proposal" is a simulacrum of that simulacrum. Yet there's something freeing about the ludicrous spectacle, which, in a way, exposes the artificiality of the whole franchise. It also makes plain some of the unspoken assumptions at the root of "The Bachelor" philosophy that rarely see the light of day. 
For example, that women over 30 are tragic spinsters. And that love is something that blossoms between two hot people when they are "ready" and "open" and "here for the right reasons" and hot. And most certifiably, that finding love on TV isn't just *giggle* so unexpected *giggle,* it's absurd. 
With "The Bachelor," ABC has created a massive fan base, a "nation" addicted to love, humiliation and cruelty. Thus it's the live studio audience upon which the "Proposal" camera loves to dwell — all those reactionary faces serving as a stand-in for our collective obsession.
We asked for this, all of us. 
Over 36 seasons, "The Bachelor" has perfected a reality-TV recipe as addicting as it is culpable. Every season, I swear I'm off the stuff, and yet every year, come the bios, I return. Glued to my seat, I watch the same story of love blossom, however impractically, offensively and inanely. And honestly, with two-hour episodes and an incessant programming schedule, who has the time? 
The McDonald's to the "Bachelor" Cheesecake Factory, "The Proposal" offers the same giddy-guilty feeling on the cheap, in a fraction of the time. It's a fairy tale romance and an all-American nightmare, packaged into an hour of cringeworthy, utterly engrossing, surreally dystopian TV. 
"The Proposal" is the final destination of "Bachelor" mania, infused with the disorienting pace of reality as we experience it in the year 2018. In its formula, aesthetic and (un?)scripted moments, the show out-weirds science fiction and outdoes satire. It's the perfect reality show for a time when reality feels as if it's sinking into the mud of an uncanny valley. 
Calling all HuffPost superfans!
Sign up for membership to become a founding member and help shape HuffPost's next chapter