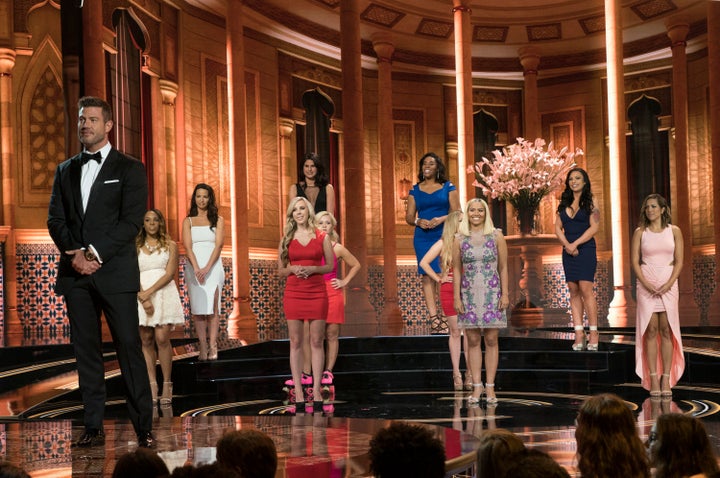 ABC has only aired one episode of the new reality series "The Proposal" ― described by host Jesse Palmer as a "soul mate pageant." But the show's fairy-tale facade has already been tarnished by disturbing allegations against one of its contestants.
Early Thursday, Milwaukee resident Erica Denae Meshke posted a statement on Facebook describing an encounter with "The Proposal" contestant Michael Friday, who was slated to appear on the show's second episode on June 25.
In an email exchange with HuffPost, Meske said she believes Friday facilitated her sexual assault by another man last year. She added that since her post, four other women contacted her "and claimed they were all drugged and raped by Michael Friday first hand."
In response, ABC told HuffPost it has pulled the episode featuring Friday, and "the matter is currently under review."
Friday didn't respond to a request for comment through ABC and Warner Bros., and didn't immediately answer a message through Facebook.
Meshke said in her Facebook post that she matched with Friday on the dating app Tinder in early November and agreed to meet in a public place ― the lobby of an apartment complex in Milwaukee. When she arrived, she wrote, Friday was with two men he called friends who appeared to be in their 50s. (Meshke, at the time, was 24.)
She described how Friday disappeared shortly after she arrived, leaving her in the lobby with the two older strangers. She said she had a drink, which she later suspected was spiked.
Over the five hours that followed, Meshke wrote, she was assaulted and threatened by one of the men in an apartment in the building. She described the assault as "unspeakable."
During the email exchange with HuffPost, she declined to give further details. She said she didn't tell police about the attack at the time, but is considering making a report now.
Meshke said she now believes that Friday "knowingly and willfully lured me into that apartment lobby with the intention of assisting the older man in a sexual assault scheme."
"I may not be able to protect everyone, and I cannot erase the misery his victims have faced, but I will strive to make sure no one needs protection from Michael Friday ever again.""
She said she was shocked to see Friday's face on "The Proposal's" Facebook page as a contestant vying to get engaged to a stranger on national television.
"I have no real reason as to why I made the post," she said via email. "I didn't even know [Michael's] last name until yesterday."
She said she wanted to raise awareness of dating "bait and catch" schemes. She said that she figured "a few people from the Milwaukee area would see it and share it so that other women in the area could be warned," but never imagined her post would blow up into a national news story.
"If anything," she continued, "it was more for myself, as a therapeutic way of finally sharing my story, after so many months of keeping it buried."
Within hours of making her post public on Facebook, Meshke said she received messages from women offering their own harrowing stories about Friday.
ABC and Warner Bros., in a joint statement to HuffPost, said "an allegation has been made against a contestant on next week's episode of 'The Proposal.' While the accusation was not related to the contestant's appearance on the program, we take it very seriously. ABC and the producers of 'The Proposal' are pulling the episode while this matter is under review."
Meshke said she hadn't heard directly from ABC or Warner Bros. and learned the episode was being pulled from a reporter. She said she holds "no resentment towards ABC, and commend[s] them for acting so quickly, and making the decision to pull Michael's episode less than 24 hours after my accusation became public."
"These people need to be held accountable for the havoc they are wreaking, and the best way to start is by communicating with each other and sharing stories.""
Shows like "The Proposal," in which each week one masked man or woman chooses a life partner out of 10 contestants over the course of an hour, are meant to be lighthearted and romantic. But in recent years, ABC and Warner Bros. have faced questions about the casting process for the reality dating shows, and their ability to keep cast members safe.
This disturbing allegation follows an incident of sexual assault involving a contestant on ABC's "The Bachelorette," which is also produced by Warner Bros. Reality Steve first reported that contestant Lincoln Adim was found guilty in May of indecent assault and battery for groping and assaulting a woman on a cruise ship in 2016.
In 2017, "Bachelor in Paradise" faced "allegations of misconduct" after a producer alleged that contestants Corinne Olympios and DeMario Jackson were too drunk to consent to sexual encounters that occurred on the show's set in Mexico. Filming was suspended while Warner Bros. launched an internal investigation that eventually found no evidence of misconduct.
For Meschke, sharing her story was less about holding ABC accountable than simply wanting to create a world where women don't have to be terrified that their Tinder dates might victimize them.
"I never want another person to lie awake at night, wondering what they did wrong to deserve this kind of injustice," she said. "I know that is an ambitious dream, but it has to start somewhere. I may not be able to protect everyone, and I cannot erase the misery his victims have faced, but I will strive to make sure no one needs protection from Michael Friday ever again.
"I want his face to be known and his reputation to be spread, as a message to others like him. These people need to be held accountable for the havoc they are wreaking, and the best way to start is by communicating with each other and sharing stories."
Related
Popular in the Community