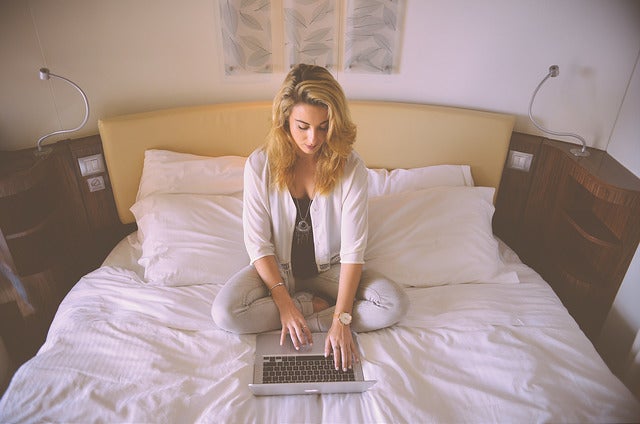 Working from home also referred to as telecommuting, home, remote, mobile, virtual, or cloud working, is one of the fastest growing trends in the workplace with 3 out of 5 North American workers stating they work remotely. According to statistics from the American Community Survey, ​2.6% of the American workforce, or 3.2 million people are telecommuting and love it.
Remote employees love it and companies have been able to seriously benefit from adopting the remote worker model. Major companies that hire remote workers include the following:
Dell
IBM
Apple
Cisco
Cigna
UnitedHealth Group
Aetna
American Express
Appen
GE
Kelly Services
Healthfirst
McKesson
Companies have been pleased to report that the work-from-home model actually increased the overall level of engagement in their staff. While skeptics worry that working out of the office would make employees too lax or closed off to be productive, it was found in a study by PGI that up to 80% of employees reported a feeling of greater overall morale when working outside of the office as opposed to being in-office and were more productive.
Hiring remote workers allows you to expand your talent pool over a larger geographical area. You no longer have to rely on local talent or forking out relocation packages to attract your most qualified candidates.
In addition to driving a higher level of efficiency, it has been found that allowing your employees to work remotely reduces turnover. Studies show that companies that took on remote workers had a significantly lower turnover rate compared to that of those that didn't deploy a remote model. How many times have you lost a good employee because their spouse relocated to a new job? A remote work plan allows you to retain those employees.
Environmental friendliness
A remote worker plan means a significant reduction in the overall carbon footprint created by the company's staff as a whole. Due to the fact that many companies are often making efforts to go green, the overall reduction of the company's carbon footprint is a positive attribute especially among the growing ​millennial workforce.
One of the more unexpected and significant benefits of remote working model utilization is the reduction in overhead costs. Companies report that the work-from-home model lowers their operational costs. ​Cisco reported a savings of $277 million per year from telecommuting employees. ​Aetna was able to save money on 2.7 million square feet of office space, equating to savings up to $78 million; currently, Aetna has between 14,500 and 35,000 employees who work without having an in-office arrangement with the company.
The big debate is whether your remote workers are more productive and motivated than your office-based workers. A ​Global Workplace Analytics survey showed that 53 percent of remote workers stated they were likely to work overtime, while only 28 percent of their in-office counterparts suggested they would do the same.
An employee working from their home is free from distractions like water cooler chats, idle employee gossip while getting coffee, and annoying pot-luck lunches and birthday celebrations. They aren't barraged with impromptu meeting requests, or idle chats from colleagues. Instead they can focus on the task at hand without interruption. Important to note, depending on the position, not everyone is their best during the hours of 9 to 5. Take for example if you are a developer. Working remote can embrace the non-conformist worker requirements of those who might be night owls, early morning producers, or weekend warriors.
Managing remote workers forces companies to measure results not attendance. Just because someone is present at the office doesn't mean they're productive. ​Leadership that promotes employees based on performance, initiative, and excellence will send a message to the entire organization resulting in better company performance overall. Managers can measure success by setting clear metrics, setting weekly goals, gathering feedback from team members and clients, and evaluating work performed based on quality and results achieved.
Potential risks and precautionary measures
Naturally, there are risks and concerns surrounding remote workers. Even with the well-documented success of allowing employees to telecommute, there are still those who have expressed doubts. There is the common apprehension that an employee working from home might not be as inclined to work as diligently as one who is physically in the office.
Industry giants like Yahoo and Best Buy are noted as being examples of some of the potential pitfalls that can be encountered in remote working arrangements; however, there are those who adamantly assert that the two industry giants' failures to successfully implement a remote working model was due to a lack of proper communication and management
The trick is in the hiring and the leadership
One of the keys to a successful remote work organization is the ability to hire the right people at the right time for the right role whether in office or remote.The question isn't whether to hire remote workers but how to qualify and where to find them. Look for people who take initiative, have a high degree of independence, strong work ethic, goal oriented, are receptive to feedback, and love accountability.
Tricia Lucas, Co-Founder of Lucas Select has over 25 years of demonstrated success in recruiting, marketing communications, social media, technical sales, business development, and project management. Tricia has been involved in 9 start up technology companies as well as sales and marketing roles at IBM, QMS-Minolta, SAS, and most recently Lucas Select, a sales and IT recruiting and consulting company to help organizations recruit more efficiently by focusing on: Recruiting Efficiencies, Employer Branding, and Social Media.
Ellevate Network is a global women's network: the essential resource for professional women who create, inspire and lead. Together, we #InvestInWomen.
Popular in the Community