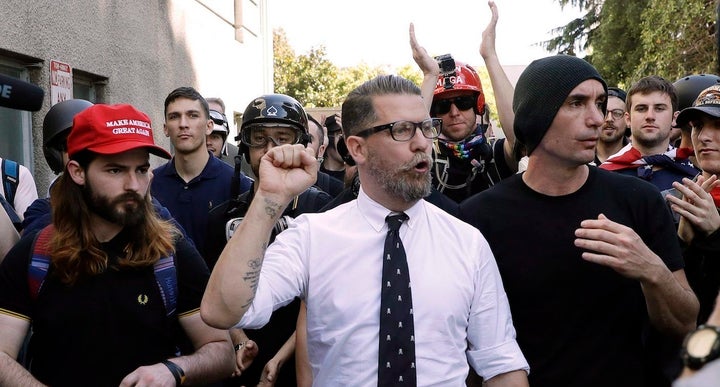 The Proud Boys, a punch-happy extremist gang whose members spend their time harassing people online and attacking them in real life, fell apart at the seams last week as the rest of the country gave thanks.
Over the course of the Thanksgiving holiday, the Proud Boys were revealed as an extremist group in the eyes of the FBI; saw their leader, Vice Media co-founder Gavin McInnes, publicly bail on them; added two of their members to a growing list of defendants in a rioting case in New York City; and named a new leader in Jason Lee Van Dyke, their lawyer who himself is a serial harasser and racist criminal. (A representative for Vice Media reached out to HuffPost after publication to note that McInnes left the company 10 years ago.)
Two days later, he claimed that he was quitting the gang, if only because his departure might reduce his jailed members' sentences in some way.
"I'm officially disassociating myself from the Proud Boys, in all capacities, forever. I quit," McInnes said in a rambling, 36-minute monologue on YouTube on Nov. 21.
He claimed that "lies and bad journalism" ― not the recorded violence committed by his membership ― led to his comrades' jail time. If he pretended to leave the group, he said, the accused might receive lighter sentences. (There is no indication that the YouTube video will alter those court cases, which are set for Dec. 14.)
"I'm told by my legal team and law enforcement that this gesture could help alleviate their sentencing," he said. "Fine. At the very least, this will show jurors they are not dealing with a gang and there is no head of operations."
Things did not get better for the Proud Boys after McInnes' claimed departure. Anti-fascist activists spent the holiday doxing members — identifying them online and notifying their employers that they are members of an extremist group. They've claimed varying degrees of success in those endeavors.
Then, over Thanksgiving weekend, the Proud Boys released a statement, saying in one muddled breath that McInnes was never their leader but that they had chosen a new one: Van Dyke, the group's sue-happy lawyer. Van Dyke has made national headlines before, once in 2017 for admitting to HuffPost that he threatened to kill an entire family and again this year after he was arrested for lying to police about a burglary he was involved in. (Reached for comment on that story, he told HuffPost, "Fuck you.")
"Look good and hard at this picture you fucking n****r," Van Dyke tweeted in 2014, alongside a picture of a noose. "It's where I am going to put your neck."
"Your kiddies are quite a nuisance," he wrote in another tweet. "My advice: run and hide. If I find you, I WILL kill both you and your family."
Anti-fascist activists who follow the Proud Boys' movements wondered how the apparent leadership change might shake up the gang. After all, it still counts members across the country who are ready and eager to congregate and fight. Even though its leader is trying to bail, its members are in jail, and the government is on its tail, it's unclear how the Proud Boys might evolve now that their ranks are crumbling.
"Will the leadership of white nationalist J.L. Van Dyke stymie their organizing? Maybe," wrote one such activist, using the name AntiFash Gordon, on Twitter. "But only if we stop treating them like a fraternal organization and start treating them like what they are. An ultranationalist hate group led by a white nationalist." 
UPDATE: Nov. 29 — On Thursday, just days after he was named their leader, the Proud Boys dropped Van Dyke as a member and their lawyer, according to a press release on their website. The nature of his departure wasn't immediately clear, though there were reports that he had inadvertently doxed his own members and threatened several people who reached out to him this week. 
Calling all HuffPost superfans!
Sign up for membership to become a founding member and help shape HuffPost's next chapter