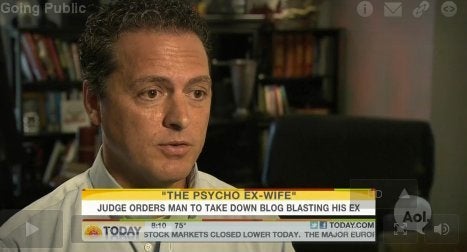 On Tuesday, the "Today Show" took a look at "The Pyscho Ex-Wife," a website launched by divorcee Anthony Morelli in 2007 as a forum to air his frustrations about his divorce and contentious child custody dispute.
Morelli's foray into the blogosphere triggered a free-speech debate after Judge Diane Gibbons ordered him to take down the site in June 2011, citing the emotional damage it could cause Morelli's two minor children, whom he and his ex-wife share custody of.
Morelli insists that his blog serves as therapeutic catharsis rather than vindictive crusade.
"I tried to provide a forum, where, through [the] collective experiences [of my readers], we could help minimize the conflict in our lives, and choose better ways to deal with our high-conflict ex-spouses--be they men or women," he said.
But his ex-wife, Allison Morelli, told the "Today Show" that the emotional hurt caused by the site is so great that even their two children have asked their father to take it down.
"[The kids] have asked their father to stop and I know that they've told him that it has a negative effect on me," she said.
Though he removed his blog at the order of Judge Gibbons, Morelli is appealing the ruling on grounds that it violates his First Amendment rights.
Check out a clip from the "Today Show" segment and weigh in: Does Morelli's right to free speech outweigh the purported harmful effect of the blog on his children?
Related