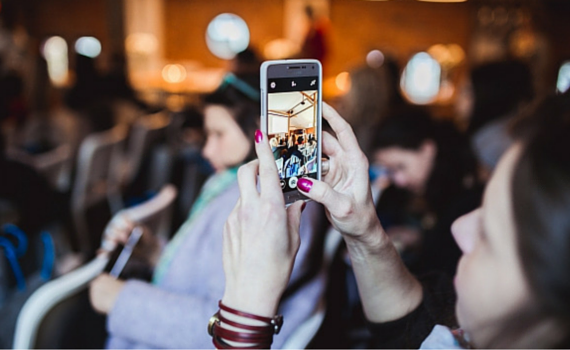 If you're a business trying to navigate the murky waters of your favourite social media watering hole you will know that what worked well yesterday is not necessarily an indication of what will work today. Why? Because the social media landscape changes faster than you can swipe left on Tinder Friday night after 3am...
A little algorithm update from your favourite social media network and you feel like you have to go back to the drawing board with your strategy. Well it doesn't have to be that way.
Fortunately I'm here to tell you that in following this one key principle, even when the goal posts move, the game doesn't change.
It does of course pay to stay abreast of the latest social media updates so you can make the most of new functionality that comes onto the scene.
As a general rule though, as long as you're creating content that is unique to each social media channel and you're speaking in a language that resonates with the tribe on that platform, you're setting yourself up for social media marketing success.
So to give you the tools you need to cut through with your content marketing and develop messages that truly resonate with your audiences on each platform it is vital to understand how people use each platform and what makes each of the channels different.
There are of course some elements that vary from industry to industry but generally speaking, there are some key things that differentiate one platform from another.
To get the most out of your social media community, the key is to understand these key differentiators and to let them guide the development of your content strategy.
I find it is easiest to think about market segments in "persona" form. I get to know the names of the fictional characters I create which helps me to always stay clear on who I am targeting: "OK this post is for Penny. What would Penny think of this post? What problems is Penny facing that we can solve? How am I expecting her to engage with it?". These are some of the questions I will ask myself while developing a content strategy for my clients.
It is important to note that in addition to understanding the personas for each platform, it's also important to consider channel specific statistics such as device usage, frequency of use and the demographics of the platform users as these too should align with your target market.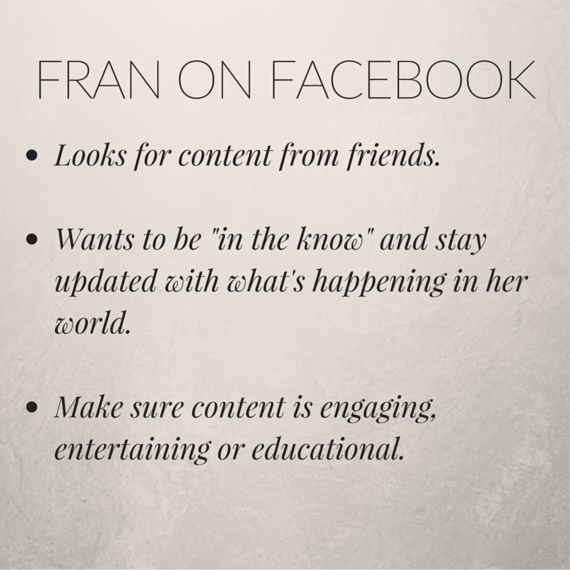 When Fran is on Facebook she is constantly scanning and scrolling. Her news feed is filled with content from pages, groups and of course ads and in amongst all of that she is scanning to find the most relevant and interesting pieces of content from her friends that keep her relevant and connected in her circles.
Fran uses Facebook because all of her friends are on Facebook. Widely used within her age group and not really skewed so much by gender, most of the time if Fran is searching to "friend" someone on Facebook, she will find them.
Fran is here for news mostly: Staying updated on everyone's lives, brand announcements, the actual news on what's happening in the world and other things that are important to her like when her friends get engaged or get a new puppy.
She checks in multiple times daily so she is always "in the know".
If you're trying to engage Fran:
Make sure you share engaging, entertaining or educational content with her. Surprise her. Be remarkable. Stand out or you won't get her attention.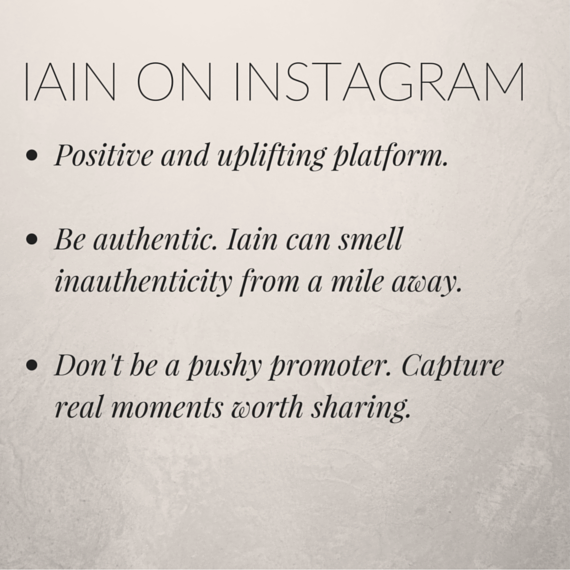 Iain, like Fran is in constant "scanning" mode. Flipping that finger up vertically along his smartphone screen. Iain primarily engages on Instagram with just one finger. To scroll and to "double tap" on content that appeals to him.
If (and only if) he is really engaged by something, he will involve more fingers to type a comment (not as often though - it just isn't as easy to have a discussion when you're typing on a keyboard smaller than a credit card).
Iain wakes up in the morning and turns to Instagram to make sure he "gets out on the right side of the bed". His stream is filled with uplifting quotes, inspiring breakfast recipes and motivational images of people working out. He's pumped to take on the new day armed with this positive content in his mind.
Instagram is about capturing real moments. Overly produced images don't tend to work well on this platform.
Why? Because they stick out like a sore thumb. Because they don't belong on Instagram. Instagram is about showing your authentic self, and Iain can smell inauthenticity from a mile away.
Iain follows some of his friends on Instagram but doesn't feel obliged to follow "what's-his-name" from kindergarten like he sometimes does on Facebook.
He is selective about which friends he follows. He's likely to follow brands on Instagram. Particularly local restaurants, fashion brands he loves, food bloggers and other "social media influencers".
Instagram is most popular with his demographic (18 - 30 yrs) and has a pretty even split of his male/female friends.
If you're trying to engage Iain:
Talk to him in his language. Be positive. Be inspiring. Be uplifting. Be motivational. Be authentic. What is it that you can offer the world to make them feel the way Iain does when he uses Instagram? Is it a quote? An image of great team work showing off your small business culture? An image of you being "human" having a great day and wanting to share something special with the world? Could you share a delicious recipe that might inspire Iain to check out your blog and make your recipe for dinner?
Whatever you decide to share, make it feel as "real" as possible. Let Instagram be the window into what you're about. Be positive and work to make others "feel good" when they consume your content. Do that well and you'll be engaging Iain on Instagram.

Penny on Pinterest: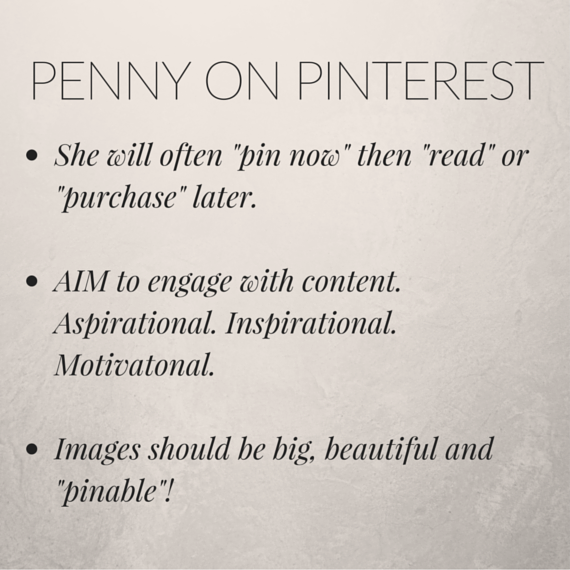 Penny is browsing now and saving for later. Her virtual "pin board" is full of things she wants, things that inspire her and things that motivate her. She wants to be able to find them later, when she is ready to consume the content or buy the product (but a lot of the time, that isn't "right now" when she is browsing, she likes to keep browsing. Like Iain, she will engage further and click through when something really resonates).
Penny uses Pinterest to pass time, but also as a visual "search engine" that shows her only the good stuff (after all, who is going to "pin" bad content? She knows she can find only the highest quality content when she searches here).
Penny uses Pinterest to look for design ideas, recipes, fashion inspiration, gifts, decorating and even valuable resources (printables and worksheets mainly - they're just so useful).
Penny doesn't really use Pinterest to follow and engage with her friends. She might be interested in a friends pins, but only if she knows "offline" that her and that friend have quite a lot in common. Instead, Penny uses Pinterest to follow and connect with like-minded people from around the world. She doesn't really use the "comments" system that's available, but she will "follow" and "repin" images from users she connects with.
So how does a brand connect with Penny on Pinterest?
If you're selling a product: Know that Penny is way way way back at the beginning of the sales funnel (and most likely a long path to purchase exists). Whether it's furniture, wedding gowns, carpet, that designer handbag or that dream holiday; Be prepared to do some of the hard work now with your content strategy to reap the rewards later.
It's all about creating really valuable content, optimising your images to be big, bold and beautiful and getting your "Pinterest SEO" on to make sure you're in the running to appear when Penny's searching for those resources.
Is it worth it? Definitely. It only takes one influential Pinner like Penny to "repin" your content and you'll hit the traffic jackpot. Be prepared to put in the hard yards for it though, cracking Pinterest is no easy feat.


Tyrone on Twitter: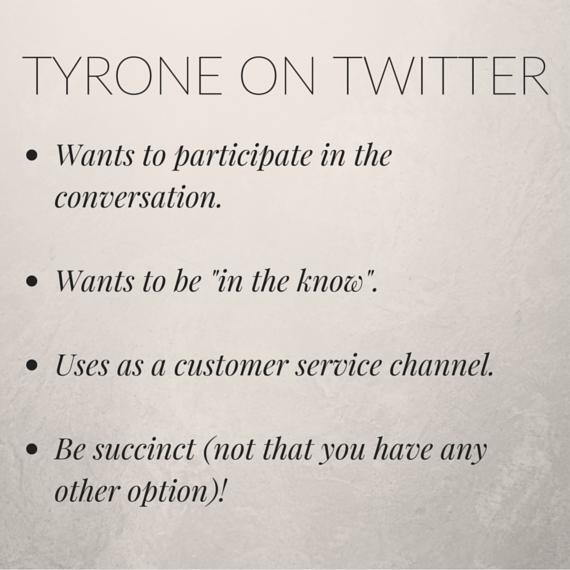 Tyrone is all about wanting to participate in the conversation and like Fran, stay up to date with what's happening.
He might check Twitter once per day (sometimes only every couple of days) to see what's happening in the world (news) or consume content form his carefully curated feed. He will "follow" people who are influential in industries he works in and will use Twitter as a sort of "RSS Feed" to stay updated with relevant blogs and articles about this industry.
When it comes to actually Tweeting, Tyrone will almost always be the one, phone in hand Tweeting notes at an event (if you didn't know he was participating in the conversation digitally, you would think he was kind of rude!)
Tyrone will also use Twitter as a way to reach out to brands when he has some feedback. It's so real-time that he expects a real-time response.
How do you reach Tyrone on Twitter?
Know that he is probably searching for you. Whether he is looking for industry based hashtags that help to pull together relevant content or deliberately searching for you so he can Tweet you about a customer service issue, he will find you.
Use Twitter to share articles, short facts and quotes with the relevant industry hashtags so Tyrone can find you. Use images to help your content to stand out in an ever-moving feed.
Finally, be sure to be active. If you're thinking of opening a Twitter account, you have to look at it like it's another phone line installed at the office - if it rings, you need to be there to pick it up.

Vanessa on Vine: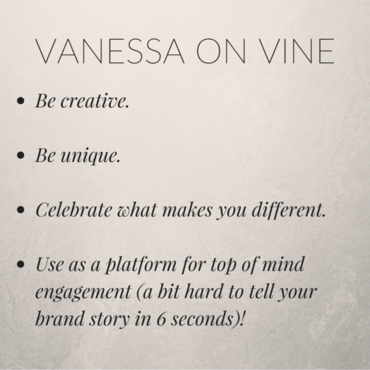 Vanessa is creative. She loves to share her world in a unique way. She was probably the class clown in high school. She loves to make other people laugh and Vine is a great way for her to reach a new audience, be silly and be herself in a space where creativity and individuality is celebrated.
She also loves to cook and sometimes shares simplified versions of her recipes on Vine.
If you're a trying to engage Vanessa:
It's not going to be easy. Six seconds isn't a lot of time to convey what you're about. It's for this reason that Vine is best used to create short tips, recipe creations and light-hearted engaging content pieces built to entertain. Use Vine to build top of mind awareness rather than using it as a primary platform to tell your brand story.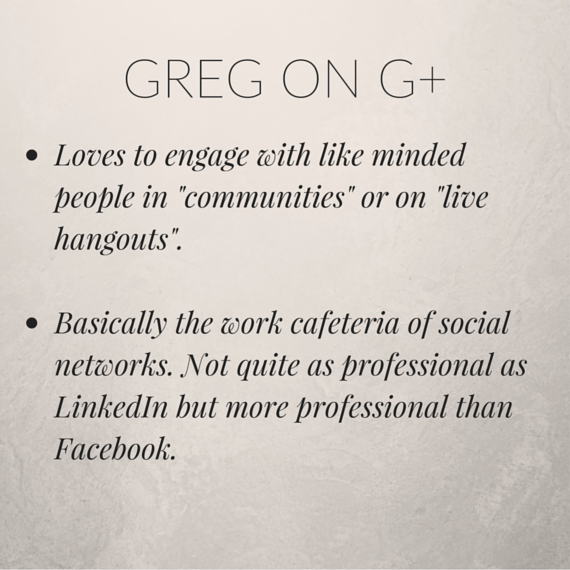 Let's face it, Greg is a little bit of a geek. You'll find that on average Greg will check in on Google Plus around once per day. He will follow all of his favourite geek idols who also have a Google Plus presence, will belong to a few communities and get really excited when he's invited to a live hangout.
Greg follows some of his friends on Google Plus but it's not why he's on the platform. He feels comfortable following and engaging with his colleages because unlike Facebook (which makes it possible, but not easy), he can be really particular about "who he shares what with who".
He also generally conducts himself more professionally on the platform. Not quite as professionally as he would on LinkedIn, but more much more professionally than on Facebook. Somewhere in between.
How do you engage Greg on Google Plus?
Consider involving yourself in communities that he might belong to. Create content that involves the brands he loves and post them to Google Plus while tagging all of the brands and individuals who are mentioned in/or who were part of developing the content. It will be more likely that those people/brands will share the content resulting in Greg being more likely to see it!

Lucy on LinkedIn: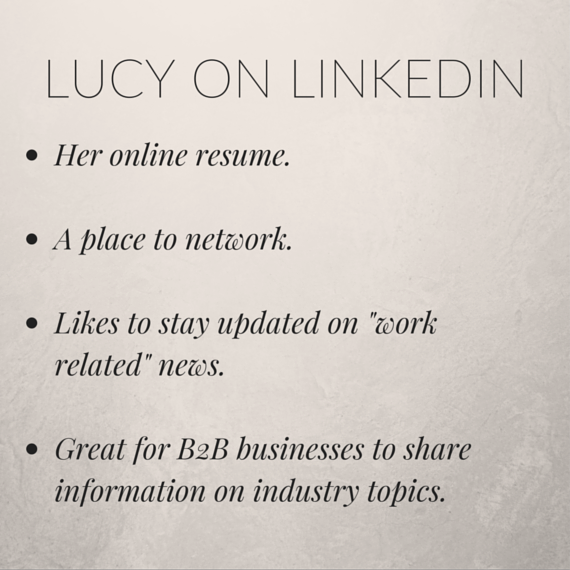 Lucy first and foremost uses LinkedIn as a way to house her online resume. It's a great place for her to showcase her past work experience, education and skill set to any potential employers. In addition, Lucy uses LinkedIn to keep abreast of news in the industry in which she operates. She also uses it as a way to network and build relationships with her peers and find new job opportunities.
If you're a B2B business trying to engage Lucy, your best bet is to create a LinkedIn Company Page and to post industry updates and news as content from this page. If you want to take it one step further, you could consider creating a LinkedIn group around a topic area that might interest Lucy and her peers to facilitate conversation.
If you're trying to network with other businesses, bloggers or brands, LinkedIn is a great tool for doing so!
In 2016 the best social media marketing strategy you can possibly arm yourself with, is the one that focuses on not just the message you're trying to get across, but how the people on each platform like to receive messages.
Of course, all communities can be a little bit different. These guidelines are just that, however it is recommended that all content is tested and optimised over time for best results on your social media channels.
What I can say is, gone are the days where "mirroring" content across multiple platforms will continue to work.
After all, if someone follows you on Facebook, why would they follow you anywhere else if you're not saying anything new?
Kate Cook has been a Digital Marketing Professional for over 5 years. Commencing her career in agency and later moving to head up Social Media Marketing for one of the world's largest quick service restaurants, Kate has vast experience working with businesses across the SME and corporate space. Kate aims to share these learnings with other businesses on her blog, Small Paper Things which was recently named one of Australia's Best Business Blogs for 2016.
Popular in the Community