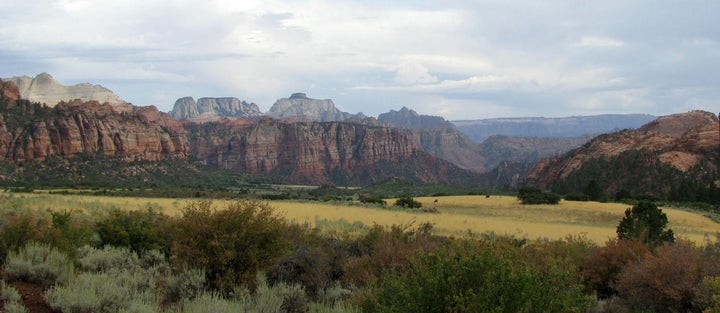 It was heartening to hear last night that Rep. Jason Chaffetz, R-Utah, has decided to drop his bill that would have allowed the sale of 3.3 million acres of public lands in 10 western states.
Rep. Chaffetz clearly heard their voices and via social media, he announced, "groups I support and care about fear (the bill) sends the wrong message. The bill was originally introduced several years ago. I look forward to working with you. I hear you and H.R. 621 dies tomorrow."
Good for Rep. Chaffetz for listening. That is how our government should work - the voters made their voices heard, loud and clear, and he responded.
Chaffetz' decision to pull the bill also came only a day after Colorado College released its annual poll about conservation in the West. (link). That survey showed that by wide margins, voters in 7 western states think we need more public lands, and more opportunities to get outside for recreation, not less. For example, the poll showed 68% support for increased protection for air, water, and wildlife, and more opportunities to get outdoors.
None of these expressions of public views are surprising. For more than 20 years, my organization has helped local communities create local funding sources to build and improve new parks and outdoor spaces. When given the chance, voters overwhelmingly choose to spend their money on conservation.
We saw that again last November, when there were 87 measures on local ballots and 70 (80%) passed, creating $6.3 billion in new money for local land conservation and parks. Earlier in 2016, voters had approved another $3.3 billion for local parks, meaning that for all of 2016, Americans approved spending almost $10 billion to protect land and parks in their communities.
Congress should take note of this strong, enduring support for conservation. Ryan Zinke, the Republican congressman from Montana whom President Trump has nominated to be the new Secretary of the Interior, has described himself as a "Teddy Roosevelt conservationist" and he has opposed the sale of the public lands we all own together.
Rather than getting rid of public lands, Rep. Chaffetz and his congressional colleagues should protect them, and provide the support they need. One major long-term step toward that goal would be the permanent re-authorization of the Land and Water Conservation Fund (LWCF), the 50-year-old bipartisan program which has created parks and protected land in all 50 states.
The LWCF program costs the taxpayers nothing, since it is funded by money paid to the federal government for offshore oil and gas leasing. It has been one of the nation's most effective conservation programs, it is the single most important federal program for ensuring access to the outdoors for all Americans and it enjoys support from both sides of the aisle. It is also a critical underpinning to the $646 billion outdoor recreation economy that sustains local communities across the country.
The LWCF program expires at the end of 2018, when the current Congress ends. American voters have made their voices heard loud and clear, both in the local conservation ballot initiatives last November, the protests this week, and the recent poll.
Rep. Chaffetz heard them clearly and responded. We applaud him for that. Now, the rest of Congress should respond in the same fashion by giving our public lands the protections they need.
Support HuffPost
The Stakes Have Never Been Higher
Related
Popular in the Community