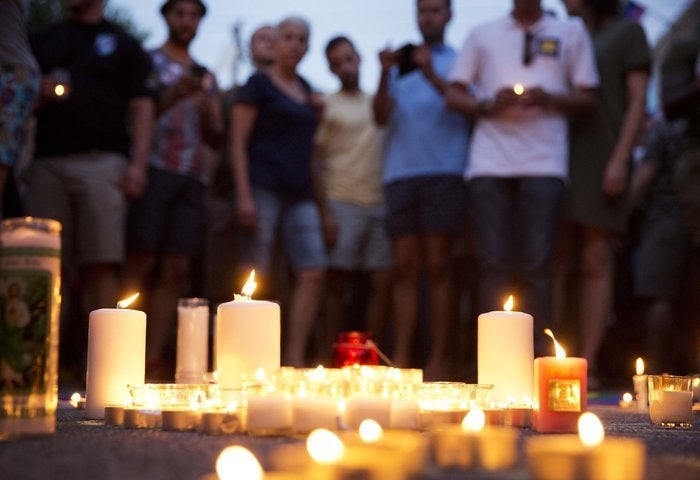 I woke up this morning and wondered if it was all a dream. There is no medicine for days like yesterday or today, or the days ahead, or the days before when America's cultural obsession with violence has impacted our lives, especially as LGBT folks, people of color, and/or women. I feel like I've been grieving for too many reasons and for so many kinds of victims. And while our LGBT elders may feel what happened in Orlando as an old wound, it is the creation of a brand new one for me. I was not around when gay clubs, like Stonewall, were targeted. They have only been safe spaces in my lifetime.
LGBT clubs, like the Pulse Nightclub (a popular space for LGBT Latin@s), are critically important because they are often the few (or only) spaces where we don't have to think about the cost of living visibly. I'm grieving, in part, because now I feel like I do.
Whether you knew someone who was there or not, we know how easily it could have been one of us -- there at a gay club on a Saturday night as we've done so many nights before. As the details emerged yesterday, I couldn't stop thinking about how that was me in my 20's going out every weekend.
Growing up, gay clubs were pivotal communal spaces where my friends and I explored the parts of ourselves we muted elsewhere. Some of us had our first kiss at a gay club. Our first dance with someone we liked. We learned how to flirt. We learned what "stud" and "A.G" and "femme" could look like. We wore clothes we felt comfortable in. We did not look around. We did not need to nurse that kind of worry -- we were many here.
I thought of the nights I ventured out with my crew of mostly brown and black queer friends to spaces like Escuelita's, a Latin@ LGBT party in New York City. I thought about how much I cherished those queer spaces, especially because they were for people of color. I thought about how we felt free and how we did not need to name it. I remember my first experience at a gay club when I was 18 years old. I remember how packed and sweaty it was, and how my world suddenly got bigger under strobe lights. I remember how often I went to spots like Nations, Henrietta's, and Tracks—how all of us were out for those few hours, though some of us would not be when we returned home.
My safety was certain here.
I didn't have to worry about the man on 27th street who stared at me and said, "all lesbians should die." I didn't have to worry about the car full of men in West Philadelphia who called me a dyke and physically threatened me at 2 a.m. I didn't have to think about gynecologist appointments where my doctors assumed I was straight, and therefore couldn't believe I wasn't using condoms. I didn't have to think about my homophobic college basketball coach who made us believe we couldn't be openly gay on campus. I didn't think about my parents whose disappointment I feared.
I grabbed her hand. I grabbed her hand. I grabbed her hand.
We had a dance floor, we had each other, and we had our unburdened bodies. We lived in a world we made, however temporary. At places, like Pulse, I got a chance to see my reflection enough and be loved enough, until I could conjure up that kind of celebration for myself.
It is reported that the shooter was enraged by seeing two men publicly kiss in Miami. We've been negotiating that kind of danger all of our lives, almost everywhere we go, but not here we thought. As with other places of worship we believe this, too, is off-limits. Yet once again, another line has been crossed. First a school, then a church, now a gay club. We cannot wait. We need each other.
We can talk about practical gun control laws, like banning assault rifles, and mental health -- and we should. We can talk about the relationship between toxic masculinity, violence and America's preoccupation with the two -- and we need to.
I'm tired of this country making history for all of the wrong reasons. But I'm also tired of us naming some invisible "them" like it isn't us, right here.
We are the work we have to do.
We know homophobia didn't end with marriage equality. We know the shooting in Orlando didn't happen overnight -- we have a cultural problem that perpetuates homophobia, racism, sexism, and Islamophobia in our schools, our streets, and on our televisions.
We are the work we have to do.
I want feel safe everywhere I go. I want liberation for all of us who live under the threat of violence. In the hours after news broke, I wrote on Twitter:
I mourn those killed in Orlando, their families, their partners, and the peace of mind we cherished in these spaces. Tomorrow and the day after, we will work, as we've always done to reclaim space, even the ones we built for ourselves.
In the meantime, go check your cousin. The work is right here.
The Orlando LGBT Latin@ community needs our support. Equality Florida is raising funds for victims and their families. Donate here: GoFundMe.
Before You Go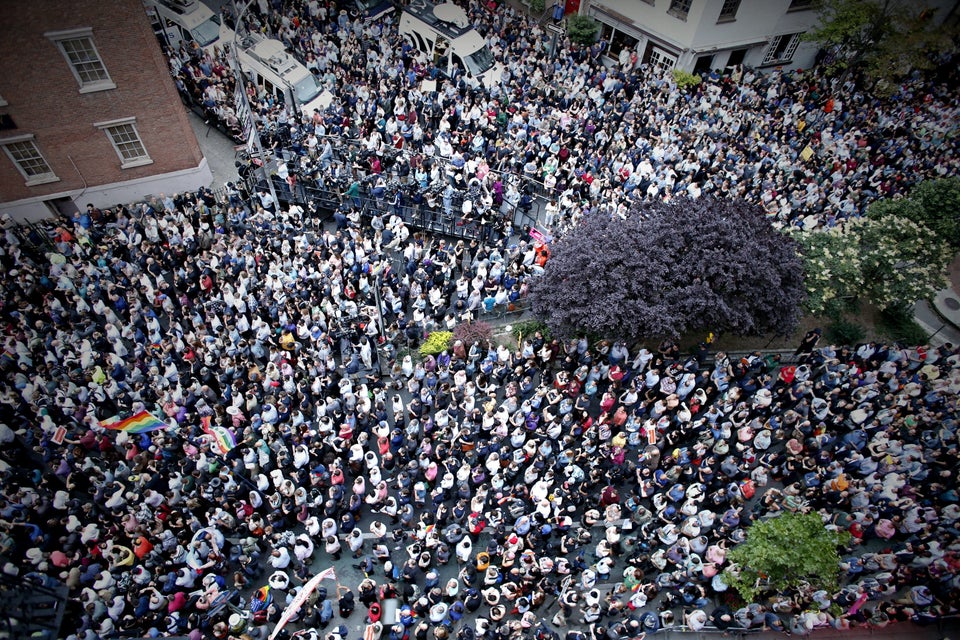 Vigils Held In Honor Of Victims Of Orlando Nightclub Shooting
Popular in the Community