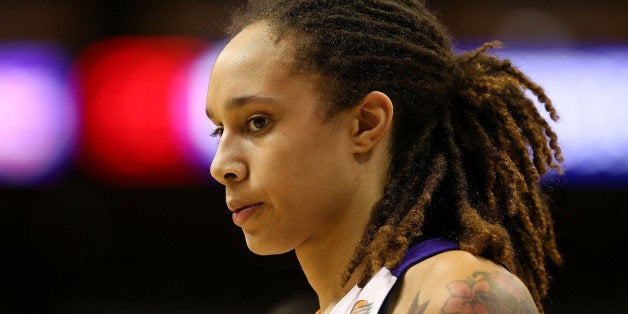 The following post is an excerpt from Brittney Griner's new book, In My Skin, from Harper Collins. The excerpt concerns Brittney being disciplined while she was a college star at Baylor University by her coach Kim Mulkey for an incident in which she punched a rival player.
I had a meeting in Kim's office the day after we got back from Lubbock. The NCAA had handed down a one-game suspension, and Kim decided to add on another game, to show everyone how seriously she was taking the incident. She also tacked on a number of obligations -- most of which were not made public -- as part of my punishment. I had to write a letter of apology to Jordan Barncastle. I had to put in a certain number of hours doing community service.And I had to see a therapist, a requirement I initially rolled my eyes at, assuming it would be the kind of thing you see on television: And how did that make you feel?
I sat in Kim's office, and we talked about what had happened. She explained she had to take a tough stance, to make it clear she wouldn't tolerate that kind of behavior, because what I had done was wrong, and now I had to go about making it right. But she also said she understood how frustrating it was to be me on the court. She saw how much abuse I absorbed without getting the same calls as players smaller than I am.
"You just can't retaliate," she stressed. "The blame always falls on the player who retaliates." I knew she was right. Kim and the other coaches had said all along that I needed to keep my cool, that I would have to deal with a lot of crap on the court, players trying to knock me down to their size. But it wasn't until I punched Jordan Barncastle that the message really hit home for me. That game at Texas Tech would be the last one I played without constantly reminding myself I needed to stay levelheaded. I wanted so much to redeem myself. The hardest part was that nobody really understood my history of fighting. I think Kim knew, just from us talking here and there, that I had some conflicts when I was younger -- "altercations," she called them. But nobody at Baylor, and certainly nobody in the media, had any idea how much I had struggled as a kid, trying to solve my problems and hide my insecurities by raising my fists...
In the years after "the punch," the storyline became that I had made this one mistake, and it was totally out of character for me. She's just a big teddy bear. A gentle giant. I was glad people were willing to forgive what I had done, but I also felt a little uncomfortable with how simplified everything was -- all neat and tidy and fixed -- when the reality was that I had worked hard to control my anger.
Kim wanted me to see the therapist every week for the rest of the school year. As I drove to his office for that first visit, I told myself that it was just another obligation, something I had to do to check the box and move on. I wasn't planning to say much, because I'm stubborn like that: I thought therapists were for people who are weak, and I didn't need to see a shrink. I was still learning that the weakest people are the ones who can't ask for help. His office was off campus, unaffiliated with Baylor. I sat in a leather chair with little pleats in it. (I spent a lot of time fiddling with those stitches.)
The therapist sat on the couch, and the first thing he said to me was, "So how are you doing? How was your day?" I had been expecting him to ask me why I punched Jordan Barncastle and if I felt bad about it. I thought the whole thing would be weird and awkward. I remember feeling stiff, ready to shut down. And then he asked me that simple question, as if he really cared about how I was doing, and I felt myself relax into that leather chair. I also liked that he said, "If you want to cuss, go ahead and cuss. It doesn't matter what you want to say, just say it. I'm here to listen. I want to listen. So tell me what you want to talk about."
It didn't take him long to figure out that so much of who I am, of how I act and how I respond and how much anger I feel sometimes, is a direct result of my relationship with my dad. That first session, the therapist asked me about my family, and he noticed how I kind of changed -- my body language, the emotion in my voice -- when I started talking about my father. So we stayed on that topic longer, and when we circled back around to it, the same thing happened.
Starting therapy is like pointing a spotlight into your past, and into your heart. It became an important part of my life away from basketball. I stayed in Waco for school that summer, and I stayed in therapy, too. I kept going back throughout my sophomore year, then on and off for the rest of college.
My therapist provided me with a certain peace of mind. When I became angry about something that happened with basketball, or school, or my dad, I would go talk to him and calm down. Whatever the situation, he helped me look at it in a better way, and he encouraged me to move past the anger I held on to. That has always been my Achilles heel: letting wrongs and slights fester inside of me instead of discussing them right away. I'll tell everyone that everything is fine, until things are so far past fine that I'm about to burst with anger or sadness.
Finding a great therapist was the silver lining that came from the Jordan Barncastle incident. I don't know how I would have made it through my sophomore year, and the swirl of depression I found myself in, without having that support.
Related
Popular in the Community