In 2009, I had what I like to call a "crisis of purpose" and began a search to find my unique talent and life passion.

Although the decision was arduous, it was clear that creating a new professional path and leaving entertainment public relations was a journey worth embarking on. After all, I was uninspired by the work and depleted by the lack of humanity in an industry I would hope to have made a mark in. Without thought, I began to seek advice and build my relationship with the "one" who could help... God! My journey began with praying and going inward. For the first time, I connected with myself in a way that I had not in the past. The little voice in my mind, otherwise known as an intuition, became clear and whispered, with enthusiasm: Petals-N-Belles!

During my "crisis of purpose" I received numerous phone calls from friends and family members. They requested that I speak with girls close to them, who were either acting out, not focused in school or depressed. I thought it was odd that I was asked to speak with them, (what do I know?) , but I was honored and excited. So I went on a few dinners and a couple of trips to the mall, while speaking with each of these girls (trying to find the root of their pain). A few long conversations later, with a pact of secrecy, one by one each girl started to let me in. It became very evident that they were dealing with similar challenges: low self-esteem, hanging out with friends that impacted them negatively and last but not least, lacking confidence in their ability to achieve academically.

This experience changed my life, I lost a sense of time and identity. I was no longer Damali the young PR professional, I was a mentor! Thoughts of creative ways to engage the girls began to flood my mind. A-ha, this is it... this is what I want to do... empower girls. The question then became "How?" As I got to know these girls, who were all in the same age group and facing similar problems, I grew in awe of their potential. "What if we all came together to support each other through their challenges as a group?" With the encouragement of family and friends I did it! Curious if there was a need, I held a dinner at my home and invited all of the girls I had been working with. They came and we ate, laughed and I proposed my idea. "What if... just what if, we got together every week to talk about the problems and challenges you each face and work to find solutions, as a group?" They said yes ,and we began a weekly group that I named Petals-N-Belles. We had conversations that changed their perspective. I found that there was a need and each girl that participated in this group walked away with a desire for more.

Determined to bring my idea, now my dream, to fruition, I created and founded Petals-N-Belles in 2010, with the tagline "Change a Perspective, Change a Life." Now five years later, I am no longer experiencing a crisis of purpose. Today Petals-N-Belles is a 501(c)(3) social development organization, with a multi-faceted approach to the empowerment and educational growth of today's girls.

Undeterred and celebrating the successful launch of Petals-N-Belles, I am relentless in my mission to continue to push this cause forward. At Petals-N-Belles we work to unearth a silent tragedy of girls who are full of potential, yet face poverty, have little support and guidance, and feel uninspired by their environment. As an organization we are focused on reaching more girls, expanding our innovative programs and finding amazing dedicated volunteers.

So much has already been accomplished, but so much more needs to be done. If you have read thus far, thank you. If you love the thought of girls having access to educational workshops, dynamic social experiences and academic coaching to ensure their success, Petal-N-Belles is it! I would like to invite you to join this adventure.
Please support Petals-N-Belles, by becoming a mentor and/or joining The iCare Campaign and give girls access to our life-changing programs. I have no doubt that together we can create something enchanting that will blossom in our communities and transform desserts into gardens.

Learn more about Petals-N-Belles and our work by visiting the website.

Follow your passion...
With Love,

Damali Elliott
Petals-N-Belles Founder | Chief Dream Builder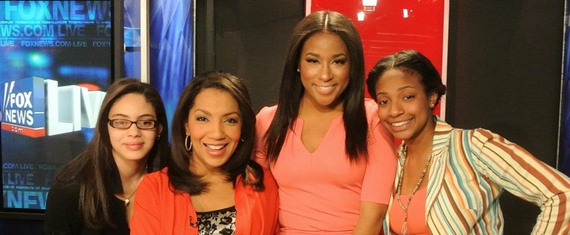 Petals-N-Belles featured on FoxNews.com, photo L-R (Petals-N-Belles member Aransa G. age 16, Fox News Channel personality Arthel Neville, Petals-N-Belles Founder Damali Elliott & Petals-N-Belles member Alannah B. Age 15.