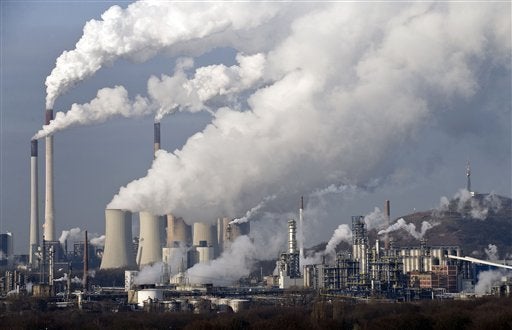 Last week, President Obama announced the creation of a Carbon Capture and Storage (CCS) Task Force. For those of us in the energy industry, this watershed event demonstrates the Administration's recognition of the need for coal in our nation's cleaner energy strategy.
Coal is our most abundant and cost effective source of power and generates half of US electricity today -- abandoning it is simply not an option. We need to move coal power to the next plateau of environmental performance and acceptability. I think the President's CCS Task Force puts us on the path to accomplish this.
The many legislative and regulatory proposals introduced in the last year send a clear message that GHG regulation -- either through policy or mandate -- is inevitable. However, our nation has not demonstrated the resolve to commit the resources necessary to meet this challenge. Instead, we've been content to relinquish the global clean energy economic and technological race to China and the EU.
If we fail to act now we may only fall farther behind -- possibly too far behind to catch up.

In the US, hundreds of coal-fired power plants in operation are 40-50+ years old and facing retirement. Few new coal plants are coming online and the project development pipeline has nearly run dry. Within the last five years, many proposed power plants have been shelved because of environmental concerns and uncertainty around what regulations may be in the future. If the drought of new coal plants continues, the outcome will likely negatively impact our nation's energy grid. Coal-fired power generation offers reliable baseload power -- necessary to complement variable renewable resources -- for continuous, essential electricity flowing into our lives.
Rather than focusing taxpayer dollars on numerous small pilot-scale cleaner coal experiments or demonstrations, the time has come to invest in fewer large scale projects, using proven commercial-scale (350+ MW) technologies like integrated gasification combined cycle (IGCC). IGCC emits significantly lower volumes of nitrous oxides and sulfur dioxides than traditional coal-fired plants and, most importantly, is ready to meet coal's carbon challenge.
IGCC is available and in commercial-scale operation today. GE pioneered commercial-scale IGCC at Tampa Electric Company's Polk Power Station, which began commercial operation in 1995. Today, this facility powers more than 75,000 homes in Florida. There are presently 12 IGCC plants in operation using GE gasification and/or power technology, totaling more than 3 GW.
In Indiana, Duke Energy selected GE's IGCC technology for a 630 MW plant, which will begin commercial operation in 2012 -- nearly a decade before projected and proposed national demonstration projects.
IGCC is beginning to grow worldwide -- China is already investing to seize its leadership as they have in wind and solar. We see this as an opportunity rather than a threat. To position our company for industry leadership, last year we signed a Memorandum of Understanding to begin negotiating a joint venture with China's Shenhua Group Corp., among the world's largest coal companies and a leading power company. The joint venture plans to further advance cleaner coal technologies; and we expect continued improvement in cost and performance of gasification technology and IGCC with carbon capture.
With IGCC, carbon capture is available today. Gasification-based carbon capture is widely employed in industrial gasification operations worldwide; and is the same as would be employed in an IGCC plant. As an industry, we need to learn how to deploy and integrate these two technologies in a commercial power generation setting. Experience from this initial large-scale deployment should substantially reduce the cost of CCS and establish it as a commercial standard for new coal plants.
The construction of each IGCC plant could create as many as 2,000 jobs, and the annual total economic benefit of operation, maintenance and fuel supply at a single commercial-scale IGCC plant with CCS can support more than a thousand jobs and millions of dollars throughout the economy.
It's evident from where I sit in Houston that we've reached a saturation point in our national cleaner energy and climate debate. We must begin somewhere. As our most plentiful source of baseload power generation, coal is a good place to start. Let's capitalize on the President's call for investments in cleaner coal technology, and take initiative to devise policy support for commercial-scale IGCC and CCS. Without the policy support and regulatory standards that send a strong message to the market, we'll cede coal in a global energy race.
The author is the General Manager of the Gasification group at GE Energy.
Calling all HuffPost superfans!
Sign up for membership to become a founding member and help shape HuffPost's next chapter