My name is Gerald Christian. I am 31 years old and I currently live in Murfreesboro, Tennessee. My parents are both teachers and growing up, my dad was a coach, so I have been an athlete since I could pick up a ball. By high school, I dropped basketball and baseball to focus solely on my love of football. At age 16, I was 6'3'', 223 pounds, bench pressing 300 lbs., and running a 4.73-second 40-yard sprint. I had several colleges interested in recruiting me, including the University of Florida and Auburn.
But on May 6th of my Junior year in High School, life as I knew it ended in a matter of seconds when I sustained a spinal cord injury after a serious car accident. I was being young and foolish... taking life for granted by drinking and driving as I hit a guardrail and flipped my truck off a bridge. Since that day, I have been a C5-6 quadriplegic -- I have no use of my legs, fingers, triceps, and trunk; but I still have my shoulders, biceps, wrists, and most importantly... my mind.
Many people claim they couldn't live with being paralyzed from the chest down, but I disagree -- I feel lucky to be alive. Life is all about overcoming obstacles, accepting challenges as they come, and finding power in times of trial. Being a quadriplegic is no cakewalk. I went through denial, anger, and depression with many dark days. But in those long days, I remembered that athlete mentality and work ethic in me. I became as strong and independent as possible. And my philosophy on life emerged as I learned it takes much more energy to be sad and angry all the time than it does to be happy. In undergrad, I learned that something like 60-70 percent of people who endure spinal cord injuries, become addicted to alcohol or drugs. I am living proof that there is life after a spinal cord injury. I'm writing this in the hope that it brings comfort to someone out there struggling.
Since my accident, I graduated high school with honors, got my bachelor's degree in psychology and received my master's in school counseling in hopes to help adolescents through their teenage years. I've found my greatest passion in public speaking; and I currently speak at local schools and universities sharing my story, discussing the dangers of drinking and driving, substance abuse, and disability awareness. My dream job would be doing this on a bigger stage helping as many people as possible. In my free time, I play competitive wheelchair rugby for Lakeshore Demolition and it makes me as happy as I was running up and down the football field.

My parents raised me on all kinds of great music, but today music has become one of the most important joys in my life -- it's the greatest medicine and therapy. Everything I have faced and accomplished in the past 14 years as a quadriplegic would not be possible without music -- The Beatles, The Stones, but especially the sounds of the greatest band to come out of America -- The Beach Boys. For me, their music is truly magical. It's hard to be upset when you're listening to songs like "Good Vibrations" or "California Girls".
I recently saw The Beach Boys perform on June the 11th in Tupelo, Mississippi and I was excited that honorary Beach Boy John Stamos was on tour with them at the time. He's such a talented drummer and singer who brings so much energy to the stage. But that night, I learned, he is also the nicest and most down-to-earth person I have met. Towards the end of the concert, he waved for me to come on stage to join the band and share the mic with him as we sung "Surfin' USA" before a sea of fans singing along with us. Words really can't express what that moment felt like -- for a few minutes, I got to experience what it's like to perform before a "full house" of cheering fans. Your adrenaline is pumping, your brain is going nuts, and you're having a blast without a worry in the world. You forgot that you have a spinal cord injury. In that moment, you're a rockstar.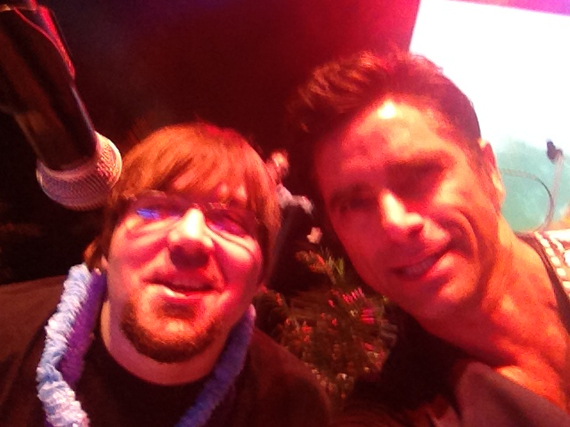 Even after all these years, it can still feel awkward being the only person in a wheelchair in public. Some people will stare or say rude things, but not at a Beach Boys concert. These guys went out of their way to bring me up on stage. By the time the concert was over, I had a small fan base as I rolled out of the arena. I've been to many concerts and met a few celebrities, but I have never experienced this level of kindness or generosity. I hope The Beach Boys and John Stamos understand how thankful I am and how special this moment was for me. It was a true dream come true. Please continue rocking out and touring for the world. If you ever need a backup singer, just let me know.
Related
Popular in the Community