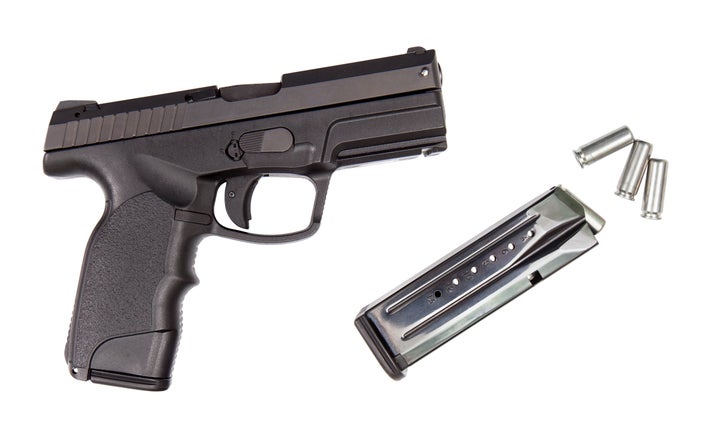 I disagree wholeheartedly with those who say that there are just too many guns out there to control and that more gun laws won't make a difference. Change must start someplace. I'm pretty sure that no worthwhile endeavor has ever been accomplished without a beginning and reducing gun violence in America is a worthwhile endeavor.
These mass shootings and daily body counts on your local news are terrible tragedies. The utter devastation that must be endured by the victims' families is unfathomable. These horrific events are also an invitation for us to become more civilized and to deal with our addiction and entitlement to violence. Not to shut our eyes and ears and scream at those with a different opinion than ours to "fuck off and go back to Canada." I will gladly go back and visit Canada as I have many friends and loved ones there. I am so proud of that country and everything it's given to me, but I am also a naturalized American citizen and I have been bringing as much joy as I can to people in this country for 30 years. I care deeply about our future and I feel it's my duty as a citizen to do everything in my power to make this a better place.
For those who say I'm a hypocrite because I have an armed bodyguard, lets make one thing clear: No one in my employ is allowed to carry a large magazine and NO ONE IS ASKING ANYONE TO GIVE UP THEIR RIGHT TO BEAR ARMS, though it is in the vested interests of those who profit by gun sales to make it seem so. It's just the type of arms, the easy access and the means with which to cause massive devastation to good and innocent people that I hope we can limit. It's the quality of mercy, the tiniest spark of empathy that I know lives in every one of us that I wish to ignite in you.
And to the bullies who will try to marginalize and discredit me by saying, "Shut up, you're just an actor," while they brag about what a great president the ACTOR Ronald Reagan was, who threaten me with the demise of my acting career and much worse, I say SO BE IT! How shallow do they think I am? I would trade my money, my fame, my reputation and legacy if there were the slightest chance of preventing the anguish of another Columbine, Virginia Tech, Aurora, or Sandy Hook Elementary School. I ask you, truly, what manner of human being would not?
I have been aghast at the level of hatred heaped upon me, my family and the people I work with over a mere difference of opinion on this issue. Perhaps my words were a bit harsh at the onset, but calling someone a "Motherfucker" is far different than wishing them to die. It is shocking to see this concerted effort to brutally intimidate anyone who speaks of a compassionate compromise.
These thugs, though menacing, are a minority but they will have their way if good people don't step forward now and make a difference. Every American has the right to speak their mind. Every American has the right to bear arms. But it is up to every American to draw the line when it comes to the type of guns that are considered a reasonable means of self-defense.
No one is allowed to own a bazooka. In a movie theater an assault rifle with a 100-round drum magazine can cause just as much damage.
So don't just sit there and do nothing. Contact your representatives and let them know that their jobs depend upon change. It won't always be someone else's kids in the line of fire.
The time is now. LET YOUR HEART BE HEARD.
Richard C. Shelby (R) - @SenShelbyPress
Jeff Sessions (R) - @SenatorSessions
Lisa Murkowski (R) - @LisaMurkowski
Mark Begich (D) - @SenatorBegich
John McCain (R) - @senjohnmccain
Jeff Flake (R) - @jeffflake
Mark L. Pryor (D) - @senmarkpryor
John Boozman (R) - @johnboozman
Dianne Feinstein (D) - @senfeinstein
Barbara Boxer (D) - @senatorboxer
Mark Udall (D) - @markudall
Michael F. Bennet (D) - @senbennetco
Richard Blumenthal (D) - @senblumenthal
Christopher Murphy (D) - @chrismurphyct
Thomas R. Carper (D) - @senatorcarper
Christopher A. Coons (D) - @ChrisCoons
Bill Nelson (D) - @SenBillNelson
Marco Rubio (R) - @MarcoRubio
Saxby Chambliss (R) - @SaxbyChambliss
Johnny Isakson (R) - @SenatorIsakson
Brian Schatz (D) - @brianschatz
Mazie K. Hirono(D) - @maziehirono
Mike Crapo (R) - @mikecrapo
James E. Risch(R) - @senatorrisch
Richard J. Durbin(D) - @senatordurbin
Mark Kirk (R) - @senatorkirk
Daniel Coats (R) - @sendancoats
Joe Donnelly (D) - @sendonnelly
Chuck Grassley(R) - @chuckgrassley
Tom Harkin (D) - @senatorharkin
Pat Roberts (R) - @senpatroberts
Jerry Moran (R) - @jerrymoran
Mitch McConnell(R) - @mcconnellpress
Rand Paul (R) - @senrandpaul
Mary L. Landrieu (D) - @senlandrieu
David Vitter (R) - @davidvitter
Susan M. Collins (R) - @senatorcollins
Angus S., Jr. King (I) - @senangusking
Barbara A. Mikulski (D) - @senatorbarb
Benjamin L. Cardin (D) - @senatorcardin
Elizabeth Warren (D) - @elizabethforma
William M. Cowan(D) - @senmocowan
Carl Levin (D) - @sencarllevin
Debbie Stabenow (D) - @stabenow
Amy Klobuchar (D) - @amyklobuchar
Al Franken (D) - @alfranken
Thad Cochran (R) - @senthadcochran
Roger F. Wicker (R) - @senatorwicker
Claire McCaskill (D) - @clairecmc
Roy Blunt (R) - @royblunt
Max Baucus (D) - @maxbaucus
Jon Tester (D) - @jontester
Mike Johanns (R) - @mike_johanns
Deb Fischer (R) - @senatorfischer
Harry Reid (D) - @senatorreid
Dean Heller (R) - @sendeanheller
Jeanne Shaheen (D) - @senatorshaheen
Kelly Ayotte (R) - @kellyayotte
Frank R. Lautenberg (D) - @franklautenberg
Robert Menendez (D) - @senatormenendez
Tom Udall (D) - @senatortomudall
Martin Heinrich (D) - @heinrich4NM
Chuck Schumer (D) - @chuckschumer
Kirsten Gillibrand (D) - @sengillibrand
Richard Burr (R) - @senatorburr
Kay Hagan (D) - @senatorhagan
John Hoeven (R) - @senjohnhoeven
Heidi Heitkamp (D) - @heidi4ND
Sherrod Brown (D) - @sensherrodbrown
Rob Portman (R) - @robportman
James M. Inhofe (R) - @jiminhofe
Tom Coburn (R) - @tomcoburn
Ron Wyden (D) - @ronwyden
Jeff Merkley (D) - @senjeffmerkley
Robert P., Jr. Casey (D) - @senbobcasey
Patrick J. Toomey (R) - @sentoomey
Jack Reed (D) - @senjackreed
Sheldon Whitehouse (D) - @senwhitehouse
Lindsey Graham (R) - @grahamblog
Tim Scott (R) - @senatortimscott
Tim Johnson (D) - @senjohnsonSD
John Thune (R) - @johnthune
Lamar Alexander (R) - @senalexander
Bob Corker (R) - @senbobcorker
John Cornyn (R) - @johncornyn
Orrin G. Hatch (R) - @orrinhatch
Mike Lee (R) - @senmikelee
Patrick J. Leahy (D) - @senatorleahy
Bernard Sanders (I) - @sensanders
Mark R. Warner (D) -@markwarner
Tim Kaine (D) - @timkaine
Patty Murray (D) - @pattymurray
Maria Cantwell (D) - @mariacantwell
John D., IV Rockefeller (D) - @senrockefeller
Joe, III Manchin (D) - @sen_joemanchin
Ron Johnson (R) - @senronjohnson
Tammy Baldwin (D) - @tammybaldwin
Michael B. Enzi (R) - @senatorenzi
John Barrasso (R) - @senjohnbarrasso
Popular in the Community