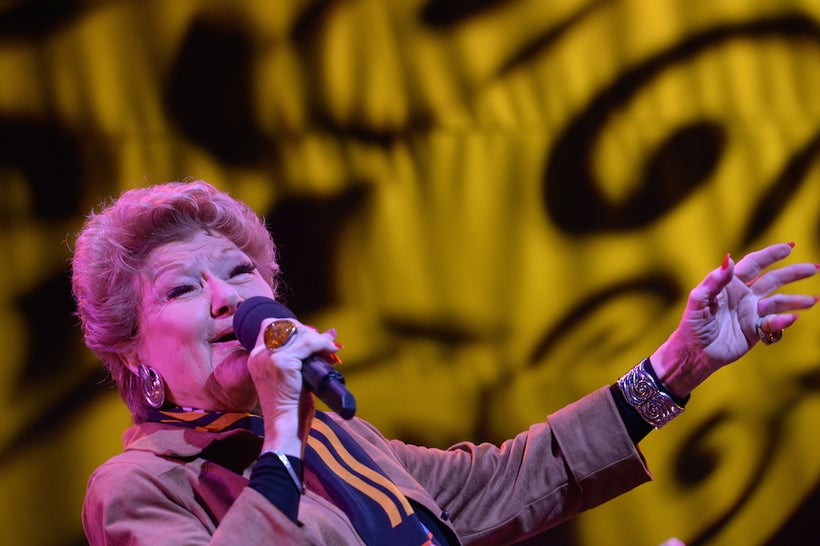 By Dan Ouellette, Senior Editor ZEALnyc, October 20, 2017
The iconic cabaret singer Marilyn Maye loves to work. In fact, she says with gusto, "I work every day of my life." As the preeminent singer of the "art of song," as she calls it, Maye exudes a theatrical flair in conversation. One moment she's cracking a joke, the next expressing sheer excitement at this stage of her career as she's working a full schedule entertaining supper clubs and small venues around the country. And she doesn't hesitate to let you know that next April she will turn 90 years old.
"This is what I do, and I keep moving," she says shortly before her two-evening showcase at Jazz at Lincoln Center's The Appel Room on Friday, October 27 and Saturday, October 28. "Each song is a vignette like a little play. I sing to the audience, not for them. In my shows, the audience is the star."
The Kansas City-based Queen of Cabaret shines as a force of nature, thrilled at the prospects of what's coming next, whether it's playing regularly at a new nightclub in Palm Springs or returning to her second "home" in New York. "It's fun and adventurous here," she says. "Even though my house is in Kansas City, I seem to be in New York more than I am there. I meet so many wonderful people here, and I'm excited to play The Appel Room with a swinging 17-piece orchestra led by my pianist Tedd Firth. This space is so fabulous. The sound is perfect. The lighting is wonderful."
As a hero of the golden age of supper clubs in New York, Maye performed at all the famous houses in the late '50s and early '60s, including the Rainbow Room and The Living Room. Originally discovered by talk show host and pianist Steve Allen in the Midwest, she moved to New York and began appearing as a regular singer on the The Tonight Show with host Johnny Carson (she holds the record for most appearances over the course of Carson's tenure: 76). Maye was heralded by jazz legend Ella Fitzgerald as one of her all-time favorite singers (in the same league as Sarah Vaughan and Carmen McRae), and she shared the stage with her jazz friend and bebop co-founder Dizzy Gillespie as well as worked with the Count Basie Orchestra.
Maye recorded a number of American songbook albums in the sixties, including her RCA debut, Meet Marvelous Marilyn Maye, recorded live at Webster Hall (which won her the 1966 Grammy for Best New Artist). On it she sang standards such as "Hello Dolly" and "Take Five." The next year she recorded The Second of Maye live at The Living Room. She also had hit singles: "Cabaret" in 1966 and "Step to the Music" in 1967. But, once booming in New York, the supper clubs began closing as musical tastes shifted, leaving Maye to hit the road to the Midwest and West Coast with her enthralling voice and quick-witted stage banter. She also performed on the musical theater circuit.
Maye was no longer the go-to singer in New York. In essence she disappeared for a long stretch of time, even though she says that she was constantly busy elsewhere. Her career in the spotlight here resurrected in 2006 when she was asked to sing at Jazz at Lincoln Center's Rose Hall by Donald Smith, the curator of the annual concert for the Mabel Mercer Foundation. She returned for additional one-off engagements, then signed up to play a night at the exclusive jazz-cabaret club The Metropolitan Room. "I love that room," she says. "It just hugs you with an intimacy that feels right. Before I played there, I was worried that people wouldn't remember who I was. But as my taxi drove up to the club, there was a line to the corner of the street. Now I play there three to four times a year."
She also appears at Michael Feinstein's 54 Below nightspot, the Broadway jazz club The Iridium (recently with jazz guitar elder Bucky Pizzarelli —"We're two old souls," she says) and Birdland. Over the years, the music media has taken notice. Opera News raved, "No entertainer gives you more in terms of great music, great theater, and great comedy." Earlier this year, she was highlighted on NPR's Jazz Night in America radio program that captured her live at JALC's prestigious club Dizzy's last fall. "People loved what we did there," she says. "It's jazz even though it shouldn't have to be about scatting. It's all about the lyrics and the improvising. I love Dizzy's because it reminds me of the early days when I played the club The Colony for eight years in Kansas City. When I refer to that, some people in the audience applaud. And I say to them, 'Oh, you must be very old.'" She laughs.
Maye also frequents New York to teach vocal sessions privately with aspiring vocalists and teaches master classes in vocal techniques that culminates every year with a show at the Hell's Kitchen cabaret/piano bar Don't Tell Mama. "It keeps me off the streets," she says with another laugh. "Actually this has enriched my life. It enhances my understanding of what I do. When I teach, I learn."
Maye also credits her New York-based pianist, arranger and musical director Tedd Firth for keeping her young in her art. He's been her partner in the music for eleven years. "We started together when he was 29," she says. "He's grown so much. He understands so much. He keeps getting better and better. He does the arrangements and puts the structure of the songs together. He works it out so that we do a lot of medleys. In fact, in some circles I'm known as Marilyn 'Medley' Maye."
So what will she be playing at The Apple Room? She jokingly sounds appalled at the request, then says, "I never tell anybody what I'm going to sing. You'll just have to go to find out."
________________________________
For all the news on New York City arts and culture, visit ZEALnyc Front Page.
REAL LIFE. REAL NEWS. REAL VOICES.
Help us tell more of the stories that matter from voices that too often remain unheard.
This post was published on the now-closed HuffPost Contributor platform. Contributors control their own work and posted freely to our site. If you need to flag this entry as abusive,
send us an email
.