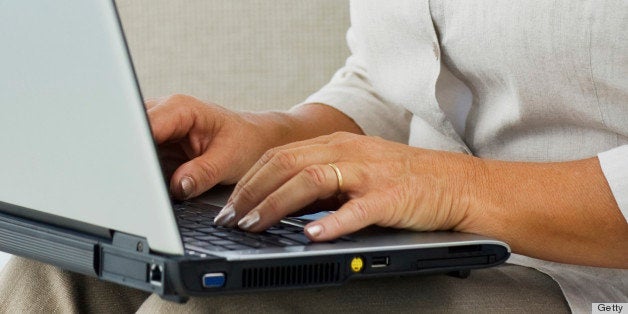 Despite a year of unimaginable grief following my partner Judy's death, I felt lucky to have known a love that reaches so deep that you know it has the power to rip you apart. Briefly, I considered retreating into a Buddhist monastery, searching for a way to anchor my crazed, chaotic emotions. When traces of light began to alter my dark confusion, I knew I had to forge a new life. I delved into meditation, physical exercise, and memoir writing and found support from a network of friends. My love of adventure, romance, and curiosity about people resurfaced. It was time to find a romantic partner to share my uncharted journey.
Online dating seemed the least vulnerable way to go, which isn't saying much. Posting my photo in cyberspace required a huge act of courage. I am relieved that I don't know how many current or former clients, old friends, or colleagues have seen my photo and profile. A slew of anonymous people are privy to my age, interests, how much I work, my relationship with my cats, my spiritual orientation, etc. Whew! They have a picture of how I see myself, as well as the type of woman I want.
If people don't already recognize me from my photo, they will create an image of who I am by reading my profile, which is fully my creation. Being a memoir-oriented writer, I am accustomed to more self-revelation than many women online. Lesbian profiles can be repetitive. We love to walk on the beach, have interesting conversations with friends, share dinner with a special woman, and read a good book. When I am captivated by someone's self-description, it's usually because it is written well, with a little flair and imagination. However, even good writing skills don't reveal qualities like honesty, kindness, or being a good listener.
Fortunately, I can check out women's photos, read their profiles and reject them without anyone getting hurt. I first identify a few women who are relatively attractive and share some of my interests. I weed out the ones who say "no players" or "no cheaters" or "no drug users." Such warnings tell me more about their relationship baggage than what they are seeking. No matter how much I study their descriptions, nothing they write helps me compute our potential compatibility or chemistry.
Online dating isn't easy for most people, but it's really tough for older women. Physical appearance doesn't play the same role that it did for me at 34 years old, when I spotted my earthy, red-haired beauty across the room. Judy was 25, a lifelong lesbian, with a warm, inviting smile. I was a suburban housewife, a mother of two, with short, dark hair and blue eyes that flashed coming-out excitement. Our eyes met, and we were smitten... for life.
When I began my online search, I was elated to receive some immediate responses. Upon examining those first photos, I thought, "They are all old! Do I look like them?" Women my age and older were contacting me. I never thought about the idea that I had grown older. Inside I am still 34 at heart. I had to adjust my perspective. I quickly learned about digital deception from 62-year-old Gayle. Her photo displayed a youthful woman with long, black hair running by the ocean. She appeared slender, athletic, and toned, with soft, smooth skin. I suspected that this was an old picture. When asked about it, she said, "I still look the same." I thought, "Really?" When I met her I was shocked. I realized, "She's either conning me or she can't see herself." I began to focus more on profiles.
I searched for women who share some interests, like meditation or writing. Emails or phone calls can't capture what I learn when meeting someone in person over coffee. Indirect contact didn't reveal Barbara's anger, Sarah's self-centered lack of curiosity, or Mindy's disdain toward past lovers and all men. How a person communicates, treats other people, or views the world are qualities lost through one's own prejudicial sales pitch. "This online search for romance," I thought, "is a shot in the dark!"
Then I met Kara. She was an undercover cop, carrying a concealed weapon. Tall, with short, blond hair and rough, working-class hands, she was dynamic and confident, a woman to reckon with. She didn't fit my profile. Oh, I forgot. I like people who are different from me. Well, I can't go online searching for women whose only distinguishing feature is that they are the polar opposite of me. I met Kara quite by accident; I clicked on her fuzzy photo to take a closer look. This opened her profile, which then signaled to her that I was "interested" in her. She contacted me.
After meeting for coffee, we went to the city for our first real date at a casual Greek restaurant, where we drank, talked, and ate delicious food until way past my bedtime. While there was some chemistry between us, our dramatically different views of life crept into our conversation. I'm in my 60s; I can't fool myself. Chemistry alone can't support a relationship. I wondered, "What do we have in common? Our world perspectives are so different. How hard do I want to work to fit myself into a questionable relationship?" At the end of the evening, we parted on friendly terms, agreeing that we weren't meant for a relationship.
Digital dating, I've learned, may be a quick loneliness fix, but it is not the fast lane to happiness. Luck and sheer numbers of available women online might eventually lead me to a potential partner, if I have the stamina. But real love or romance is just as likely to be discovered in the course of daily life if I keep my eyes and heart open.
What is your experience of searching for love on the Internet? Have you had success? Any tips? Please clue me in.