On April 6th of this year our local Compassionate Friends chapter hosted a special program for our families. Towards the end of the program, I received an e-mail that would permanently alter my personal story. Here are the highlights of the e-mail that I received:
Dear Mr. Roberts,
I saw one of your posts while doing research on my father's father's family, the Strahlers from Baltimore. First of all, please allow me to express my sincerest sorrow for the loss of your daughter. My prayers are with you and your family.

I am contacting you because I believe that I may be your 1st cousin, 3 times removed on your father's side. Reading of your father's abandonment, and later death was heartbreaking. My father's father also abandoned his family, which is probably why I am so compelled to fill in the voids. If your father Austin was from Baltimore, and was the son of Mary, my father's great Aunt, and Marion Austin Roberts, I may be able to share some family info with you if your are interested.
Sincerely, Jo Anne Davis
I have written several articles about my father, Austin Marion Roberts, since 2012. I mentioned in the majority of them, that he had left my mother, Sadie and me, when I was five years old. I never saw him again, but did find out the he died in Philadelphia, Pennsylvania in 1966, when I was eleven years old. In those articles, I never mentioned that my dad was from Baltimore, or his parents and my paternal grandparents by name. I immediately e-mailed Jo Anne and told her that I wanted to hear from her.
Complex and Complicated
The first e-mail that I received from Jo Anne was a narrative of our family history. There are so many diverse branches to our family tree, so what follows is a condensed version. Our family established roots in Baltimore sometime before 1845 and some relocated to Ohio, shortly after arriving in Baltimore. There were several in our family including my paternal grandmother Mary Roberts, whom were married more than once. Their lifestyle was nomadic and there were in all probability, histories of alcohol abuse, gambling and mental illness. As a human service professional, I encountered many individuals with these kinds of challenges. More often than not they came from family systems that operated under a set of rules that supported these types of behavior. My father's family was no different. Though I didn't embark on the same life path as my father and his family, their history is inextricably woven into my DNA, and for me, explains, in part why I was able to develop an almost immediate rapport with individuals from dysfunctional backgrounds.
From Anger to Unconditional Love
For years, I was angry with my father for leaving. I thought he left because he no longer loved my mother and me. My perception changed radically after the death of my eighteen year old daughter Jeannine in 2003. I was able to embrace a peaceful perspective about my daughter's death because of a willingness to modify my beliefs, values and priorities. Once my perspective changed in the present, it became necessary to revisit the relationships of my past. I left no stone unturned in my efforts to redefine myself. Before Jo Anne contacted me, I knew through my mother that my father never experienced stability. As I have recently discovered, my father's side of the family operated under a set of rules that did not promote stability.
In order for my father to be able to embrace the stability of a loving marriage, he would have had to modify the rules that were a part of his family for generations. He couldn't because they were so engrained. As a result, he chose to leave.

I know now, that in his own way, my father loved my mother and me. I recently discovered a picture of my dad, mom and me in 1958 that reinforces this for me.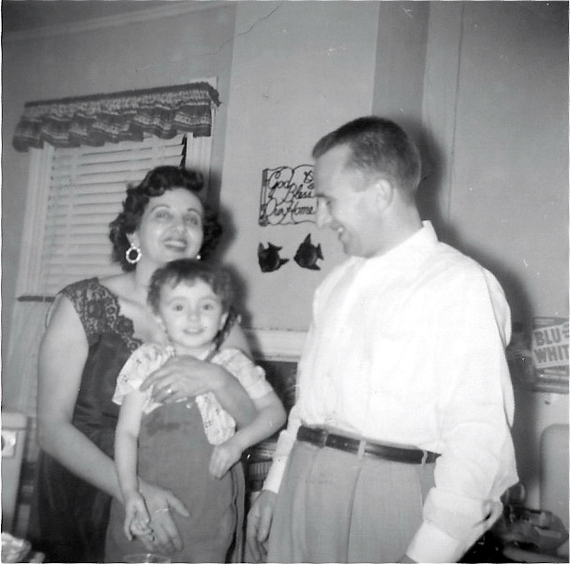 My dad ultimately let go of what he loved most deeply, my mother and me, so that we could thrive in his absence. His leaving taught me about the true meaning of unconditional love and the art of letting go.
Embracing Our Forgotten Selves
In the book, The Dark Side of the Light Chasers by Debbie Ford, she remarks that:

The universe always guides us back to embracing the totality of ourselves. We attract whomever and whatever we need to mirror back the aspects of ourselves that we have forgotten.

Before, I met my cousin Jo Anne; I had embraced a peaceful perspective about my father's decision to leave. However, when I did the work to redefine how I viewed my father's behavior, my soul called in everything that was a part of him, parts that were unknown to me and forgotten. The universe ultimately conspired to bring Jo Anne and me together, on April 6th, two days after Easter, a time of rebirth, and two and a half months before my 60th birthday. There is also further synchronicity where numerology is concerned. According to Ted Andrews, the number 6 is symbolic of honor, service and.... family.
Dysfunctional Gifts
Jo Anne has been my mirror, helping me reclaim my connection to a past and to a family that I had long forgotten, or perhaps chose to forget.
My father's side of my family had their challenges, but they were also adventurous, non-conventional thinkers and empowered to be whom they chose to be. Those are their gifts of their dysfunction, which I will gradually integrate into the totality of the person that I am and wish to become. Creating space for both their gifts and challenges will help me to achieve not only peace, but become whole in the process.
Related