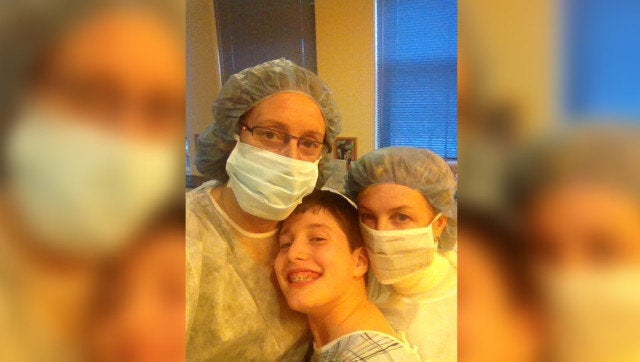 A few weeks ago I took my 11-year-old son Ben to the doctor. He had been snoring so loudly that his brother refused to sleep in the same room, so we made an appointment with the best pediatric E.N.T. in the entire world. (Yes, that's what it's like living in NYC.) When we checked in, the nurse gave me some forms to fill out. I was a bit taken aback when I noticed that the forms said "Mother's Name" and "Father's Name," given that we live in one of the most socially progressive cities in the world. I did my customary sigh and cross-out and wrote "Parent/Guardian 1" and "Parent/Guardian 2," as I had done scores of times before. Ben watched as I handed the papers back to the nurse, mentioning that the forms needed to be updated. He had seen me do this way too many times.
The nurse perfunctorily agreed and walked us down the hall to the examining room, where we waited patiently for this highly acclaimed doctor, who was indeed warm and smart and had a great bedside manner. He informed us that Ben needed sinus surgery and his tonsils removed. As we were checking out with the nurse, she suggested that we schedule the surgery immediately, because the doctor gets really booked up. (When the hell am I going to get booked up? Oh, different doctor. Let's move on.)
The nurse phoned New York-Presbyterian Hospital to make the arrangements while we stood at her desk. At one point during her conversation, she seemed a bit uncomfortable and kept looking up at me while saying into the phone, "Sure... well... uh-huh... OK...." A moment later she covered the phone with her hand and asked me, "Um, who's the real mother?"
Now, I have been asked that question many times -- too many times -- and when I was with my children's other mother, we would say, "We forgot," or, "What do you mean? We both are, of course." But that was when the kids were little and didn't comprehend the ignorance of that inquiry. It would happen at airports, in food courts, basically in places where people are more likely to come over and tell you how cute your kids are. But this was different. I was at a doctor's office, and I had already crossed out the words "Mother" and "Father" on the forms, and my son was standing next to me and knew exactly what the nurse was asking. I responded firmly yet kindly, "We are both his real mothers. If you are asking who is his biological or birth mother, that would be me. Don't ever ask that question again -- especially in front of a child."
A few days later I received paperwork from the hospital that the nurse had called. I was blown away when I began to fill out the forms: "Mother's Name," "Mother's Home Phone Number," "Father's Name," "Father's Work Phone Number." Hello?! Is it 1957?! I did my usual crossing out, but this time I used a sharpie and a lot of fury.
The day before the surgery, as I was walking to get on the bus, my cellphone rang.
"Hi," said a voice on the other end. "May I please speak to Benjamin's mother or father?"
"Is this the hospital?" My blood pressure was rising.
"Yes it is. We are calling to confirm Benjamin's surgery tomorrow. It will be at 3:30. Please arrive by 1. No food or liquids after midnight."
"Benjamin doesn't have a father. He has two mothers. All your forms say 'Mother' and 'Father.' Is there someone I can speak to about this?"
"Oh, I totally understand. Yes, there is. Here is the number you can call to file a complaint."
"Thanks. This can get quite infuriating."
"I bet. I get it. I really do. It's ridiculous. Have a nice day."
"Oh, it's going to be a delightful 24 hours, especially tomorrow morning, when my food-obsessed child can't eat or drink until his surgery is over."
I hung up and called the administrative office to file a complaint. I left a message with my name and phone number. Nobody called me back.
The following day the three of us -- Ben, my ex (Ben's other mom) and I -- arrived at the hospital. The first person who greeted us gave us more paperwork and asked if Ben was on his mother's or his father's insurance.
"Ben doesn't have a father," I said. "He has two mothers. The forms should all say that."
"Oh, I'm sorry. Can whomever's insurance he's on sign here?"
"Sure. And, you know, this paper work should really be updated."
I don't know if I was more pissed off at the customary blowoff or that fact that she called me "ma'am."
We sat on the couch, and the social worker came over to speak to us about what was going to happen and to put Ben at ease.
"Hi," she said. "I'm Karen, the social worker. And you are Benjamin, right? And this is your mom?"
"We're both his moms," I said. There is no mistaking that I am Ben's bio mom: At just 11 years old he's already 5-foot-7½ and 150 pounds, wears a size-12 men's shoe and has a face identical to mine.
Moments later another nurse handed us one parent-sized hospital gown, so we assumed that only one of us could accompany Ben to the operating room. We asked Ben whom he wanted with him as he fell asleep and whom he wanted with him when he woke up. As usual, he said he didn't care and asked us to decide. Then I noticed a mom and a dad in hospital gowns exiting the operating room. I summoned the nurse and asked if only one parent was allowed to accompany Ben.
"Oh, no," she said. "Both parents are allowed into the operating room."
"Then we will need another gown," I told her. "We are both his parents."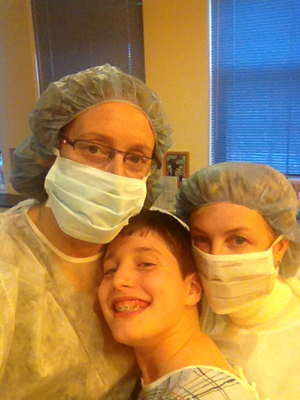 I can go on and on about how many more times that day we had to "come out" as a family. I can also tell you the palpable guilt I felt as my son had to witness our inequality over and over again. But there was one last straw. The following morning the hospital phoned to see how Ben was doing. Ben answered the phone, because I was out getting him some soup, and the person asked, "Can I speak to your mother or father?" And now it was his turn. His turn to come out. His turn to explain his family. I was incensed and simultaneously disheartened. I needed to scream from the mountaintop, so I tweeted. Some hours later I got a tweet from Dr. Robert Kelly, New York-Presbyterian's president, asking me to email him. I sent him an email with my phone number, and shockingly enough he called me soon thereafter. He expressed how mortified he was and mentioned that he brought it up in the executive staff meeting that morning. He also assured me that changes were going to be made immediately, and that it was going to take some time, but that he was going to get this done. I thanked him and reminded him that this issue doesn't just affect LGBT families but families that lost a parent on 9/11 or in Afghanistan or Iraq or in any other awful way. It affects all those families that don't fit the mold, and there are a lot of us. And even though President Obama's recent inaugural address demonstrates that minds are changing, they can't change quickly enough for this lesbian mom with a sick kid.
Before I hung up with Dr. Kelly, I suggested that his employees take just a few seconds to look at the paper that I crossed out with my large black sharpie so that they would know exactly who they will be talking. It might just be the son of a frustrated and angry lesbian mom. Ben or any other child should not be burdened with explaining that their families are just as valid as everyone else's.
Calling all HuffPost superfans!
Sign up for membership to become a founding member and help shape HuffPost's next chapter