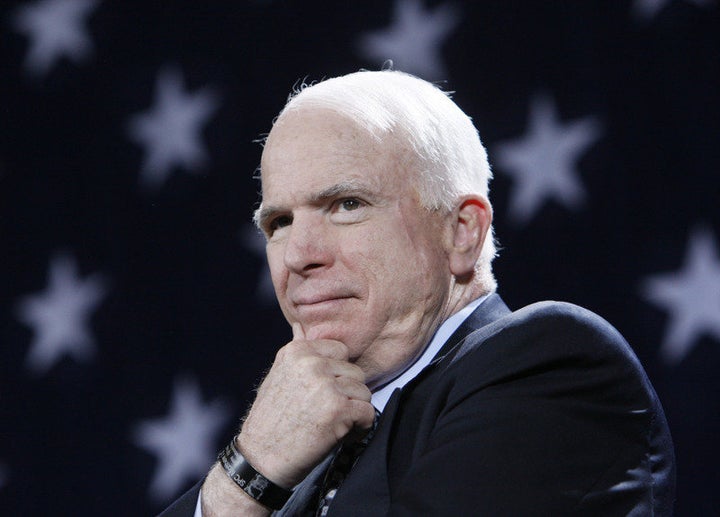 Yesterday's New York Times front-page investigative story about John McCain's long time ties to the nation's gambling industry ("For McCain and Team, a Host of Ties to Gambling"), jogged my memory about an unsettling bit of information I was given by Ross Perot in 1995.
In November 1995, my wife and fellow author, Trisha, and I, interviewed Perot for several days for an unauthorized biography (Citizen Perot: His Life & Times, Random House, 1996). During one of our conversations, outside of the 'on the record' taped interviews, Perot discussed with us how he had utilized private investigators to uncover information about other people. Perot never used, from what I could determine, any of the personal details he assembled about others. Rather, he was merely a collector of information, never knowing when it might come in useful.
I discussed this with my editor, Bob Loomis. Without independent reporting, much of it was no more than informed gossip. Perot had passed along personal details about Barbara Walters family, Clinton chief of staff Leon Penneta, and business tycoon Peter Ueberroth, someone Perot had seriously considered as a vice-presidential candidate in his own 1992 presidential run.
From our interviews with Perot about the Vietnam POW/MIA issue, it was clear there was no love lost between Perot and a number of public officials who opposed his efforts to keep looking for soldiers he believed had been left behind and were alive. On Perot's most disliked list was George Herbert Bush, who as Reagan's vice-president had shut the door to any further government probe on the matter. Richard Armitage, George W. Bush's ex-deputy Secretary of State, had earned Perot's eternal animosity because of his conclusion that there were no MIAs left in Southeast Asia. And the final person to earn Perot's enmity was John McCain, who as a decorated war hero, and then Senator, had also closed the door to any further MIA investigations.
Bob Loomis and I decided that I should not report Perot's personal details about these men and women, with two exceptions. Regarding Ueberroth, I wrote in Citizen Perot that one Perot campaign insider had concluded that "Ueberroth was the perfect match," but that "Perot and Mort Meyerson (Perot's top business executive at EDS) personally made inquiries about him and eventually opted for a stand-in candidate."
And as for Armitage, Perot's information was so detailed, including even surveillance photos of Armitage in supposedly compromising situations, I did report it. And Armitage was generous in giving me extensive interviews that helped explain the background and put into context Perot's one man war on him.
I am only reporting now Perot's rumor/information about McCain because of today's New York Times story. Perot told me that McCain had a gambling problem and he had uncovered details that McCain was bailed out in the late 1980s from a big gambling debt by his wife, Cindy.
If true, it raises a question as to whether McCain's gambling might ever have put him in a situation where he was pressed to repay his debt through Senatorial favors.
An enterprising reporter has to ask Ross Perot if he will acknowledge what he shared with me 14 years ago, and if so, if he will now provide the evidence to back up the assertion. Perot hasn't talked to me since I published my unauthorized biography, so unfortunately, I am not the person to ask. And some reporter should ask McCain, directly, if he has ever had a gambling debt that his wife had to pay off. American voters have a right to know.