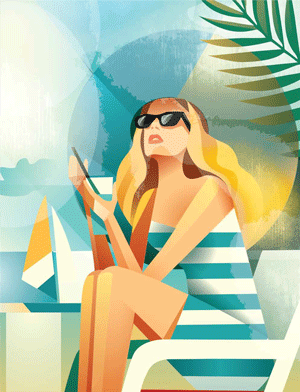 Image Courtesy of https://www.takebackyourtime.org
One of the most entertaining things I learned at World at Work's "Future of Work" forum in Nashville a couple weeks ago is that March 31 is now officially national Vacation Commitment Day.
Citing an "epidemic of vacation deprivation," a new nonprofit advocacy group called Take Back Your Time has devised the special day to launch its new Vacation Commitment Initiative.
The idea is to get Americans, notorious slackers when it comes to vacationing, to take some time off, already. And (more to the point) to get their employers to make it possible. The organization was founded by John DeGraaf, an environmentalist, author and award-winning documentary filmmaker, and (not surprisingly) is supported, in part, by Diamond Resorts International.
The Take Back Your Time website is chockfull of facts that are likewise not surprising, at least for anyone who pays attention to the drama of the American workplace, but are nonetheless important to know. For example:
According to the U.S. Travel Association and the Oxford Economics Assessment of Paid Time Off, 40 percent of Americans leave an average of seven or more days of paid vacation on the table every year--adding up to a total of 429 million days of vacation unused by U.S. workers in 2013.
34 percent of Americans never take a vacation at all, ranking them among the world's worst vacationers according to--wait for it--a study by Expedia.
Here's an infographic that sums it up nicely!
While there may be some reason to be a bit, shall we say, cautious with data on this particular topic that comes from the tourist industry, that doesn't make the initiative any less valid. As the above stats will show, there's plenty of research by more disinterested parties, and anyway, most of us don't need data to tell us vacation is good for us, and we aren't taking enough of it.
Only YOU Can Prevent Vacation Deprivation
Take Back Your Time suggests any number of ways to fight back against this insidious epidemic.
Individuals can take a vacation commitment pledge and, of course, share it on social media. Those who have some clout within their organizations can download a "Vacation Commitment Toolkit," aimed at promoting vacation-taking at the workplace (or rather, away from the workplace). The kit includes fun stuff like workplace posters and logos and sample CEO and HR letters to employees.
Employers can also take their own pledge; at the time of this writing the link for this wasn't yet up on the website, but I'm assured it should be online in time for Vacation Commitment Day. Also coming soon: the opportunity to register for a Vacation Commitment Summit, tentatively scheduled for June 15 in the New York City area.
Finally, for those with a bit of cash to spare, the website also offers an opportunity to donate--a truly unique opportunity to support the hard work of getting people to work less hard.
If all this hasn't convinced you to drop by www.takebackyourtime.org, I should mention that there's also a sweepstakes for the prize of a week in Maui.
It's not going to be easy to overcome the scourge of vacation deprivation. It requires employers as well as individual men and women like you and me to find the courage to come forward. But I, for one, have bravely signed the pledge. I hope you'll join me.
Robin Hardman is a writer and work-life expert who works with companies to put together the best possible "great place to work" competition entries and creates compelling, easy-to-read benefits, HR, diversity and general-topic employee communications. Find her at www.robinhardman.com.
Calling all HuffPost superfans!
Sign up for membership to become a founding member and help shape HuffPost's next chapter