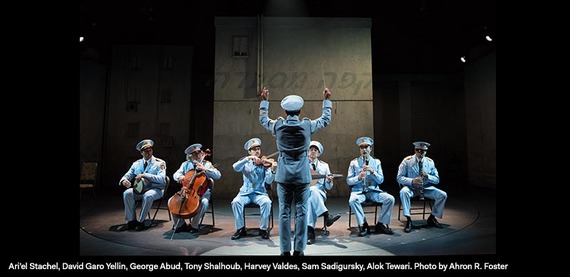 By Christopher Caggiano, ZEALnyc Contributing Writer, January 2, 2016
There's been some chatter online and in theatrical circles as to whether The Band's Visit, the intensely real and intimate new musical currently playing Off Broadway at the Linda Gross Theater at the Atlantic Theater Company, is actually a musical. Does it have enough songs? Are the songs sufficiently musical theater-like? Or is it really a play with music?
My response to such questions is usually: Who cares? Is it any good?
And The Band's Visit is good. It's more than good. It's exquisite. Librettist Itamar Moses and composer/lyricist David Yazbek have taken Elan Kolirin's small, touching 2007 film of the same name and created a small, touching show that's perfectly content with simply introducing us to two bands of real people and letting us get to know them as they get to know each other. The Band's Visit is ultimately about the simple but transformative power of human connection.
The story concerns a literal band of Egyptian musicians who become lost on their way to play at the dedication of a new Arab arts center in Israel. The locals in a remote Israeli town take in the wayward players and, as they spend the night together, we're treated to a series of intimate portraits of these quietly desperate people. The ongoing conflict between Arabs and Jews in the Middle East serves as very soft but nonetheless discernible subtext, coloring but not dominating the action.
It's hard to imagine a more ideal director for The Band's Visit than David Cromer (although Harold Prince was originally announced to direct, and indeed was in the house the night I saw the show). Cromer understands the tremendous importance of detail, without losing sight of the larger vision of a production. Cromer populates the stage with the Israeli locals, and has the Egyptian band members hanging around the stage providing background music, and yet we get the sense that each of these people have their own story, even if they never actually speak.
That character depth and strong sense of place are a testament to Cromer's directorial skill, but also an outgrowth of the show itself, with Itamar Moses's deceptively simple book and sparsely yet deftly drawn characters, as well as David Yazbek's richly introspective songs. Yazbek has proven himself an admirably protean songwriter since he came on the Broadway scene with two blasts of full-on Broadway brass (The Full Monty and Dirty Rotten Scoundrels), only to follow that with the driving Iberian pulse of Women on the Verge of a Nervous Breakdown. Yazbek takes that eclectic impulse further with the idiomatic chromaticism of The Band's Visit, paired with the undeniable wit and skill of his lyrics.
Two of Yazbek's most flavorful and complex songs here go to the sinuous Katrina Lenk as Dina, in a breakout performance as a bored Israeli cafe owner who experiences a romantic awakening upon the arrival of these Egyptian visitors. In "Omar Sharif," Dina languidly recalls the thrill of watching films with Arabian stars in her youth. In "Something Different," she careens off into an internal exploration of her roiling sexual desire as Tewfiq, played by a restrained but indelible Tony Shaloub, sings her a song from his native land.
The show is full of intensely individual moments of simple yearning and muted desperation, particularly from Erik Liberman as a man on a non-stop vigil at a phone booth waiting for his girlfriend to call, and Andrew Polk as a widower vividly recalling his deceased wife. What might be the most charming moment in the show comes when Haled, played by a smoldering Ari'el Stachel as the band's resident ladies man, coaches an insecure young man on how to approach and win the affection of a reticent local girl (a wonderfully subtle Rachel Prather).
The Band's Visit reminded me very strongly of the upcoming Broadway musical Come From Away, which similarly features a group of strangers being welcomed into a sleepy, remote community, with touching and richly human results. There's talk of The Band's Visit moving to Broadway next season, opening up the possibility that both shows will be playing on Broadway at the same time: two moving examples of disparate groups coming together to provide support and mutual understanding. Given the political situation we currently find ourselves in, they couldn't come at a better time.
The Atlantic Theater recently announced a second extension for The Band's Visit which will now play through January 8th, 2017.
___________________________
The Band's Visit at the Atlantic Theater Company at the Linda Gross Theater. Book by Itamar Moses, based on the screenplay by Eran Kolirin; music and lyrics by David Yazbek. Directed by David Cromer; musical direction by Andrea Grody. Cast: George Abud, Bill Army, John Cariani, Katrina Lenk, Erik Liberman, Andrew Polk, Rachel Prather, Jonathan Raviv, Sharone Sayegh, Kristen Sieh, Tony Shalhoub, Ari'el Stachel, and Alok Tewari.
___________________________
Christopher Caggiano writes for ZEALnyc about theater performance and related topics.